The FNB Varsity Cup will take an 11-day break with Ixias top of the log while UJ, Madibaz and Wits will lament their winless streak over the last ten days.
The FNB Varsity Shield kicks off later on Monday with three matches at Loftus Versfeld in Pretoria, and all three matches will be broadcast live on the SuperSport Rugby channel (211).
The DUT Rhinos will make their much-anticipated tournament debut against Walter Sisulu University at 15h00. Rhodes and the UKZN Impi will then clash at 17h00, with CPUT taking on Fort Hare at 19h00. TUT have a bye. 
A summary of the Round 3 matches in the FNB Varsity Cup follows:
FNB UCT Ikeys 39 (21) FNB UJ 34 (19)
Ikeys remained unbeaten after a strong start with two tries in the first 20 minutes, but had to fight hard for this victory against UJ, who refused to go away in sweltering conditions at the Tuks B-Field.
UJ coach Hugo van As clearly said the right things at the strategy break, as the Jozi side found their groove to score a point-of-origin try by Nkondlo Radebe, which flyhalf Jurich Claasens converted after missing a penalty attempt earlier on.
From there on in it was one for me and one for you as both sides managed to respond as soon as the opponents scored points.
The second strategy break again gave impetus to UJ as No 8 Franco Schutte scored a brace off powerful running and strong leg drives close to the line.
But UCT flyhalf James Tedder ensured that his team remained in the lead with two late penalty goals as they left the first bio-bubble unbeaten after three rounds.
Scorers:
FNB UCT Ikeys – Tries: Taariq Kruger (1x7), Athi Gazi, Josh van Vuuren, Le Roux Malan (1x7). Conversions: James Tedder (3). Penalty goals: Tedder (3).
FNB UJ – Tries: Nkondlo Radebe (1x7), Boldwin Hansen, Franco Schutte (2). Conversions: Jurich Claasens (3). Penalty goals: Claasens (2).
FNB UWC 47 (30) FNB Madibaz 40 (19)
A lively encounter that yielded 12 tries handed UWC their first win of the tournament, but no one can fault the effort from the Eastern Cape side who rallied strongly in the last 20 minutes of the match.
It was the Madibaz who started strongest when hooker Thembekile Boltina went over from a maul, but UWC responded immediately, with flanker Tinotenda Masevere beating two defenders on his way to the tryline.
Boltina got over for his second from yet another drive, but his counterpart Jacques van Zyl dotted down almost immediately after the first strategy break to make it a two-point game.
Mavasere then scored two tries in quick succession, the latter a point-of-origin seven-pointer, to give FNB UWC a 30-19 half-time lead and the flanker a hat-trick and the FNB Player that Rocks gong. 
The Madibaz pack got them back into the game early in the second half, but the speedy UWC backs posed a threat throughout the match.
Scorers:
FNB UWC – Tries: Tinotenda Masevere (2x5, 1x7), Jacques van Zyl (2), Tasriq Mynhardt (1x7). Conversions: Branden de Kock (5). Penalty Goal: De Kock.
FNB Madibaz – Tries: Tembekile Boltina (2), Aya Oliphant, Arnouw Nel (2), Ruan Jonker (1x7). Conversions: Tian Schutte (4).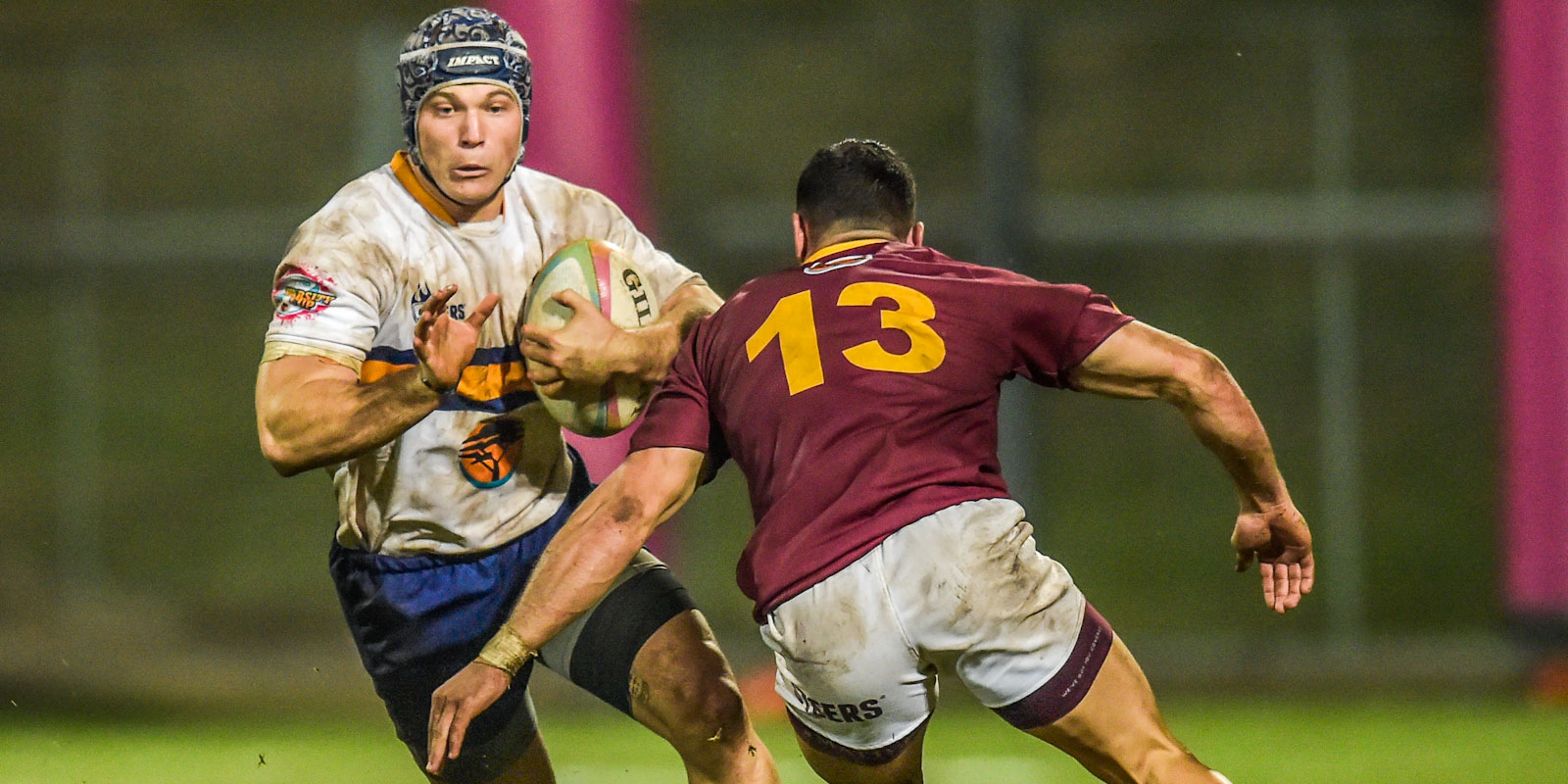 FNB CUT Ixias 31 (21) FNB UFS Shimlas 24 (7)
CUT claimed a third consecutive Bloemfontein derby win to finish the first FNB Varsity Cup bubble at the top of the log. There was much excitement about the match and the teams did not disappoint.
Shimlas took a 7-3 lead in the 14th minute when hooker William Moffat scored from a lineout drive before the Ixias responded on either side of the strategy break.
Flyhalf Charles Williams and flank Hans Terblanche scored on each side of the break and with Williams  - the FNB Player that Rocks - converting his own try and adding two penalty goals, CUT held a comfortable 21-7 lead at the break.
The crucial blow was struck early in the second half, when outside centre Niell Stannard powered through several tackles to reach out and score.
From there on, Shimlas were playing catch-up rugby and although they lost, they deserve credit for never leaving the fight and getting some reward with a try by inside centre Johannes Klinck.
Ill-discipline cost them at the end though, as they received two yellow cards in quick succession which thwarted the complete comeback.
Scorers:
FNB CUT Ixias – Tries: Charles Williams, Hans Terblanche, Neill Stannard. Conversions: Williams (2). Penalty Goals: Williams (4).
FNB UFS Shimlas – Tries: William Moffat (2), Johannes Klinck. Conversions: JP Duvenage, Ethan Wentzel (2). Penalty Goal: Wentzel.
FNB NWU Eagles 15 (10) FNB UP-Tuks 33 (9)
FNB UP-Tuks dominated the second half of this match at Tuks Stadium to claim their third successive win, but the tournament hosts once again had to recover from a slow start, trailing 10-9 at the break.
The second half proved a disaster for the Potch side as they imploded with poor decision-making and ill-discipline, while Tuks stepped up a gear, with Zander du Plessis' fourth penalty goal followed by a try to No 8 Jaco Bezuidenhout.
Just as the Eagles looked like they were getting back into the game, scrumhalf Riaan Genis was yellow-carded and FNB UP-Tuks flank Eduan Lubbe made them pay for it with a try.
Replacement Jandré de Beer scored a try for the FNB NWU Eagles after the hooter but it was FNB UP-Tuks who celebrated a third successive win.
FNB NWU Eagles – Tries: Gustav du Rand, Jandré de Beer. Conversion: Keagan Fortune. Penalty goal: Fortune.
FNB UP-Tuks – Tries: Jaco Bezuidenhout, Eduan Lubbe, Clyde Lewis. Conversions: Zander du Plessis (3). Penalty goals: Du Plessis (4).
FNB Maties 19 (5) FNB Wits 13 (8)
Maties overturned a half-time deficit to claim a narrow win against a committed Wits team at Tuks Stadium in the final match of the day, which was a special occasion for Wits captain Constant Beckerling, who donned the blue and yellow for the 50th time.
And Beckerling would have celebrated it with a special win had his team taken their scoring opportunities on the night, with Wits flyhalf Christian Humphries missing four shots at goal and that proved costly.
Humphries opened the scoring with an early penalty goal, before Maties replied with a try from hooker HJ Luus, which was cancelled out when centre Henco van Wyk got the breakthrough Wits needed with his first FNB Varsity Cup try. The conversion went wide but with the men from Joburg taking the lead 8-5 at the break.
Eight minutes into the second half, Maties captain David Brits put winger Munier Hartzenberg away for a try in the corner and Nevaldo Fleurs added the conversion. However, FNB Maties were unable to capitalise on other scoring opportunities, while FNB Wits also let promising chances go to waste.
Maties flank Mitchell Carstens was yellow-carded with eight minutes remaining but that didn't prevent replacement hooker André-Hugo Venter – who scored four tries against UWC on Thursday – from powering over for the decisive score.
Maties were then reduced to 13 men when replacement prop Leon Lyons was sent to the sin bin, and Wits made their numerical advantage count when Van Wyk scored his second try. But the conversion was missed and there wasn't time for the restart.
Scorers:
FNB Maties – Tries: HJ Luus, Munier Hartzenberg, André-Hugo Venter (1x7). Conversion: Nevaldo Fleurs.
FNB Wits – Tries: Henco van Wyk (2). Penalty goal: Christian Humphries.