On Sunday, FNB CUT Ixias and FNB UP-Tuks emerged victorious in the first two matches of the new-look competition.
Action will resume on Thursday, 8 April with five matches across two venues.
Loftus Versfeld Stadium will host three matches – FNB Madibaz vs FNB CUT (15h00), FNB Wits vs FNB UCT Ikeys (17h00) and FNB UFS Shimlas vs FNB NWU Eagles (19h00). These will be broadcast live on the SuperSport Rugby channel (211).
The other two second round matches – FNB Maties vs FNB UWC (14h00) and FNB UJ vs FNB UP-Tuks (16h00) – will be played on the Tuks B-Field and streamed live on DStv Now (channel 245).
A summary of the five matches played in the the opening round:
FNB NWU Eagles 47 (19), FNB Madibaz 28 (11)
The Madibaz showed good enterprise and commitment in their return to the Varsity Cup competition and scored four well-worked tries in a competitive showing against the Eagles, but they could not sustain their effort and conceded a number of late tries.
The Eagles started slowly, but once they got into their stride in the second half, scored 28 points to ease into victory. Eagles hooker Gustav du Rand scored twice in the match, earning him the FNB Player That Rocks gong.
Scorers:
FNB NWU Eagles – Tries: Conan Le Fleur, Gustav du Rand (2), Pienaar van Niekerk, Ruben Dreyer, Meyer Kriel (1x7), Riaan Genis. Conversions: Marco Donges, Le Fleur, Keagan Fortune (3).
FNB NMU Madibaz – Tries: Khakalethu Bophi, Arnouw Nel, Luyolo Dapula, Kholiwe Khonza. Conversion: Chadwyn November. Penalty Goals: Christiaan Schutte (2).
FNB UWC 28 (23), FNB UFS Shimlas 28 (14)
The Shimlas failed with two late penalty goal attempts and had a try disallowed in the frantic last five minutes of this highly entertaining match, which delivered the first draw of the competition.
Credit to the UFS side, who saw their second half comeback instigated by replacement centre JP Duvenhage, but the UWC side, under guidance of new coach, Paul Treu, clearly came out to play and led handsomely at the break.
They scored some eye-catching tries, with FNB Player That Rocks winner Gilroy Lee Philander a constant threat on the attack. He finished off two seven point tries, scored in quick succession and the dangers of the Cape backline was there for all to see.
In the last 20 minutes, the Bloem boys came back strongly, scoring two tries, but two potential match-winning kicks in the last minutes of the match went astray.
Scorers:
FNB UWC – Tries: Aydon Topley, Gilroy Lee Philander (2x7), Lundi Msenge. Conversions: Mikyle Vraagom (2).
FNB UFS Shimlas – Tries: Pierre Uys (2), Janco Klinck (1x7), George Rossouw (1x7). Conversions: Ethan Wentzel (3).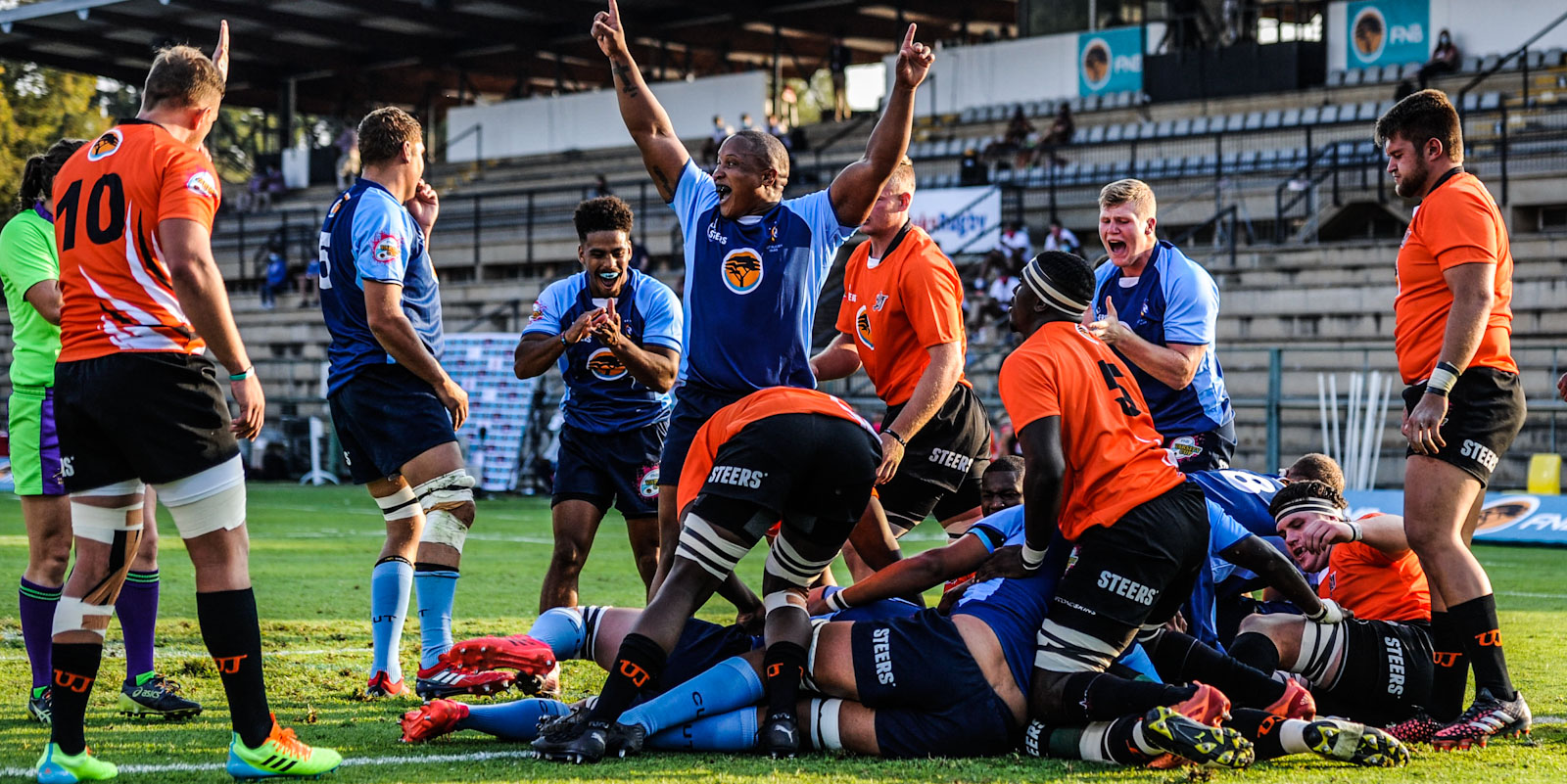 FNB UCT Ikeys 26 (16), FNB Maties 20 (7)
FNB UCT Ikeys claimed their first win against their arch-rivals in six matches and ended FNB Maties' 25-match winning streak in the competition.
In a game plagued by more yellow cards than tries, flyhalf James Tedder got FNB UCT Ikeys off to an emphatic start when his cross-kick was chased down by scrumhalf-turned-wing Liam Kloosman, who scored in the corner.
Tedder had a strong overall game, which earned him the FNB Player That Rocks award, but did not pack his kicking boots for this encounter, allowing Maties to stay in the game till the very last move of the match.
In the end, five yellow cards were dished out, with UCT at one stage playing with only 13 men, but still managed to hold Maties at bay despite that disadvantage.
Scorers:
FNB UCT – Tries: Liam Kloosman, Devon Arendse, Christian Stehlik. Conversion: James Tedder. Penalty Goals: Tedder (3).
FNB Maties – Tries: David Brits, Mitchell Carstens. Conversions: Nevaldo Fleurs (2). Penalty Goals: Fleurs (2).
FNB CUT Ixias 46 (19) FNB UJ 13 (6)
FNB CUT Ixias made an early statement with a six-try, bonus-point win over the Johannesburg side, romping away in the second half of the match.
It was set up by the FNB CUT pack, who dominated the FNB UJ scrum throughout. As a result, Ixias tighthead prop Janu Botha won the FNB Player That Rocks award.
The Bloemfontein university's first four tries were all scored by forwards, but fullback Cohen Jasper will also be delighted with his brace, ghosting past defenders on the counterattack.
After losing all five of their matches in last year's FNB Varsity Cup, FNB UJ were hoping to make a winning start to the 2021 tournament, but more work awaits coach Dewey Swartbooi before that will be possible.
Scorers:
FNB CUT Ixias – Tries: Johannes Terblanche, Brendon Fortuin, Janus Venter, Ulrich Stander (1x7) Cohen Jasper (2). Conversions: Charles Williams (4). Penalty Goals: Williams (2).
FNB UJ – Try: Prince Nkabinde. Conversion: Jonathan Viljoen. Penalties: Viljoen (2).
FNB UP-Tuks 48 (15) FNB WITS 25 (18)
FNB UP-Tuks switched gears in the second half to record a bonus-point win against FNB Wits. The home side were shocked onto their heels in the opening stanza though with two quick tries by hooker Morné Brandon as the blue machine used their powerful forwards to dominate.
FNB UP-Tuks fullback Alex-Zander du Plessis kept his charges within a shout of the opposition as he landed five penalties and that display earned him the FNB Player that Rocks award.
Tuks returned the favour in the second half as they maintained possession while playing in the right areas and their efforts were rewarded handsomely. They scored four tries, while Du Plessis kept his perfect record, ending with ten out of ten successful kicks.
Scorers:
FNB UP-Tuks – Tries: Louritz van der Schyff (1x7), Dewald Donald, Stephan Smit, Clyde Lewis. Conversions: Alex-Zander du Plessis (4). Penalty Goals: Du Plessis (6).
FNB Wits – Tries: Morné Brandon (2), Justin Brandon. Conversions: Christian Humphries (2). Penalty Goals: Humphries (2).