A year ago, JP Engelbrecht bought a ticket in SA Rugby's #StrongerTogether for R32-12 raffle, a response from SA Rugby to assist those hit the hardest when the COVID-19 pandemic swept through South Africa in 2020.
Due to various of factors out of our control, Engelbrecht could only "receive" his prize this week – the delivery to his home by Land Rover of the Webb Ellis Cup, accompanied by one of the heroes from the Springboks' 2019 RWC campaign.
For Engelbrecht, who pulled out all the stops to make the visit as memorable as possible, it was extra special to have his grandfather Toy Dannhauser, his fiancé Danel Wessels, as well as other family and friends in attendance.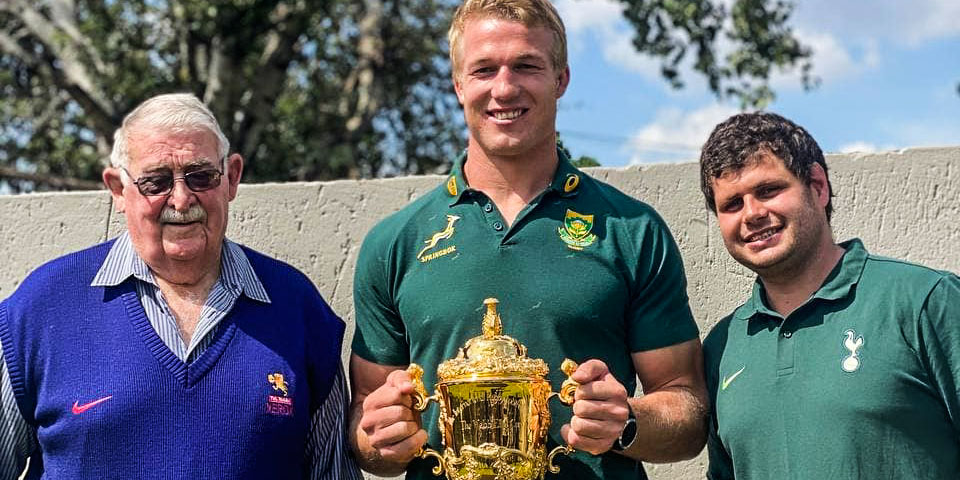 The 83-year-old Dannhauser captained the Lions in the 1960s during a time when they beat the travelling British & Irish Lions (1968) and the Wallabies (1960) in Johannesburg.
Du Toit's grandfather, the late Piet "Spiere" du Toit, was also a great rugby player who represented Western Province and the Springboks in the late 1950s and early 1960s.
"It was an unbelievable experience today, with JP and his family, and it was wonderful to meet his grandfather, who told us some wonderful stories, some of them about my own grandfather," said Du Toit.
"It was an honour and a privilege for me to visit them and I would like to thank them for supporting our cause last year."
Engelbrecht was ecstatic about the visit: "Who would ever have dreamt of having the World Cup in your own lounge?"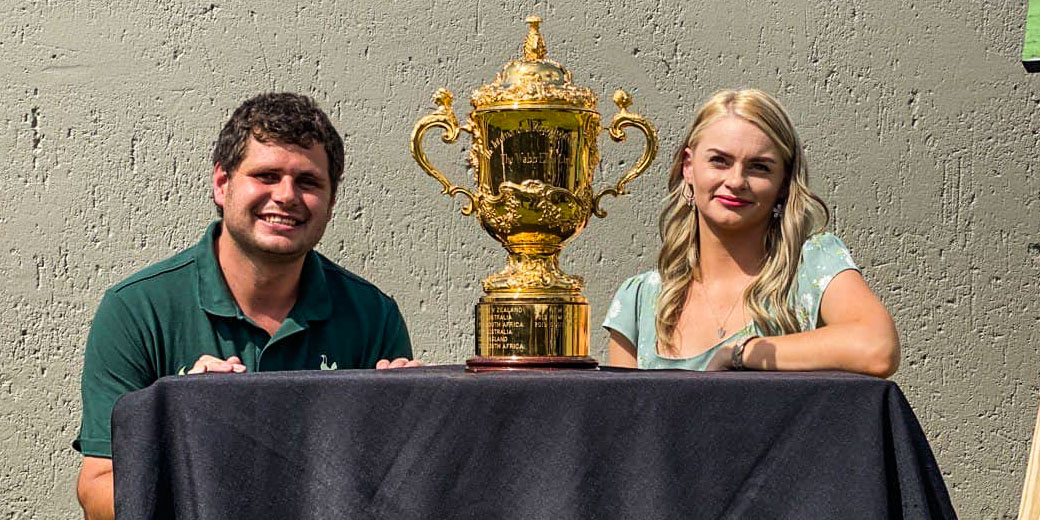 "I want to thank SA Rugby and Pieter-Steph for bringing the Webb Ellis Cup to our home here in Middelburg, this was a truly unique occasion.
"Thank you for your time and the awesome experience, today we made memories we will never forget," said Engelbrecht.
During the #StrongerTogether for R32-12 campaign, the Springbok Rugby World Cup squad put up some of their most cherished mementos as prizes in a raffle competition, with all proceeds going to hunger alleviation charities, Food Forward SA and Gift of the Givers.
The campaign was run on the SA Rugby website and social media channels, with many media activations organized to create public awareness, as well as a live draw on the Springboks' Facebook page.
In the end, close to 32,000 raffle tickets were sold and with donations received a total of a fraction more than R1.1m was raised for charity, with Gift of the Givers and Food Forward SA receiving more than R430,000 each (after VAT and sales costs were deducted).