The next round of FNB Varsity Cup action is on Sunday, 11 April with five clashes across two venues in the Jacaranda City.
Tuks Stadium will host three matches – UWC vs Madibaz (15h00), NWU Eagles vs UP-Tuks (17h00) and Maties vs Wits (19h00) – all of which will be broadcast live on the SuperSport Rugby channel (211).
The other two third round matches – UCT Ikeys vs UJ (14h00) and the Free State derby between CUT Ixias vs UFS Shimlas (16h00) – will be played on the Tuks B-Field and streamed live on DStv Now (channel 245).
FNB Maties 43 (24) FNB UWC 21 (5)
André-Hugo Venter, son of former Springbok hard man Andre Venter, scored a hat-trick of tries as Maties bounced back from their opening-round loss to UCT with a comfortable win against FNB UWC at the Tuks B-Field.
The scores were tied at 5-5 after two early tries before the Maroon Machine powered ahead, with Venter scoring twice from strong driving mauls late in the first half, and adding his third shortly after the break.
Replacement hooker Sean Swart picked up where Venter left off by scoring two more tries from driving mauls, with UWC replacement prop Luvo Bazi and flank Mauritz Swart spending time in the sin bin in the second half.
However, Udubs were able to cross the line twice late in the match, through replacement flank Tinotenda Mavasere and winger Patrick Kotze, to add some respectability to the scoreline.
Scorers:
FNB Maties – Tries: Munier Hartzenberg, André-Hugo Venter (3), Duncan du Buisson, Sean Swart (2). Conversions: Christopher Schreuder (4).
FNB UWC – Tries: Tariq Mynhardt, Tinotenda Masevere, Patrick Kotze (1x7). Conversions: Branden de Kock (2).
FNB Madibaz 13 (8) FNB CUT Ixias 51 (28)
CUT Ixias continued their fine start to the 2021 FNB Varsity Cup as it took the Free Staters a mere 54 seconds to register their opening point-of-origin try at Loftus Versfeld, courtesy of hooker Janus Venter after some exceptional interplay.
The Ixias touched down a further three times to secure their bonus point as fullback Cohen Jasper broke through on two occasions to record a brace, while Venter bagged his second.
The Madibaz struggled at times to assert themselves but when they could muster several phases of play together, it paid off as hooker Tembekile Boltina scored off a strong lineout drive while flyhalf Tiaan Schutte landed a penalty goal for their first-half haul of eight points.
It was much the same in the second stanza as the men from Bloemfontein scored another two tries through outside centre Niell Stannard.
The CUT juggernaut finished proceedings with a sublime try as wing Ricoman Titus sniffed a gap and bolted 40m to score the Ixias' seventh try.
Scorers:
FNB Madibaz – Tries: Tembekile Boltina, Duan du Plessis. Penalty goal: Tiaan Schutte.
FNB CUT Ixias – Tries: Janus Venter (1x7, 1x5), Cohen Jasper (2), Neill Stannard (2), Ricoman Titus. Conversions: Charles Williams (5), Jasper.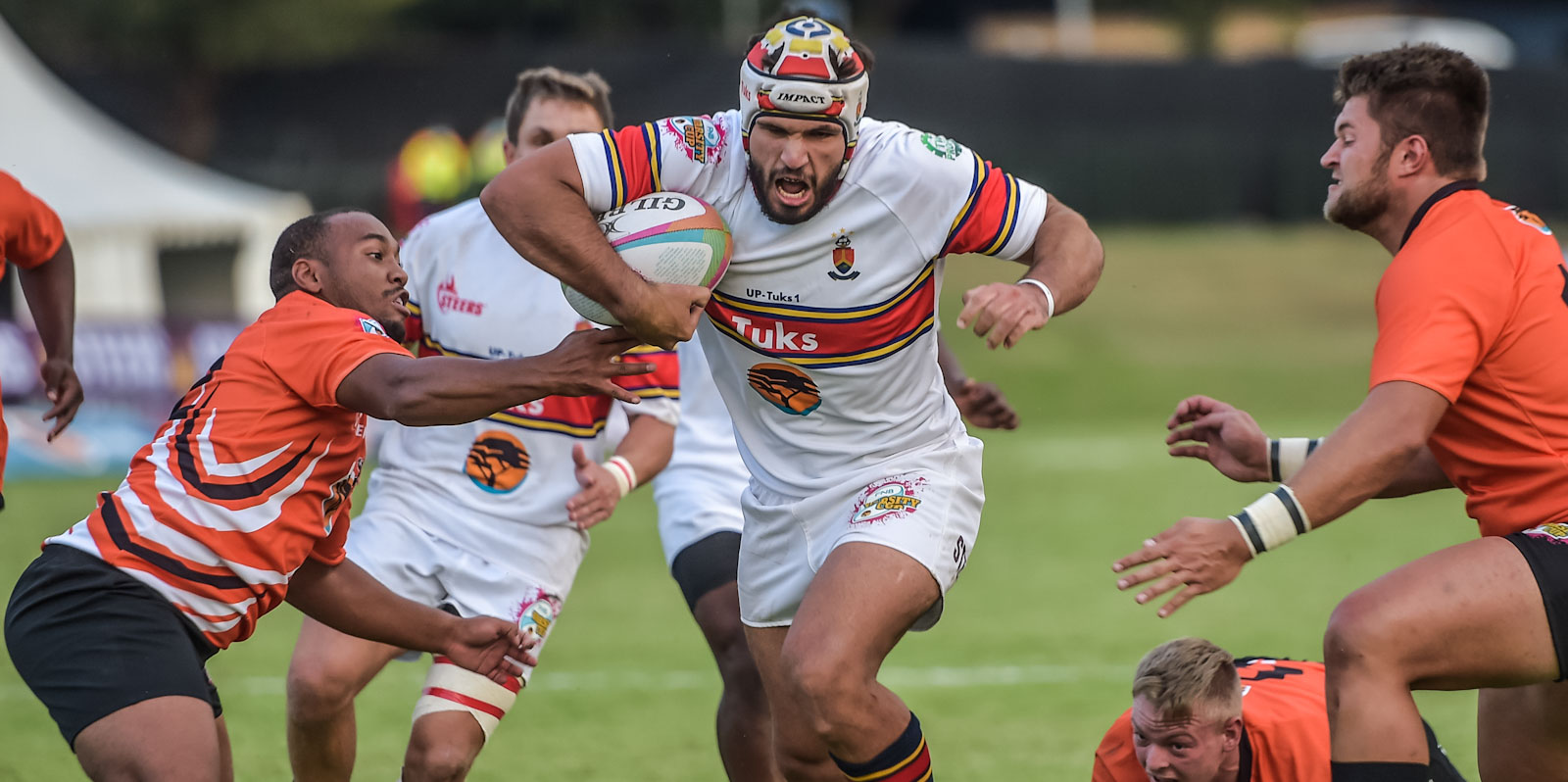 FNB UJ 19 (12) FNB UP-Tuks 47 (32)
UP-Tuks scored five tries against FNB UJ at the Tuks B-Field to claim a second consecutive bonus-point win of the 2021 FNB Varsity Cup in this Jukskei Derby.
The first try of the game was a point-of-origin seven-pointer finished off by UP-Tuks lock Hanru Sirgel.
Jurich Claasens kicked two penalty goals for the men from Johannesburg, but two more tries for UP-Tuks, by winger Ambesa Zenzile and scrumhalf Clyde Lewis (the latter a seven-pointer), gave them a commanding 32-12 lead at the break.
Replacement flank Eduard Lubbe extended the lead when he was driven over the line for the hosts' bonus-point try early in the second half, before fullback Boldwin Hansen scored UJ's only try.
With five minutes remaining, UP-Tuks centre Wian van Niekerk went over for their fifth try, which ensured he won the FNB Player That Rocks award.
Scorers:
FNB UP-Tuks – Tries: Hanru Sirgel (1x7), Ambesa Zenzile, Clyde Lewis (1x7), Eduan Lubbe, Wian van Niekerk. Conversions: Zander du Plessis (3). Penalty goals: Du Plessis (4).
FNB UJ – Try: Boldwin Hansen. Conversion: Jurich Claasens. Penalty goals: Jonathan Viljoen, Claasens (3).
FNB With 22 (8) FNB UCT Ikeys 40 (26)
UCT flyhalf James Tedder produced another Player That Rocks performance as the Ikeys outplayed Wits at Loftus Versfeld, despite the men from Johannesburg starting strongly with their livewire hooker Justin Brandon crossing the chalk for an unconverted try before play was suspended for impending lightning.
The break proved to ignite Ikeys' attack as they bounced back with two tries to hooker Devon Arendse, while Tedder landed four penalty goals and two conversions to hand FNB UCT a 26-8 lead at the break.
After Wits prop Ebot Buma scored, the Tigers resumed control of the match as replacement hooker Josh van Vuuren pulled back a converted try.
For the second time in as many matches, the Brandon brothers penned their names on the scoresheet as replacement hooker Morné followed on from his younger sibling's efforts in the first half.
Scorers:
FNB Wits – Tries: Justin Brandon, Ebot Buma, Morné Brandon. Conversions: Kurt Webster (2). Penalty goal: Webster.
FNB UCT Ikeys – Tries: Devon Arendse (2), Josh van Vuuren, Connor Evans. Conversions: James Tedder (4). Penalty goals: Tedder (4).
FNB UFS Shimlas 22 (16) FNB NWU-Eagles 32 (14)
The NWU Eagles fought back from 16-0 down to beat the UFS Shimlas 33-22 at Loftus Versfeld, where both teams threw everything and more at each other in a hard-fought clash.
It was all UFS Shimlas for most of the first half as the hookers continued the status quo of the second round, with William Moffat dotting down for Shimlas while JP Duvenage added a further eight points from the tee.
The men from Potchefstroom eventually awoke from their slumber in the last 10 minutes of the half, claiming two converted tries courtesy of wing Keano Windvogel and No 8 Ruben Dreyer to cut the deficit to just two points at the break.
The Eagles eventually took control of the match as scrumhalf Riaan Genis scored, with flyhalf Keagan Fortune's conversion handing them the lead for the first time.
The men from Potch then found their attacking rhythm courtesy of silky play between forwards and backs before hooker Gustav du Rand smashed his way over from close range to secure the bonus point.
Scorers:
FNB UFS Shimlas – Try: William Moffat. Conversion: JP Duvenage. Penalty goals: Duvenage (5).
FNB NWU Eagles – Tries: Keano Windvogel, Ruben Dreyer, Riaan Genis, Gustav du Rand. Conversions: Keagan Fortune (3). Penalty goals: Fortune (2).