WSU totally outplayed their rivals from Durban to set a new record for points scored in a FNB Varsity Shield match, winning 136-11.
UKZN scored 29 unanswered points in a strong first half against Rhodes en route to a 62-15 win, and CPUT needed a late try to secure a win over the Fort Hare Blues, winning 36-20.
The Shield will continue on Thursday with three matches at Tuks Stadium – Rhodes vs CPUT (15h00), UFH vs TUT (17h00) and WSU vs UKZN (19h00) – while DUT have a bye.
Catch all the action live on the SuperSport Rugby channel (211).
Score summary of Monday's matches:
FNB WSU 136 (62) FNB DUT Rhinos 11 (8)
FNB WSU ran in 22 tries. They scored five before the first strategy break and continued to run riot against the debutant team in the competition.
Scorers:
FNB WSU – Tries: Hlomla Payi, Siphosihle Magawu (3), Nande Lucas, Eric Mcaphukana, Thembani Kori (2), Soyama Mini (2), Asekho Marubelela, Tebogo Madigoe, Esethu Zenani (2), Scelo Tole, Mbulelo Totose, Lithemba Ngcetane, Miyelani Ngobeni, Ayabulela Zono (2), Lwandile Mapuko, Sakhele Ngeno. Conversions: Mapuko (5), Litha Nkula (5), Ngeno (3).
FNB DUT Rhinos – Try: Langelihle Ntombela. Penalty goals: Luyolo Nkwanca, Andile Dlamini.
FNB Rhodes 15 (0) FNB UKZN Impi 62 (29)
An impressive display by their backs saw UKZN run in 10 tries to get their campaign off to a promising start. It was a good team effort by the Impi, with no less than nine players crossing the try-line.
Scorers:
FNB UKZN Impi – Tries: Llawdden Roux, Gacula Poswa, Azakhiwe Afrika (2), Onke Jiba, Wandile Shabangu, Sibongiwa Novuka, Jodian de Vos, Byron Booysen, Menzi Mabaso. Conversions: Sibongiwa Novuka (6).
FNB Rhodes – Tries: Bomgumusa Mokuena, Damian Morrow. Conversions: Abonga Manka. Penalty goal: Simamkele Ngantweni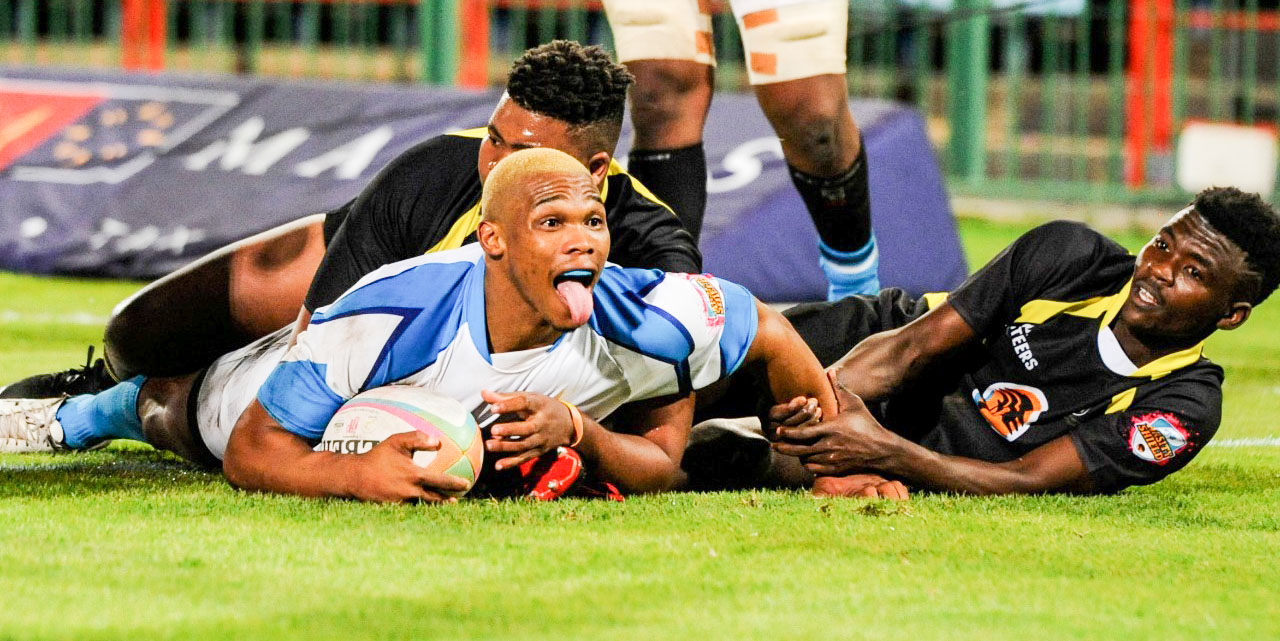 FNB CPUT 36 (24) FNB UFH Blues 20 (10)
CPUT got off to a winning start despite receiving a first-half red card and two late yellow cards. It was a tight affair throughout but the Cape side secured victory though winger Nathan Nkutu's late try, with Fort Hare centre Jonathan Booysens being red-carded for dangerous play in the build-up.
Scorers:
FNB CPUT – Tries: Sesona Macala, Lunathi Nxele (2), Butsha Mputa, Nathan Nkutu. Conversions: Feghon-Leigh Snyders (3), Imibongo Vabaza. Penalty goal: Snyders.
FNB UFH Blues – Tries: Lukhonyiso Tosholwana, Caku-Caku Mkhonto. Conversions: Brandt Fields (2). Penalty goals: Fields (2).