The first match at Paarl Gimnasium kicks off at 13h30 between the SA U18 'A' team and France, while the SA U18s take on England at 15h30. As an added bonus, the U21 sides of DHL WP and the Vodacom Bulls will square off in a SA Rugby U21 Cup clash at the same venue, with kick-off scheduled for 11h15.
But all eyes will be in the 49 boys in green and gold after a week of top-class international rugby against their U18 counterparts from England and France.
The SA U18s, who beat France by 49-17 on Tuesday, take on an England side with their tails up after their come-from-behind 36-24 victory over the SA U18 'A' side.
Katleho Lynch, the SA U18s' coach, was very happy with his team's performance against the French and said they carried out their plan of delivering a team effort, with every player in the squad playing his part in the encounter.
"We wanted to take control of the game against France and I was especially pleased with the way we started the game, getting some points early, with our support play very good in helping to set up some of those tries," said Lynch.
"For our last game, we want to finish with a strong effort. We've gone back to the drawing board, reviewed our games so far to ensure we are as well prepared as possible for what will be a tough game against an England side that will be hungry to finish their tour with a win."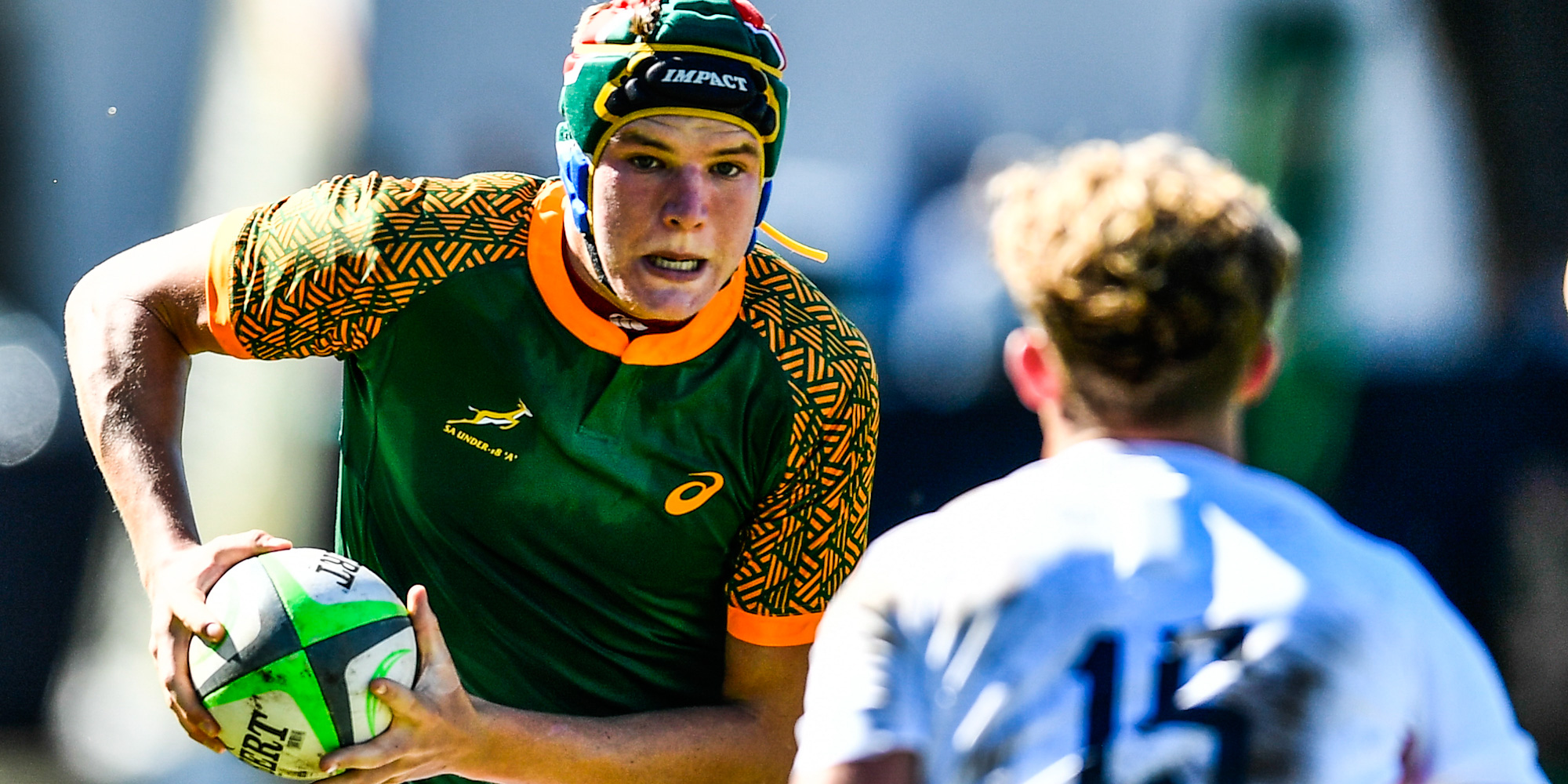 Cobus van Dyk, coach of the SA U18 'A' side, was understandably disappointed after his team let slip a big lead to go down against the dangerous English side, but he was still proud of the performance and said there was a lot of positives from the game.
"The players have invested in our plans and they have shown amazing growth during our time together," said Van Dyk.
"We wanted to dominate the gain-line, which we did, and our set pieces were very good, but we were perhaps a bit unlucky with a few small things that didn't go our way on Tuesday.
"I can't fault the players' effort and we are looking for another improved performance this weekend, playing with intensity and urgency on attack, and if we stick to the plan, I'm sure the ball will bounce in our favour."
Van Dyk had to welcome two new players into his squad for Saturday's game after five players were ruled out of the final round of action due to injury – JF van Niekerk (lock), Bernard Bladergroen (prop), Reno Hirst (prop), Camden Schoeman (No 8) and Divan Fuller (flanker).
The selectors have only called up two replacements into the SA U18 'A' squad, namely Yabo Ndzemela (loose forward) and Siyabonga Dube (prop) from the Sharks, with both named to start Saturday's match on the bench. Schoeman, who captained the 'A'-team in the campaign so far, will be replaced as skipper by Keanu Coetzee.
The teams for Saturday are:
SA Under-18 to face England in Paarl:
15 Joel Leotlela (Lions)
14 Alfondso Isaacs (Cheetahs)
13 Sha-Jehaan de Jongh (Western Province)
12 Joshua Boulle (Lions)
11 Litelihle Bester (Sharks)
10 Thurlon Williams (Western Province)
9 Caleb Abrahams (Cheetahs)
8 Sibabalwe Mahashe (Border)
7 Lukas Meyer (Cheetahs)
6 Matthew Fick (Western Province)
5 Thabang Mpafi (Lions)
4 Thomas Dyer (captain – Sharks)
3 Casper Badenhorst (Cheetahs)
2 Ethan Bester (Sharks)
1 Ruan Swart (SWD)
Replacements:
16 Luca Bakkes (Western Province)
17 Liyema Ntshanga (Sharks)
18 Nic Snyman (Sharks)
19 Jack Waterhouse (Sharks)
20 Lilitha Matziliza (Bulls)
21 Steven Nel (Bulls)
22 Stehan Heymans (Bulls)
23 Bruce Sherwood (Western Province)
24 Jeneil Losper (Western Province)
Referee: Paul Mente
SA Under-18 'A' to face France in Paarl:
15 Jayden Bantom (Valke)
14 Sesethu Mpaka (Border)
13 Jurenzo Julies (Western Province)
12 Philip-Albert van Niekerk (Western Province)
11 Jeneil Losper (Western Province)
10 Liam Koen (Western Province)
9 Asad Moos (Western Province)
8 Zukisane Tom (Sharks)
7 Sandile Nzuza (Sharks)
6 Max du Pisani (Eastern Province)
5 Keanu Coetzee (captain – Western Province)
4 Sampie Joubert (Western Province)
3 Marco Conradie (SWD)
2 Juan Smal (Western Province)
1 Liyema Ntshanga (Sharks)
Replacements:
16 Christian Everitt (Sharks)
17 Willem Loubser (Western Province)
18 Siyabonga Dube (Sharks)
19 Danio Botha (Western Province)
20 Yabo Ndzamela (Sharks)
21 Aiden Muller (Western Province)
22 Bradley Giddy (Cheetahs)
23 Antonio Bruiners (Western Province)
24 Jameel de Jongh (Western Province)
25 Gino Cupido (Western Province)
Referee: Christopher Allison