The match was tighter than the scoreboard reflected as the Vodacom Bulls held a narrow 10-6 halftime lead before breaking away in the final quarter to secure the win.
Jake White's charges, however, will take comfort from the fact that they were disallowed three tries, which could have earned them a more rewarding win.
The first half was tight as both teams tried to find their rhythm with enterprising attacking play, but a combination of the solid defence and errors at crucial times saw only one try being scored compliments of Vodacom Bulls flyhalf Chris Smith.
Smith took advantage of a missed tackle and broke through another in the second minute to dash to the tryline and he slotted over the conversion to hand his team a 7-0 lead.
The Johannesburgers' showed their intent on attack in the following minutes and continued to test the home side's defence throughout the half, but they were unable to find cracks, and instead had to settle for two penalty goals by flyhalf Fred Zeilinga in the 12th and 17th minutes respectively.
The Vodacom Bulls managed to breach their neighbours' defence for a second time in the 30th minute, but Janko Swanepoel (lock) was denied due to an earlier knock-on at a ruck.
The hosts, however, still had the last say in the half with a penalty goal by Smith, which extended their lead to 10-6.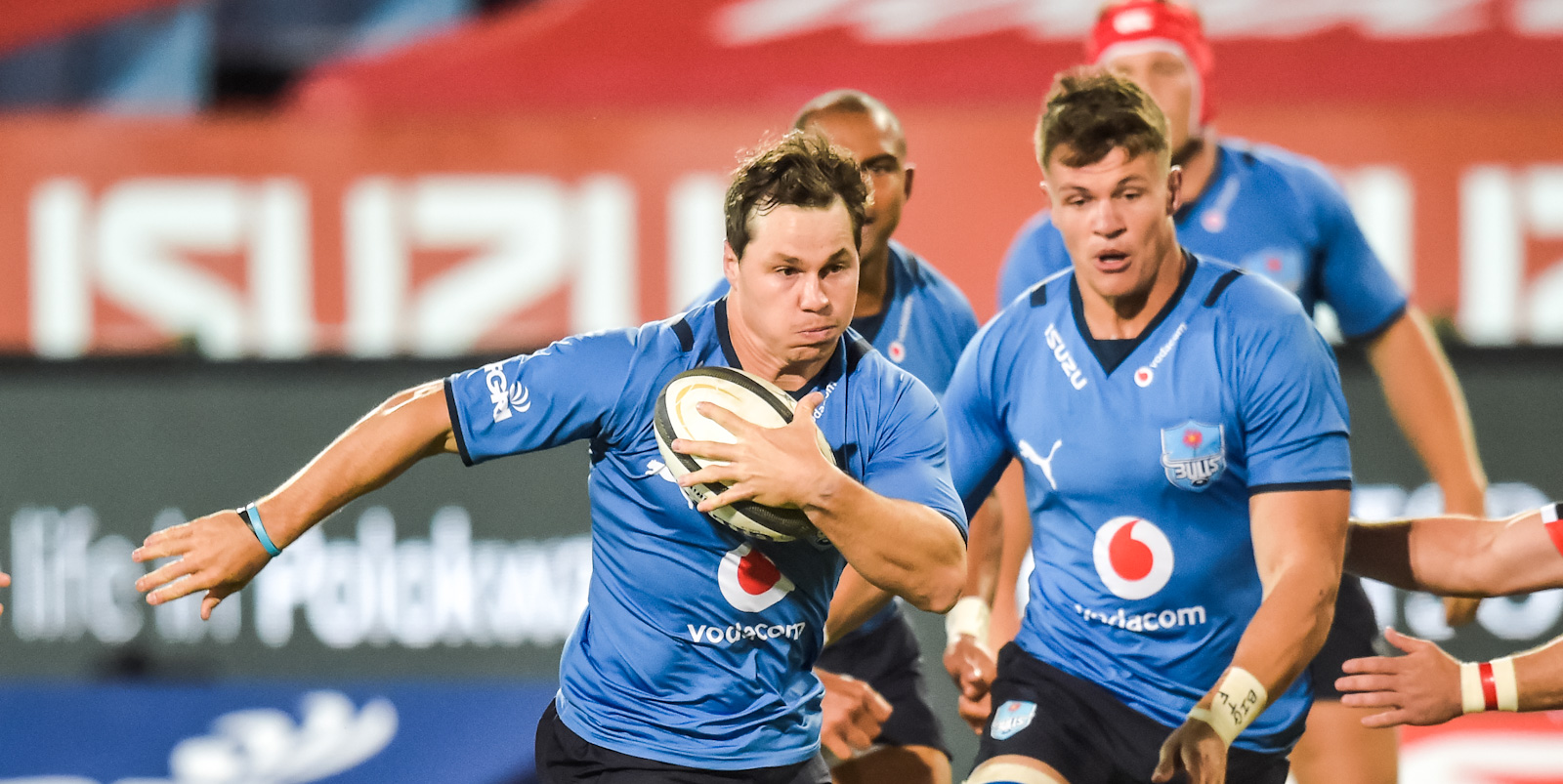 Zeilinga reduced the Emirates Lions' deficit to one point four minutes after the restart with his third penalty goal, but the team found themselves under pressure several minutes later as EW Viljoen (replacement back) received a yellow card for a deliberate knock-down. 
The hosts had a good opportunity to extend their lead almost immediately after as Stravino Jacobs (wing) touched down on the far side of the field, but they were once again denied, this time due to obstruction.
The Vodacom Bulls finally earned the rewards for their determined efforts on attack in the 66th minute as Zak Burger (replacement scrumhalf) dived over, and veteran flyhalf Morné Steyn added the extra two to hand the team a 17-9 lead.
The men in blue crossed the tryline for the second time in two minutes as Madosh Tambwe (right wing) gathered an accurate cross kick from Steyn, but this attempt was also disallowed as the lineout throw in the lead-up to the move was ruled to be skew.
The hosts, however, showed their fighting spirit until the final hooter and it paid off with their third try by Elrigh Louw (flanker) who forced his way through the defence with two minutes to go. Steyn's conversion saw them deservingly secure the 24-9 victory.
Scorers:
Vodacom Bulls 24 (10) – Tries: Chris Smith, Zak Burger, Elrigh Louw. Conversions: Smith (1), Morné Steyn (2). Penalty Goals: Smith (1).
Emirates Lions 9 (6) – Penalty Goals: Fred Zeilinga (3).