The South African men were in control for most of their two games on Friday and did exactly what was needed to progress to the knock-out phase of the competition, scoring 14 tries in total on the opening day. Their defensive systems were also tested, but the Blitzboks conceded only one try.
SA head coach Neil Powell said: "We had a slow start in the first game against Malaysia, and we asked the guys to make a step up against Tonga, especially in terms of physicality, and I think they did that really well.
"Unfortunately, we conceded the one try, which was disappointing because we pride ourselves on our defence, but I think it was a massive step-up from the first game, and hopefully we can improve on that when we play Scotland tomorrow.
"The last time we played Scotland, we lost and hopefully we learned something from that experience. For us to top our pool, we thought it was probably going to come down to this game, so we already had a look at them and hopefully the guys will be up for it tomorrow."
In their first match against Tonga since 2019, South Africa had the perfect start, with team captain Siviwe Soyizwapi going over after just 21 seconds after a deft kick by Muller du Plessis. Christie Grobbelaar added two more first-half tries, while Tonga hit back with a five-pointer on the stroke of half-time to hand SA a 17-5 lead at the break.
JC Pretorius and Sako Makata added tries in the first three minutes of the second half to stretch SA's lead to 29-5, but they then lost Mfundo Ndhlovu to a dangerous tackle by Tonga's John Ika, who was red carded.
After Ndhlovu was stretchered off the field, Dewald Human had the final say with a try, which he converted himself to seal the deal for SA.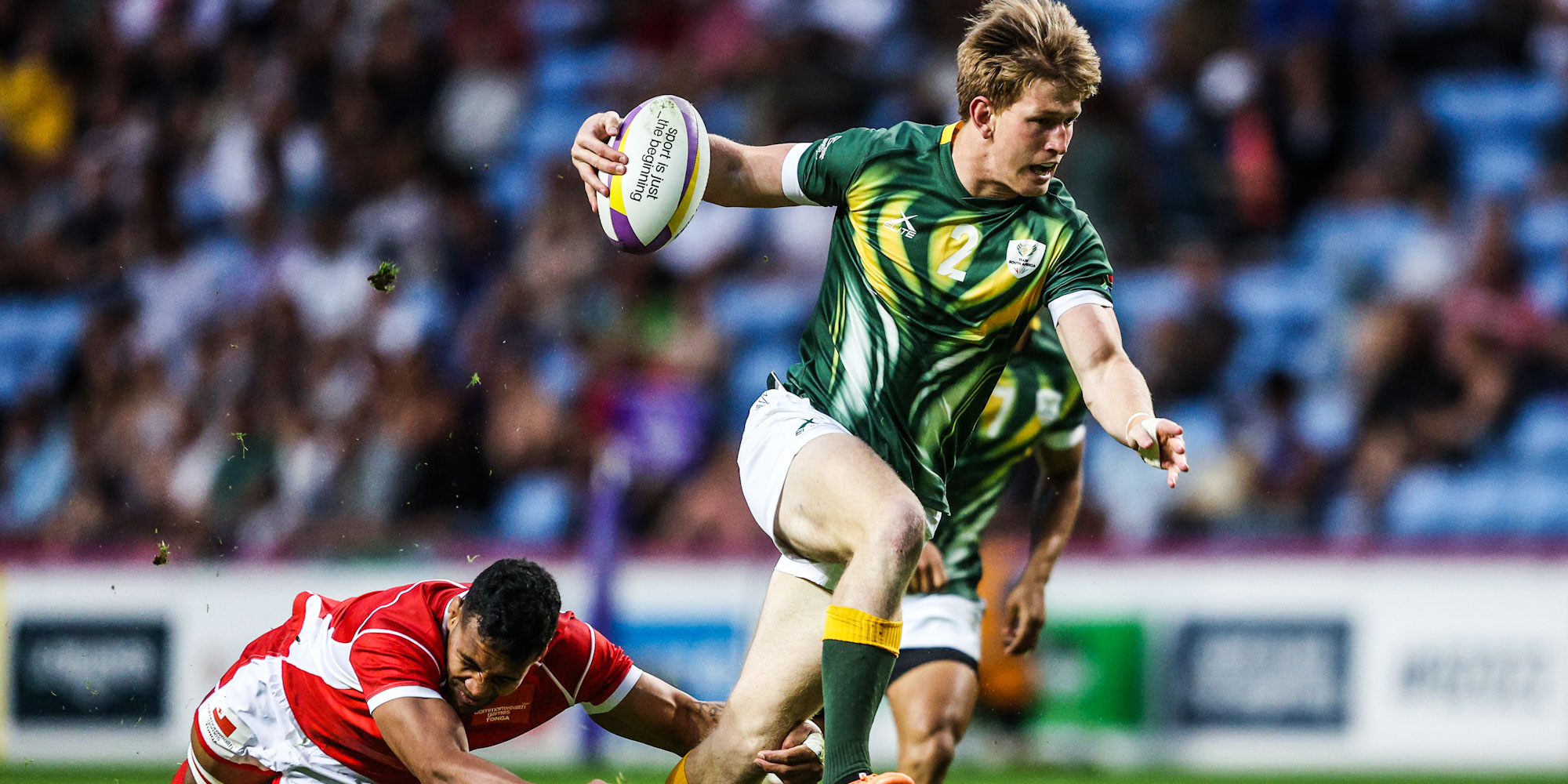 "We would have loved to get Mfundo onto the park a bit more as he recently returned from a serious injury, but it looks like he took a bad shot to his jaw, and he will probably be out for the rest of the tournament, although we've not seen the final medical assessment yet," added Powell.
Soyizwapi said: "We are happy with the results, but we will have to take a look at both games as we made a few errors and it wasn't the clinical performance we were looking for, but it was a good day and we have something to build on with a lot of positives."
Their final pool game is at 13h18 on Saturday against Scotland.
Scorers:
South Africa 36 (17) – Tries: Siviwe Soyizwapi, Christie Grobbelaar (2), JC Pretorius, Sako Makata, Dewald Human. Conversions: Ronald Brown (2), Human.
Tonga 5 (5) – Try: Samisoni Asi.
Angelo Davids scored a hat-trick of tries in the 46-0 victory over Malaysia in their opening Pool B match on Friday afternoon.
The South Africans scored eight tries in total after they had eased into a 22-0 lead at the halfway mark. Angelo Davids scored twice in the first half, while a strong-running Muller du Plessis and Selvyn Davids also got onto the score sheet before the break.
Head coach Neil Powell made a raft of changes in the second half, with regular skipper Siviwe Soyizwapi also coming on after the break to open the second-half scoring against the plucky Malaysians.
Dewald Human, another replacement, also joined in on the scoring act in the second stanza while Angelo Davids scored his third try before Zain Davids, who started the match wearing the captain's armband, dotted down the final try for a solid start to the tournament.
Scorers:
South Africa 46 (22) – Tries: Angelo Davids (3), Muller du Plessis, Selvyn Davids, Siviwe Soyizwapi, Dewald Human, Zain Davids. Conversions: Ronald Brown (2), Human.
Malaysia 0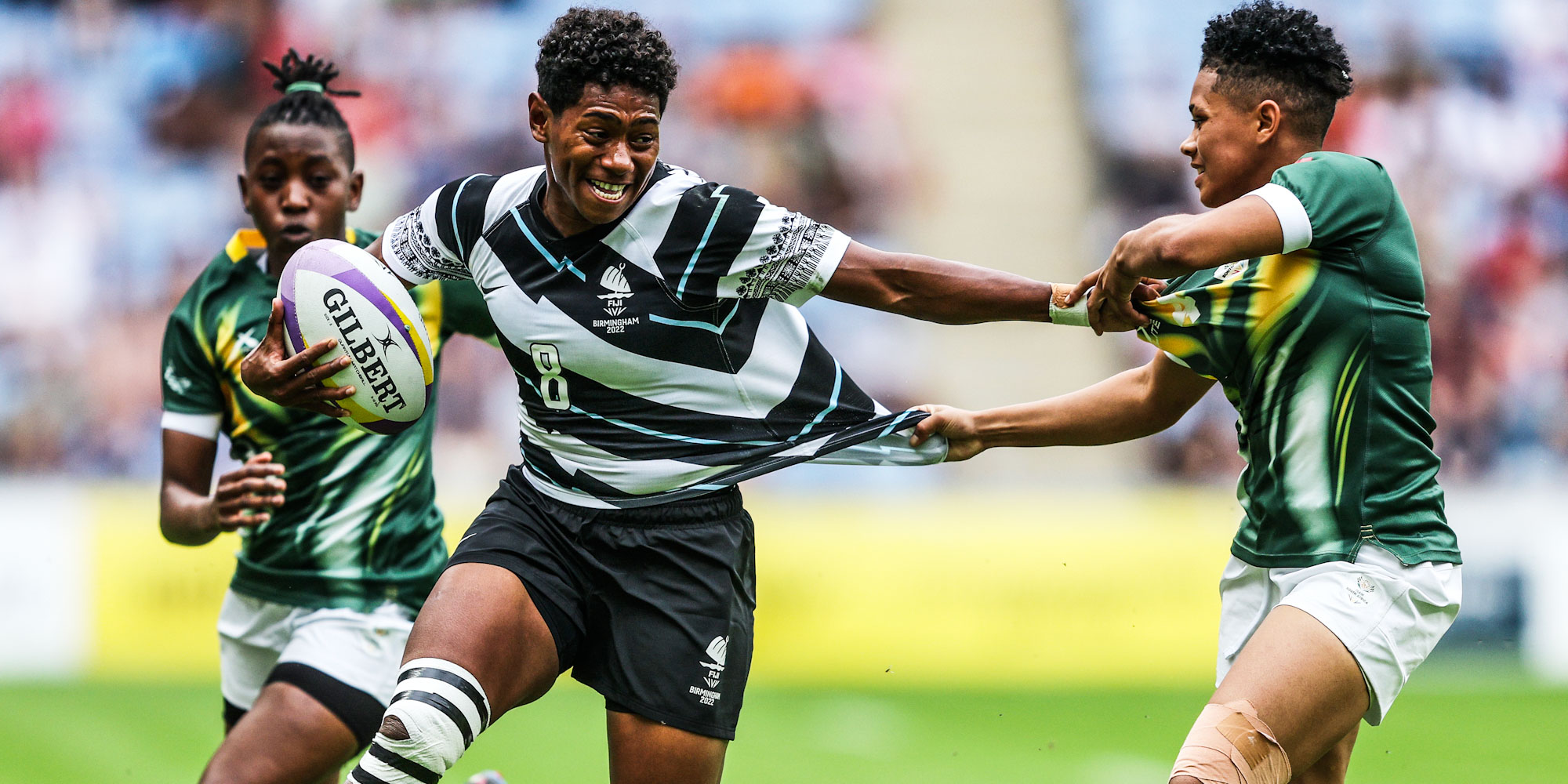 SA Women's Sevens team come up short on tough opening day
The Springbok Women's Sevens team had two tough pool games on the first day of the Commonwealth Games in Birmingham on Friday, losing to Australia in their first clash (38-0) before going down against a determined Fijiana side in their second pool game (41-0).
The Fijiana scored seven tries without reply, capitalising on defensive errors from the South Africans, who are without a number of regular players currently on tour with the Springbok Women's 15s team in Japan.
The SA Women's Sevens team also struggled to get possession and keep it, which was a big problem against the direct Fijiana, who were ruthless from turnovers.
Reapi Ulunisau scored two of the Fijiana's tries, but it was a quick-fire double by Sesenieli Donu in the first two minutes of the second half that put her team in firm control after the half-time score was 19-0.
The SA Women play Scotland in their final pool match on Saturday, with kick-off scheduled for 10h00.
Scorers:
SA Women 0
Fijiana 41 (19) – Tries: Reapi Ulunisau (2), Vani Buleki, Ana Maria Naimasi, Sesenieli Donu (2), Lavena Cavuru. Conversions: Naimasi (2), Ulunisau.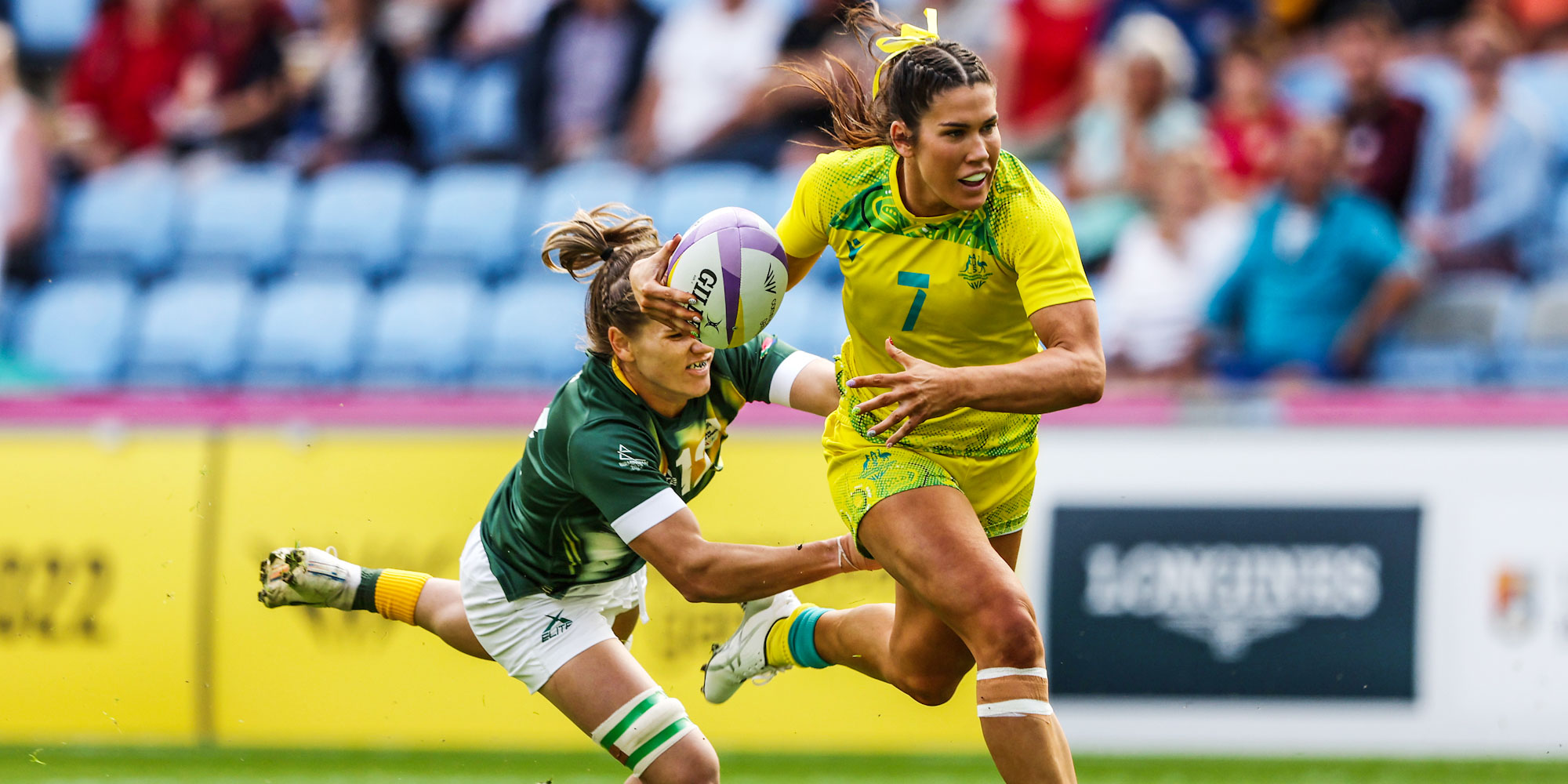 In their first game on Friday, the South African Women's Sevens were unable to contain the powerful Australian outfit as they suffered a 38-0 defeat in their opening Pool B match.
The Australians, who won the silver medal at the Gold Coast in 2018 and dominated the 2022 HSBC World Rugby Sevens Series, ran six unanswered tries as they translated their power and pace into numerous scoring opportunities.
South Africa struggled with their defence in the first half and their opponents scored four tries as a result, setting up a comfortable 26-0 half-time lead. Maddison Levi scored twice in the opening stanza, while Faith Nathan and Charlotte Caslick also went over.
Better coordination on defence from Paul Delport's team saw them restricting their strong opponents to just two tries in the second half, scored by Caslick and Madison Ashby on the stroke of full-time.
Scorers:
South Africa 0
Australia 38 (26) – Tries: Maddison Levi (2), Charlotte Caslick (2), Faith Nathan, Madison Ashby. Conversions: Tia Hinds (4).
All the results and the match schedule for the rest of the weekend can be found here.