The Blue Bulls put in an impressive display to beat SWD by 34-15 on a rainy day which tested different skill sets to earlier in the week, when matches were played in clear conditions, while the Pumas, the only other undefeated team at the tournament, were equally impressive in the way they dismantled Thepa Trading Motswako Griffons, winning 48-18.
The Golden Lions bounced back from their opening defeat to beat Free State by 30-22, meaning that the Bloemfontein side suffered two consecutive defeats at the tournament.
In the opening match of the day, Limpopo Blue Bulls beat the Leopards by 24-17 in a tight encounter. The Limpopo side scored four tries to three in yet another entertaining match at the tournament, which showed that despite the two year absence, it has not lost the ability to thrill crowds and bring the best out of players.
The match between the Golden Lions and Free State was a tight affair, with the Gauteng side holding a two-point lead at the break. The eight-point winning margin was largely because of the goal kicking by their fullback, JT Kapank, who slotted three penalty goals at crucial times of the match to maintain the scoreboard pressure and it delivered the win for his side.
The Pumas ran the Griffons side off their feet, scoring eight tries to three. They were dominant from the start, scoring three unanswered tries in the first half and although the team from Welkom offered some resistance in the second half, the Pumas accelerated and won easily in the end.
The Blue Bulls earned their stripes against a gutsy SWD side by relentless pressure from their pack and accurate kicking from their halfback pairing. They adapted the best to the slippery conditions and every time it looked like SWD were building momentum, the Pretoria team would score points to halt that again.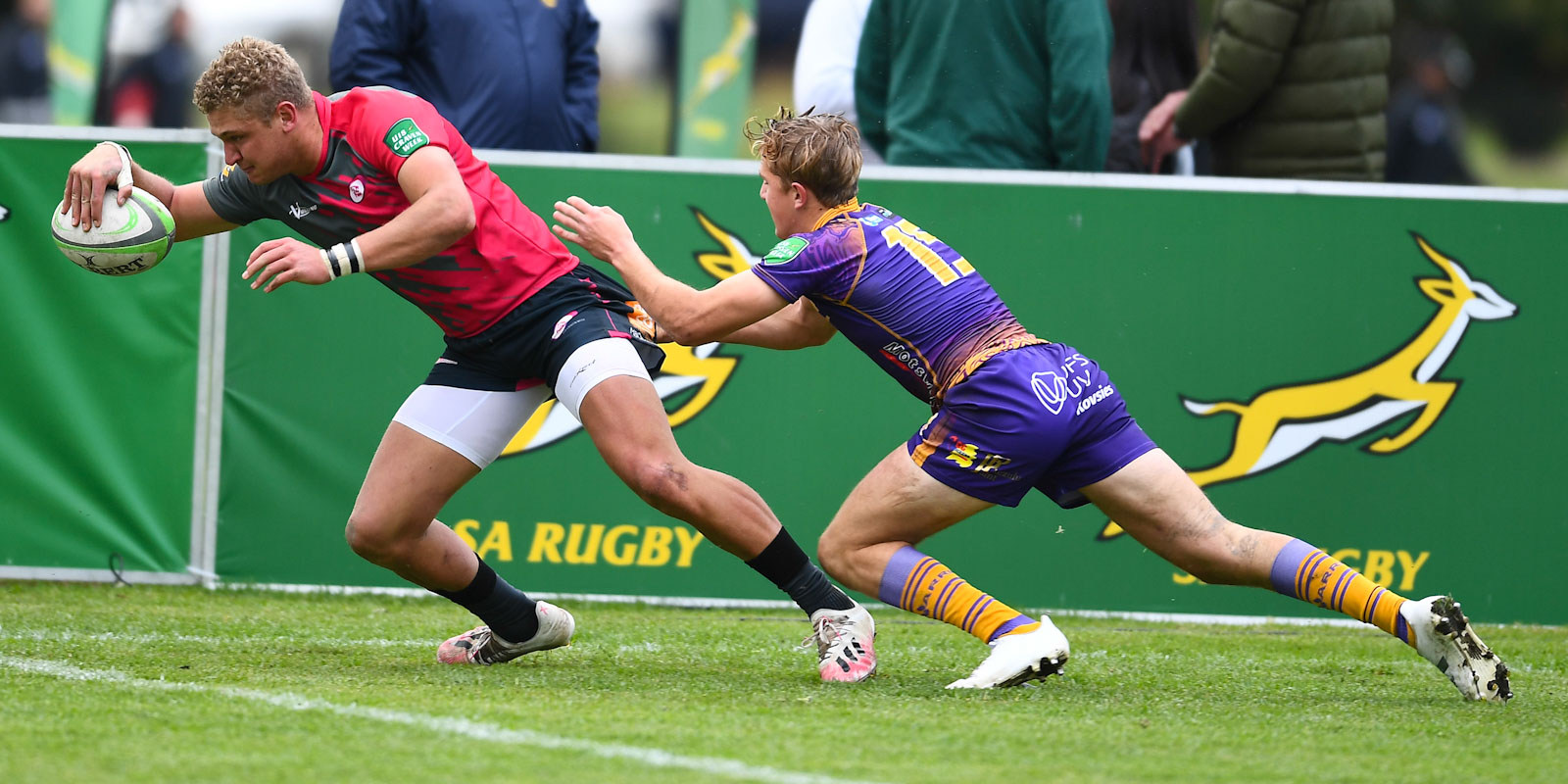 Scorers on day four:
Pumas 48 (19), Thepa Trading Motswako Griffons 18 (3)
Pumas - Tries: Fumani Chauke, Francois Odendaal, Danny van Staden, Tyron Moolman, Grant de Jager, Rinkhals Smit (2), Philasande Ntshapela. Conversions: Hardus Visser (4).
Griffons - Tries: Jayleigh Arends, Kaleb Kriek, Ruben Kruger. Penalty goal: Nalie Kiewiet.
Golden Lions 30 (10), Free State 22 (8)
Lions - Tries: Ruan Welman, JT Kapank, Deon Groenewald. Conversions: Kapank. Penalty goals: Kapank (3).
Free State - Tries: Jermairon Ruiters, Ulrich Wahl, Penalty Try. Conversion: Bradley Giddy. Penalty goal: Giddy.
Limpopo Blue Bulls 24 (12), Leopards 17 (5)
Limpopo - Tries: Carl Dohse, Joy Ngobeni,  Orediretse Rathokolo (2). Conversions: Tristan Brits (2).
Leopards - Tries: Zandro Bezuidenhout, Erich Snyman, Teboho Sekonyela. Conversion: Snyman.
Blue Bulls 34, SWD 15
Blue Bulls - Tries: De Wet Lottering (2), Abri van der Westhuizen, Mietie Erasmus. Conversions: Stehan Heymans. Penalty goals: Heymans (2).
SWD - Tries: Michael Lamont, Werner Groenewald, Conversion: John-Taylor Strydom. Penalty goal: Strydom.
Final day fixtures for Saturday:
Meadows Two
09h00: Leopards v Boland
10h30: Limpopo Blue Bulls v Eastern Province
Meadows One
09h00: Pumas v Griquas
10h30: Valke v Thepa Trading Motswako Griffons
Tinkie Heyns Field
09h00: DHL Western Province XV v Free State
10h30: Golden Lions v Border
12h00: Sharks High Schools v SWD
13h30: DHL Western Province v Blue Bulls