The Springboks delivered a determined second-half performance to claw their way back from 18-3 down at halftime against the Welsh, with Bongi Mbonambi and Malcolm Marx (both hookers) and Kolbe crossing the tryline before the side were awarded a penalty try, which gave the Boks a five-point lead before a late try by Wales levelled the scores at 29-29 in the dying minutes.
Utility back Damian Willemse then stepped up to seal the victory with a penalty goal after the siren had sounded.
The teams will meet in the second of their three Tests in Bloemfontein on Saturday before wrapping up the series in Cape Town a week later.
"It was a dream come true," said Louw, who earned his first Test cap for South Africa, afterwards.
"We were under pressure, but the guys that came on in the second half built momentum and that's exactly what their responsibility was. 
"Going into the game I knew exactly what I had to do when I took the field, and it was great to see the confidence the other players gave me."
With the pressure heaped on in the second half, Louw said he pushed emotions aside and simply focused on the task at hand.
"It was probably more emotional when I found out I made the team," said Louw.
"When I ran onto the field I knew what I had to do, so I did' t really think about the emotions. My mom and dad were obviously proud and I'm sure they had a tear or two in their eyes though"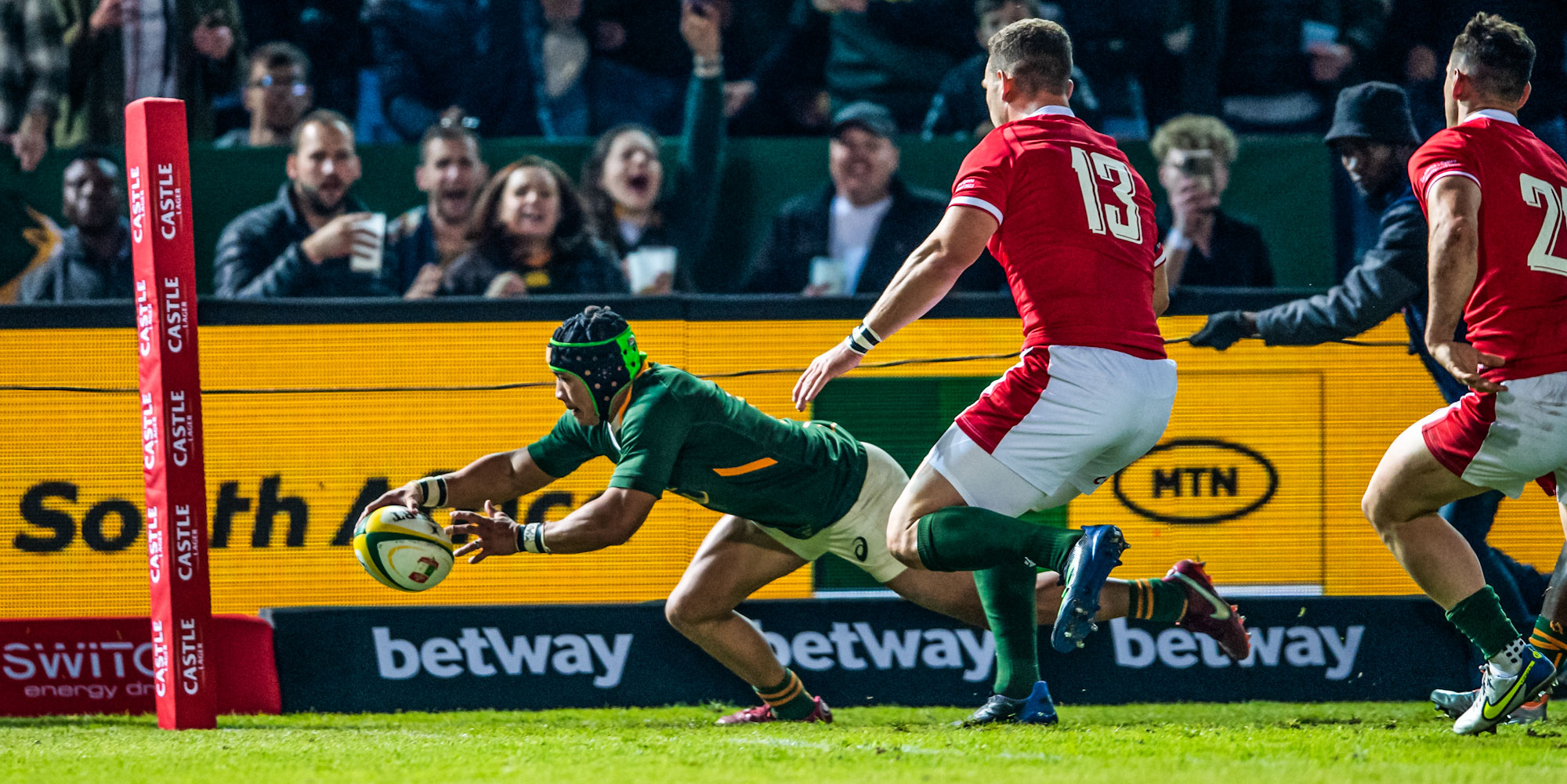 Kolbe spoke openly about his assessment of the match and admitted that their first-half performance was not what they had hoped for.
"Wales play a similar game to ours and in the end it was about who wanted it most" said Kolbe, who played in his 19th Test and scored his 10th try for the Boks.
"We stuck to the plan, and managed to execute it in the end. It was a team effort, and it was great that we could have a positive impact on the game.
He added: "The first 20 minutes was not on par with what we wanted, and it was not good enough.
"There were a few harsh words at halftime, but we are grown men and we want to make each other proud. 
"In the last few minutes, we kept the ball, played in their half, and we lifted the intensity and maintained the pressure and tried to show more pride."
Kolbe spoke highly of Willemse's performance in what marked his first start in the Springbok jersey in front of a home crowd in South Africa and said: "He has been an incredible player since he left school and he has done well when thrown in the deep end since he played Under-18 level.
"It was great to see how he managed. I think he has a lot more to offer the Boks still and I'm sure he will keep improving."
The Springboks departed for Bloemfontein on Sunday and will begin their on-field preparations on Monday for the next Test."