Valke scrumhalf Dineo Swartbooi bagged the first hat-trick of the U16 Week, and she was later followed by Blue Bulls flyhalf Thabitha Ngobeni, who scored three tries and a conversion against the Pumas to become the leading points scorer at the tournament.
The Mastercard Golden Lions, Eastern Province and Border Country Districts all recorded emphatic wins as a total of 47 tries were scored on the opening day.
The Blue Bulls and Western Province also recorded good victories, but in different ways. The Western Cape side squeezed past SWD 10-5 in a very tight game, while the Blue Bulls dismissed the Pumas' effort with ease, winning 42-14 and scoring 25 unanswered points in the second half.
The U18s will get in on the action in Welkom on Tuesday, with eight matches scheduled and the clash between DHL WP and Border expected to be the highlight. With a number of Springbok Women personnel in attendance, including head coach Stanley Raubenheimer, all performances will be looked at in detail.
U16 Girls Week scorers on day one:
Border Country Districts 37 (32) Free State 0 (0)
Border CD – Tries: Sine Gxalaba, Zimbini Striga, Esihle Ngibe (2), Liliy Ntshidi, Anelisa Striga (2). Conversion: Semi Maliwa.
Valke 63 (29), Griffons 0 (0)
Valke – Tries: Katleho Sibiya, Nokkhanya Sidu, Dineo Swartbooi (3), Itumeleng Malala, Paddy Moloi, Lusanda Mngoma, Tesmeque Maritz (2), Tshegofatso Ranake. Conversions: Malala (4).
Border 27 (5), Boland 0 (0)
Border – Tries: Zeze Gcaza (2), Hluma Tsheula, Zanele Sikela, Yandi Menzi. Conversion: Sino Nqenekile.
Eastern Province 37 (17), Griquas 0 (0)
EP – Tries: Shorty Malahle, Lin Duma (2), Kleintjie Leeuskieter, Eleine de Vos, Janique Scholz. Conversion: Scholz.
Mastercard Golden Lions 41 (15), Leopards 0 (0)
Golden Lions – Tries: Bonolo Lebakeng, Angelique Ross-Allen, Chloe Reed (2), Chloe Olenga, Sande Ndandani (2). Conversions: Katleho Radebe, Amarachi Ezeh.
Limpopo Blue Bulls 22 (0), Sharks 15 (10)
Limpopo – Tries: Vanessa Gabadi, Makungu Ntsumele, Nkuriso Shebori (2). Conversion: Gabadi.
Sharks – Tries: Asanda Mnyandu, Aphiwe Zaca (2).
DHL Western Province 10 (5), SWD 5 (5)
WP – Tries: Coby Afrika, Cleo Harris.
SWD – Try: Lee-Ann Muller
Blue Bulls 42 (17), Pumas 14 (14)
Blue Bulls – Tries: Lethabo Masopye, Kgothatso Baloyi, Boikanyo Matlala, Thato Mokone, Emogan Le Fleur, Thabitha Ngobeni (3). Conversion: Ngobeni.
Pumas – Tries: Risper Mgwenya, Pearl Mkhabela. Conversions: Anele Dube (2).
U18 fixtures:
10h00: Eastern Province v Pumas; Leopards v Limpopo Blue Bulls
11h20: Blue Bulls v Sharks; Griffons v Valke
12h30: Zimbabwe v Mastercard Golden Lions; Griquas v Free State
13h40: Border v DHL Western Province; Boland v SWD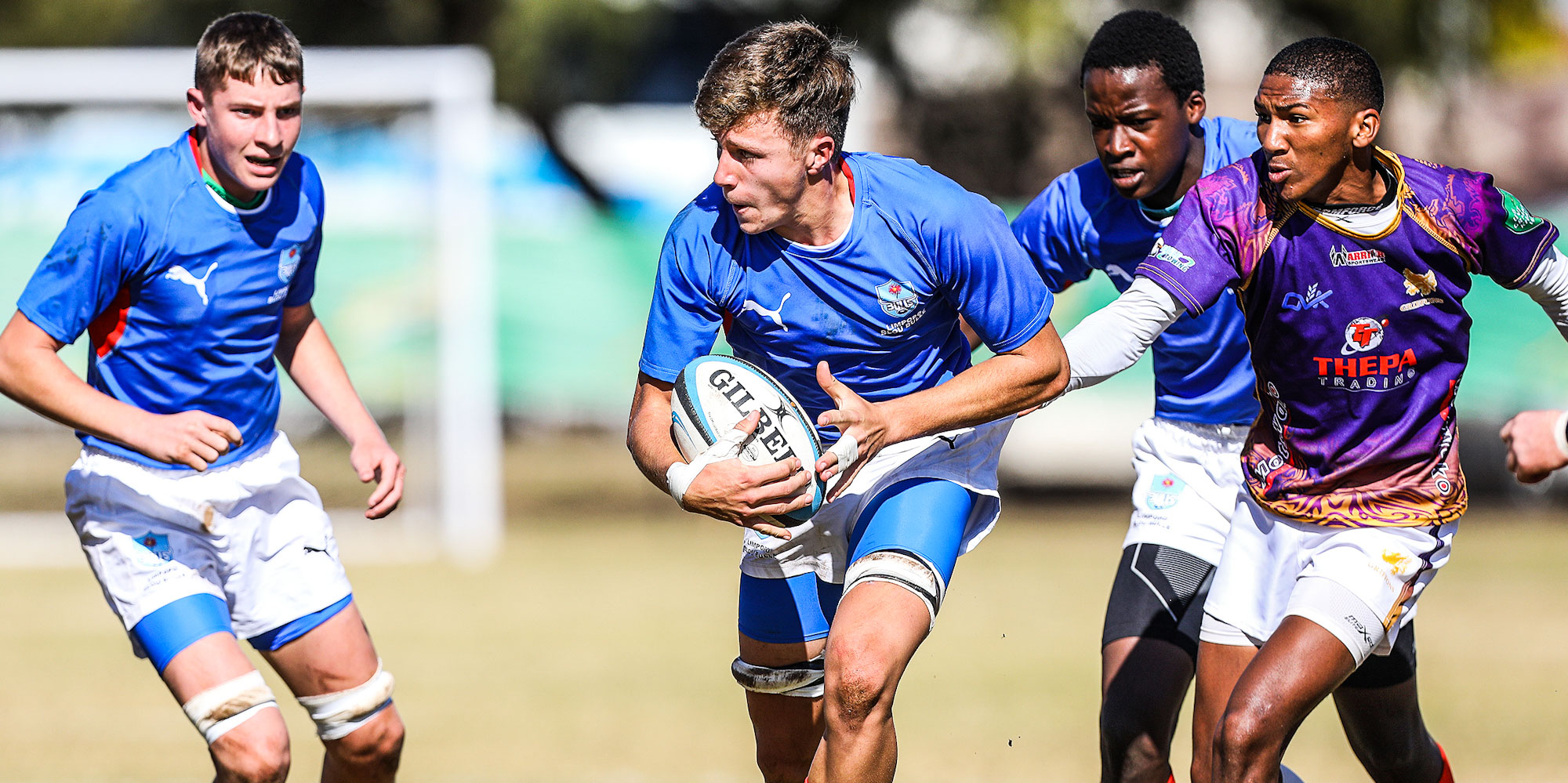 SA Rugby U16 Grant Khomo Week
In Kimberley, there were strong performances from the perennial achievers at the U16 Grant Khomo Week.
The Western Cape sides again proved a handful, with Western Province XV beating the Leopards and Western Province edging the Golden Lions, after having to overcome a 11-5 deficit at the break, but rallying strongly in the second half to clinch the win.
Boland showed good form in beating Griquas, but SWD ran into a rampant Blue Bulls team.
U16 Grant Khomo Week scorers (day one):
Western Province XV 31 (24), Leopards 17 (10)
WP XV – Tries: Liam Burger (2), Samuel Badenhorst, Michael Satade, Xander Engelbrecht. Conversions: Rayaan Solomons (2), Retagan van Rooi.
Leopards – Tries: Lorenzo Snyers, Alexander Benedetti. Conversions: Snyers (2). Penalty goal: Snyers.
Namibia 12 (5), Border Country Districts 0 (0)
Namibia – Tries: Janco van Tonder (2). Conversion: Waldre Kotze.
Free State 28 (14), Border 12 (0)
Free State – Tries: Heinrich Theron, Theko Montjane (3). Conversions: Alzeadon Felix (3), Toriq Schambreel.
Border – Tries: Thina Fenako, Bubbles Mtshini. Conversion: Itha Mbulana.
Zimbabwe 15 (10), Griquas XV 7 (0)
Zimbabwe – Tries: Thomas Judson (2), Wayne Kuraimunashe.
Griquas – Try: De Wet du Plooy. Conversion: Abdul Fisher.
Blue Bulls 47 (17), SWD 7 (0)
Blue Bulls – Tries: Mphela Mphela, Muntingh Hamman, Jeffrey Singo, Ruan Lippold, Malan Graham, Malcolm George, Janco Purchase. Conversions: Ruben Pienaar (4).
SWD – Try: Keanon Jantjies. Conversion: Elgernon Meyer.
Thepa Trading Motswako Griffons 45 (26), Limpopo Blue Bulls 21 (7)
Griffons – Tries: Rylen Kirsten (3), Frederick Fourie, Hloni Mokotjo, Ru-Bran Kock, Craig Mann. Conversions: Cheswill Jooste (4), Fourie.
Limpopo – Tries: Botter Geyer, Unathi Mlotshwa, Damian Bye. Conversions: Mlotshwa (3).
Sharks 42 (21), Eastern Province 13 (10)
Sharks – Tries: Mahle Sithole, Carlyle Hawkins, Imivuyo Kemka, Zenkosi Mthiyane, Jake Jansen, Cameron Veenstra. Conversions: Aka Boqwana (6).
EP – Try: Johannes Van Zyl. Conversion: Lucraine Muggels. Penalty goals: Muggels (2).
Valke 29 (7), Pumas 0 (0)
Valke – Tries: Storm Labuschagne, R-Jay Pietersen, Zaid Rippenaar, Divan Francis, Conversions: Kayle Venter (3). Penalty goal: Venter.
DHL Western Province 24 (5), Golden Lions 17 (11)
WP – Tries: Almero Keizer, Viaan Mentoor, Tristan Fransman, Reuben Kruger. Conversions: Ashwin Cox (2).
Golden Lions – Try: Junior van Wyngaardt. Penalty goals: Simphiwe Moyo (4).
Boland 36 (22), Griquas 14 (0)
Boland – Tries: Armand Croeser, Fortune Goni, Ewald Vorster (2), MJ van der Westhuizen, Luan Giliomee. Conversions: Giliomee (3).
Griquas – Tries: SW van Heerden, Sylvester Hoffman. Conversions: Simon Liversage (2).
Fixtures for Tuesday, 28 June:
A-field:
08h30: SWD v Griquas
09h50: Border v Pumas
11h10: Valke v Griffons
12h30: Golden Lions v Boland
13h50: Free State v Blue Bulls
15h20: DHL Western Province v Sharks
B-field:
08h30: Namibia v Limpopo Blue Bulls
09h50: Border CD v Griquas XV
11h10: Zimbabwe v Leopards
12h30: WP XV v Eastern Province