The Test against Namibia was such a game for DHL Western Province flanker Nokubongo Siko and her provincial teammate Azisa Mkiva (prop), a match they will remember forever. Both made their international debuts at City Park on Thursday in the 20-try win and although their journeys to that point were quite different, the emotions and gratitude were the same.
For Siko, a 28-year-old mother of two, it was a journey that took her from rural kuCentane in the Eastern Cape to North West province and the Matlosana Rugby Academy in Klerksdorp. From there, she received a provincial call-up to the Leopards and in 2016, a first invitation to a national camp. The future looked bright indeed.
"In my village in the Eastern Cape, there was no sport, and I was only picking up the game when I moved to Northwest," Siko recalled.
"I made the Leopards in 2014 and then got my first invite to camp with the national team in 2016 and 2017. I felt my hard work was getting rewarded. Then something amazing happened, I was blessed with twins."
The newfound status of motherhood saw Siko, herself a twin, leaving the game and returning to her village to raise Khanya and Khayone, her daughters, who were born in October 2017.
"In 2019, I was starting to think about the game again and reflecting on all the hard work I did before my twins came," she said.
"I decided to take up the game again. At that stage, an opportunity at Busy Bees in Langa, Cape Town opened up and I moved down here to play for them. At the end of the season, I was named Player of the Year and invited to join Western Province.
"Then COVID came and we did not play for almost two years. But I kept on working hard and pushed hard, playing for Western Province. This year, I got another invite and then the chance I dreamed about for so long," Siko explained.
She was named on the bench for the opening match of the tournament against Zimbabwe but did not play. Her fortunes changed against Namibia - first for the good and then for the worse.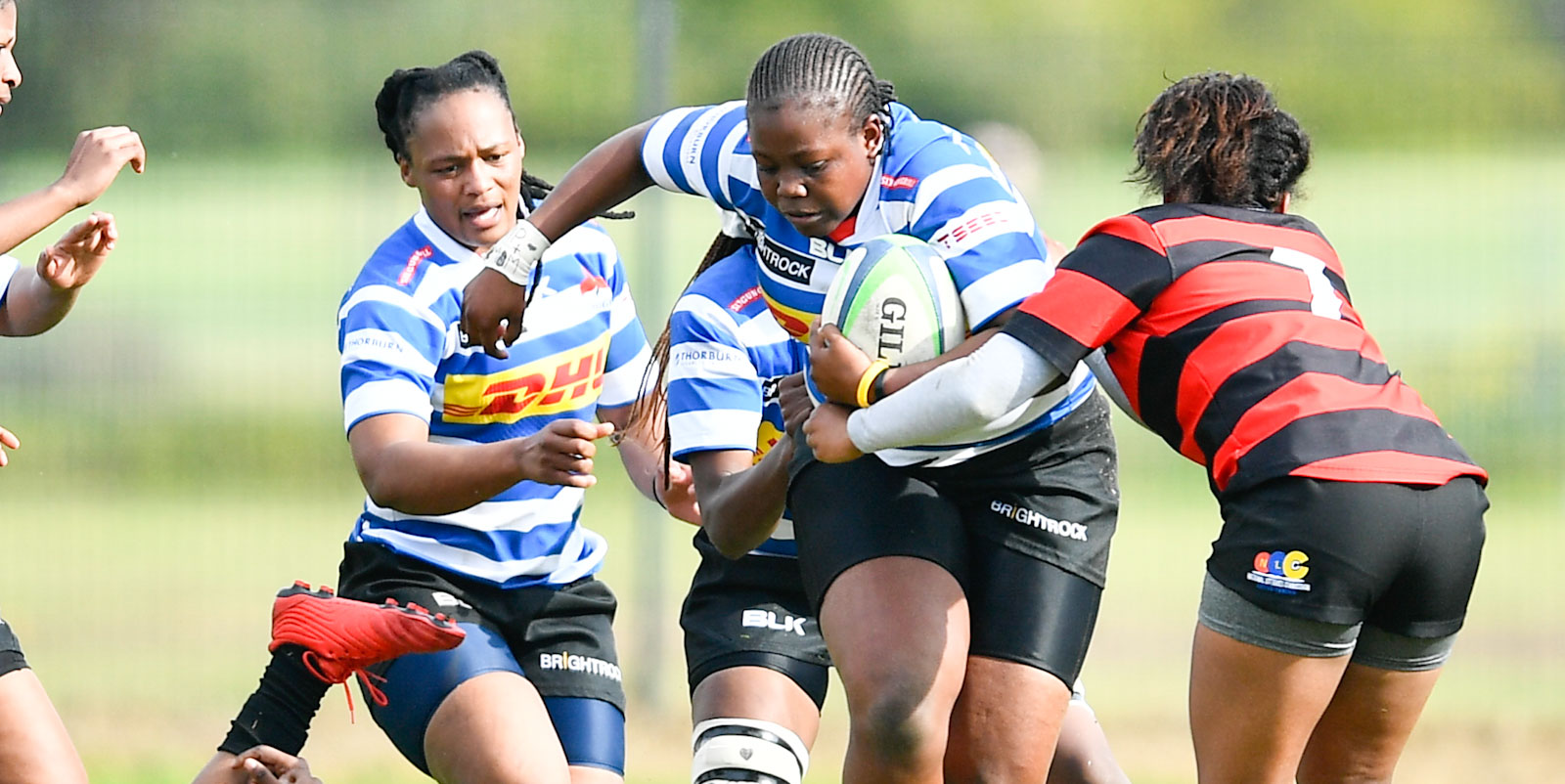 Lusanda Dumke received a blow to the head in the team's warm-up for the Namibian clash and when she was ruled out, Siko moved from the bench to starting flanker. Suddenly it was all happening.
Cruelly though, prop Babalwa Latsha was red carded at the end of the first quarter and Siko had to make way for Asithandile Ntoyanto, as a prop is required to be brought on to the field by the laws of the game.
"It was such a weird experience," she said. "I was just getting into my game, had one or two involvements in the game and then I was called off the field. First, I thought it was temporarily, but then I was told my game was over as there was a red card."
Siko remains positive, despite the cruel end to her Test debut: "I got the opportunity I asked for. I just wanted to show people my hard work and my ability and although it was short-lived, it was still there, something I am very grateful for.
"I was also happy to share the moment with ex-Leopards teammate, Nomsa Mokwai, who started on the bench. We started playing together in Potchefstroom and to have her around when I played my first test was very nice."
The impact of the Busy Bees club on the national team remains impressive, as the selection of Siko and Mkiva illustrates.
Mkiva, originally from Qobo Qobo (Keiskammahoek), started playing rugby at Busy Bees in 2016 as a 17-year-old. She was soon spotted by her province and although the first provincial call-up came in 2018, she only made her first appearance for the team in 2019, only for her budding career to be halted when rugby stopped.
"I realised that I could compete at national level when I found myself and my team performing very well in the Premier Division," recalled Mkiva, a Cape Town College Business Management student.
"It made me realise that I can play with these ladies, and I started to believe that I can make the Springbok Women."
She was invited into the first alignment camp of the year in Stellenbosch and her reputation grew amongst the coaching staff. Like Siko, she was not called off the bench against Zimbabwe, but that did not bother her.
"It is the coaches' call to use the bench. I was ready the first time, but also when I got to the call to go onto the field, I was very pleased. And I am also proud, because now I can call myself a Springbok Women player. A lot of people supported and encouraged me along the way to this point and to all of them I just want to say thank you," Mkiva said with a broad smile.
The squad reassemble on 10 July in Pretoria for a 10-day holding camp before they depart to Japan for a two-test series.