UCT's 12 try romp in a surprisingly one-sided affair over the previously unbeaten Ixias was followed by a rebound win from UP-Tuks, who held on to deter a determined UWC.
The University of Pretoria held a strong 26-10 lead at the break, but had to hang on as the University of Western Cape side rallied strongly in the second half to win 31-25. Both matches were played at Tuks Stadium.
On Tuesday - Freedom Day - Maties moved up the log with a good 26-12 victory over the NWU Eagles, keeping the men from Potchefstroom try-less, while UJ had to work hard for their 34-32 win over Shimlas from the Free State, and Wits got the second 70-pointer in the fifth round when they crushed the Madibaz by 77-7.
The sixth round of the FNB Varsity Cup is scheduled for Friday with the following matches: CUT Ixias vs Maties (14h00, Tuks B-Field, DStv Now channel 245); UWC vs UJ (15h00, Loftus Versfeld, SuperSport Rugby channel 211); Madibaz vs UFS Shimlas (16h00, Tuks B-Field, DStv Now channel 245); UP-Tuks vs UCT Ikeys (17h00, Loftus Versfeld, SuperSport Rugby channel 211); and NWU Eagles vs Wits (19h00, Loftus Versfeld, SuperSport Rugby channel 211).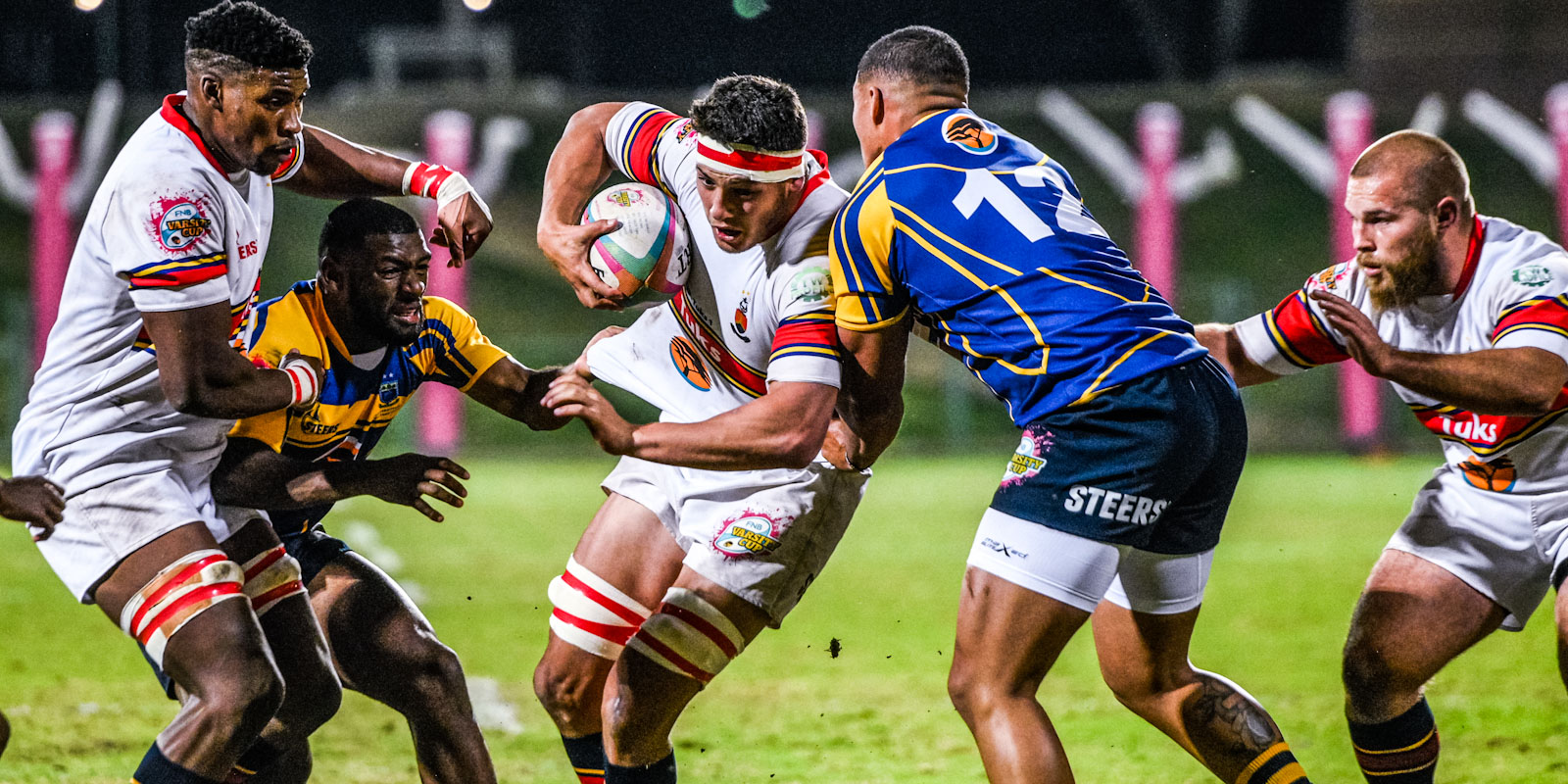 A scoring summary of Monday's action:
FNB UCT Ikeys 76 (42) FNB CUT Ixias 5 (0)
UCT confirmed their status as FNB Varsity Cup title favourites by thrashing CUT in a one-sided affair.
Coming into this fixture, CUT had conceded just seven tries in four matches, but the Cape side put 12 five-pointers past the men from Bloem - including a hat-trick by fullback Athi Gazi - in a dazzling display.
Scorers:
FNB UCT Ikeys – Tries: William Rose, Athi Gazi (1x7, 2x5), Rethabile Louw (2x7), Devon Arendse, Le Roux Malan, Neil Otto, Gary Porter, Josh van Vuuren, Liam Kloosman. Conversions: James Tedder (5).
FNB CUT Ixias – Try: Hans Terblanche.
FNB UWC 25 (10) FNB UP-Tuks 31 (26)
UP-Tuks returned to winning ways as their five tries were enough to hold off a resilient UWC.
The men from Pretoria were in control for the majority of the match, with their set moves off set plays providing countless opportunities on attack while their defence repeatedly frustrated Udubs.
However, two yellow cards to UP-Tuks late in the match allowed UWC to creep back into contention.
Scorers:
FNB UWC – Tries: Jason Cloete, Jason Alexander, Godfrey Muzanargwo. Conversions: Ethan Diston (2). Penalty Goals: Diston (2).
FNB UP-Tuks – Tries: Johan Mulder, André van der Merwe, Louritz van der Schyff, Zander du Plessis, Llwellyn Classen. Conversions: Du Plessis (3).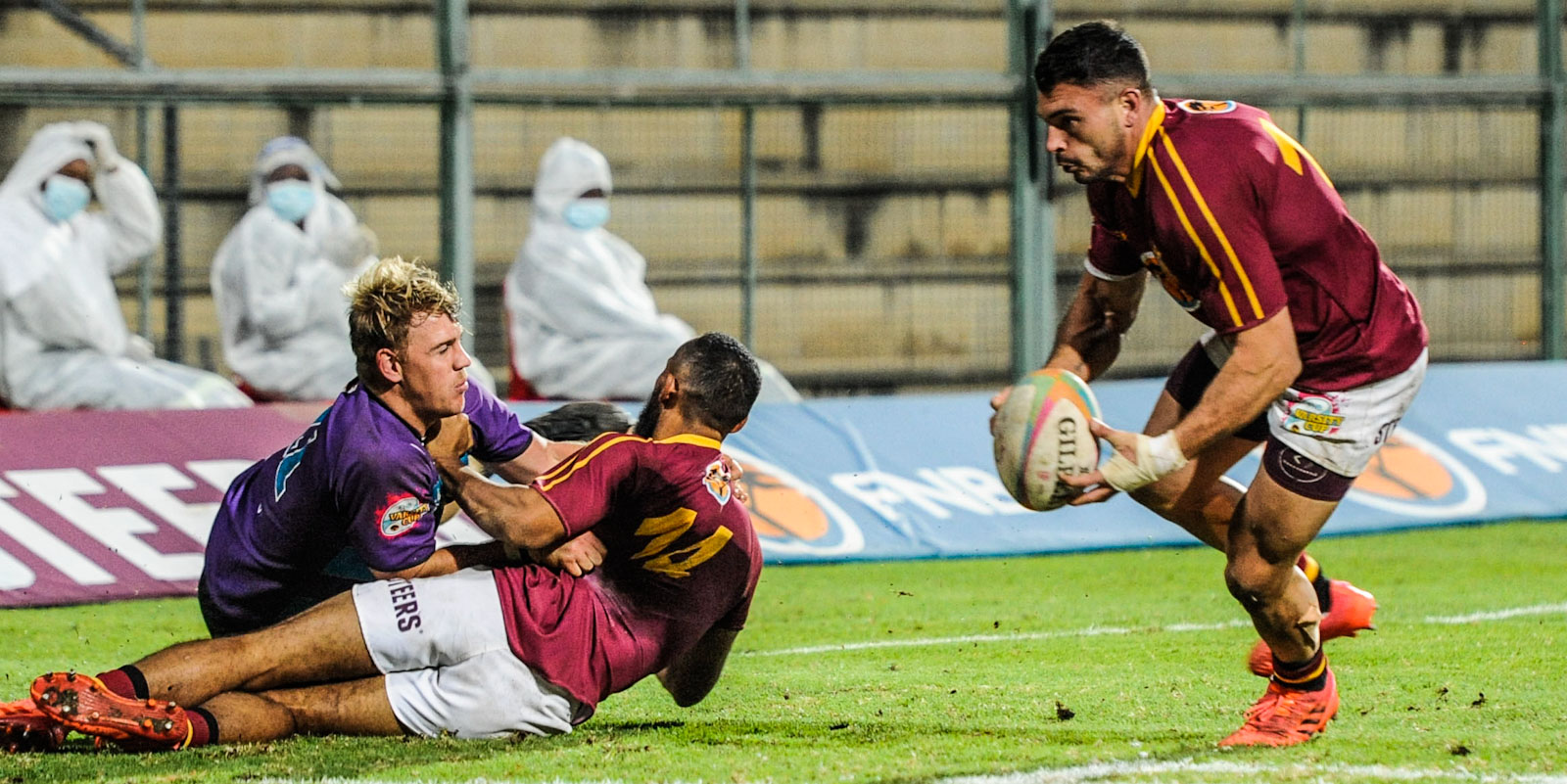 FNB UJ 34 (24) FNB UFS Shimlas 32 (0)
UJ survived a strong second-half comeback by UFS Shimlas to claim a second consecutive win in this year's tournament.
The Johannesburgers were aggressive in attack from the onset, often fronting up in collision after collision, which appeared to leave Shimlas shell-shocked, and UJ deservedly led 24-0 at the break.
However, FNB Shimlas took stock at half-time and reloaded to force themselves back into the match, scoring 32 points but in the end coming up just short.
Scorers:
FNB UJ – Tries: Musawenkosi Tshabalala, Prince Nkabinde, Pierre Rabie (2), Jurich Claasens. Conversions: Claasens (3). Penalty goal: Claasens.
FNB UFS Shimlas – Tries: Ruwald van der Merwe, William Moffat (1x7), Jorell Arries (1x7), Thabo Ndaminde. Conversions: JP Duvenage (4).
FNB WITS 77 (42) FNB Madibaz 7 (7)
Wits' dominant scrum laid the platform for their biggest-ever FNB Varsity Cup win and their first of the 2021 campaign after being awarded three penalty tries in the match – including two in the first quarter – from the set-piece.
Before the game, the teams shared a touching moment when they stood together in memory of former Madibaz manager Ntsikelelo 'Amigo' Ngcakana, who passed away last year.
The Witsies never let go of the strangle-hold they had on the men from Nelson Mandela University. Their third penalty try, with five minutes remaining, was followed by two point-of-origin tries from replacement flyhalf Christian Humphries and scrumhalf Hlumelo Ndudula that compounded the Madibaz's misery.
Scorers:
FNB Wits – Tries: Henco van Wyk, Penalty try (3), Travis Gordon, Constant Beckerling, Aidynn Cupido (1x7), Mark Snyman (2), Christian Humphries (1x7), Hlumelo Ndudula (1x7). Conversions: Kurt Webster (5).
FNB Madibaz – Try: Njabulo Toni. Conversion: Chadwyn November.
FNB Maties 26 (5) FNB NWU Eagles 12 (6)
Maties slugged it out against North West University in a scrappy affair, but in the end the defending FNB Varsity Cup champions ran in four tries to zero for a good win that saw them move up to third on the log as Ixias dropped to fourth.
The Eagles opened the scoring in the 12th minute via the boot of flyhalf Keagan Fortune, who ended up scoring all their points, before the Maroon Machine's lock pairing linked up brilliantly to allow Albert Liebenberg to canter over the chalk.
NWU were dealt a blow during the act of David Brits' try as wing Pienaar van Niekerk was handed a red card for taking Munier Hartzenberg out in the air and spent 15 minutes with a one-man disadvantage.
The Maroon Machine continued pushing hard and sealed the win when No 8 Ben-Jason Dixon, who was named FNB Player the Rocks, ran hard at the defence to force himself over the line to score a scintillating point-of-origin try.
Scorers:
FNB Maties – Tries: Albert Liebenberg, David Brits (1x7), George Lourens, Ben-Jason Dixon (1x7). Conversion: Christopher Schreuder.
FNB NWU Eagles – Penalty goals: Keagan Fortune (4).