The Blues got their first win in Pretoria with a 48-14 romp over Eastern Cape neighbours, Rhodes University, while the Impi had way to much in their arsenal against fellow KZN foes, the Durban University of Technology (DUT Rhinos), winning 71-7.
With the win, CPUT now top the log with 20 points after four matches, while Walter Sisulu University (who had a bye) is second with three wins from three starts, and the Impi in third spot as the FNB Varsity Shield will go into a 12-day break.
The FNB Varsity Cup resumes on Thursday with the following round four fixtures:
FNB NWU Eagles vs FNB UWC (14:00, Tuks B-Field, DStv Now channel 245)
FNB UFS Shimlas vs FNB UCT Ikeys (15:00, Loftus Versfeld, SuperSport Rugby channel 211)
FNB Wits vs FNB CUT Ixias (16:00, Tuks B-Field, DStv Now channel 245)
FNB Madibaz vs FNB UJ (17:00, Loftus Versfeld, SuperSport Rugby channel 211)
FNB UP-Tuks vs FNB Maties (19:00, Loftus Versfeld, SuperSport Rugby channel 211)
Match summaries of Tuesday's FNB Varsity Shield action at Loftus Versfeld:
FNB Rhodes 14 (11) FNB UFH Blues 48 (17)
The Blues left it late and scored four tries in the final quarter to secure their first win of the FNB Varsity Shield season, after Rhodes dominated possession and territory for the first 55 minutes.
Crucial missed goal kicks and touch-finders from penalties by the men from Grahamstown, as well as a misfiring lineout and handling errors, proved costly. The Blues played just two days ago while the Stallions had a bye, yet it was the former who dominated the final 20 minutes.
Scorers:
FNB Rhodes – Tries: Bongumusa Mokoena. Penalty goals: Simamkele Ngantweni (3).
FNB UFH Blues – Tries: Yamkela Mzozoyana (2), Lukhanyiso Tosholwana, Keith Chiwara (2), Lwazi Madiba, Lukho Jongizulu. Conversions: Merlin du Plessis (2), Chiwara (2), Madiba. Penalty goal: Du Plessis.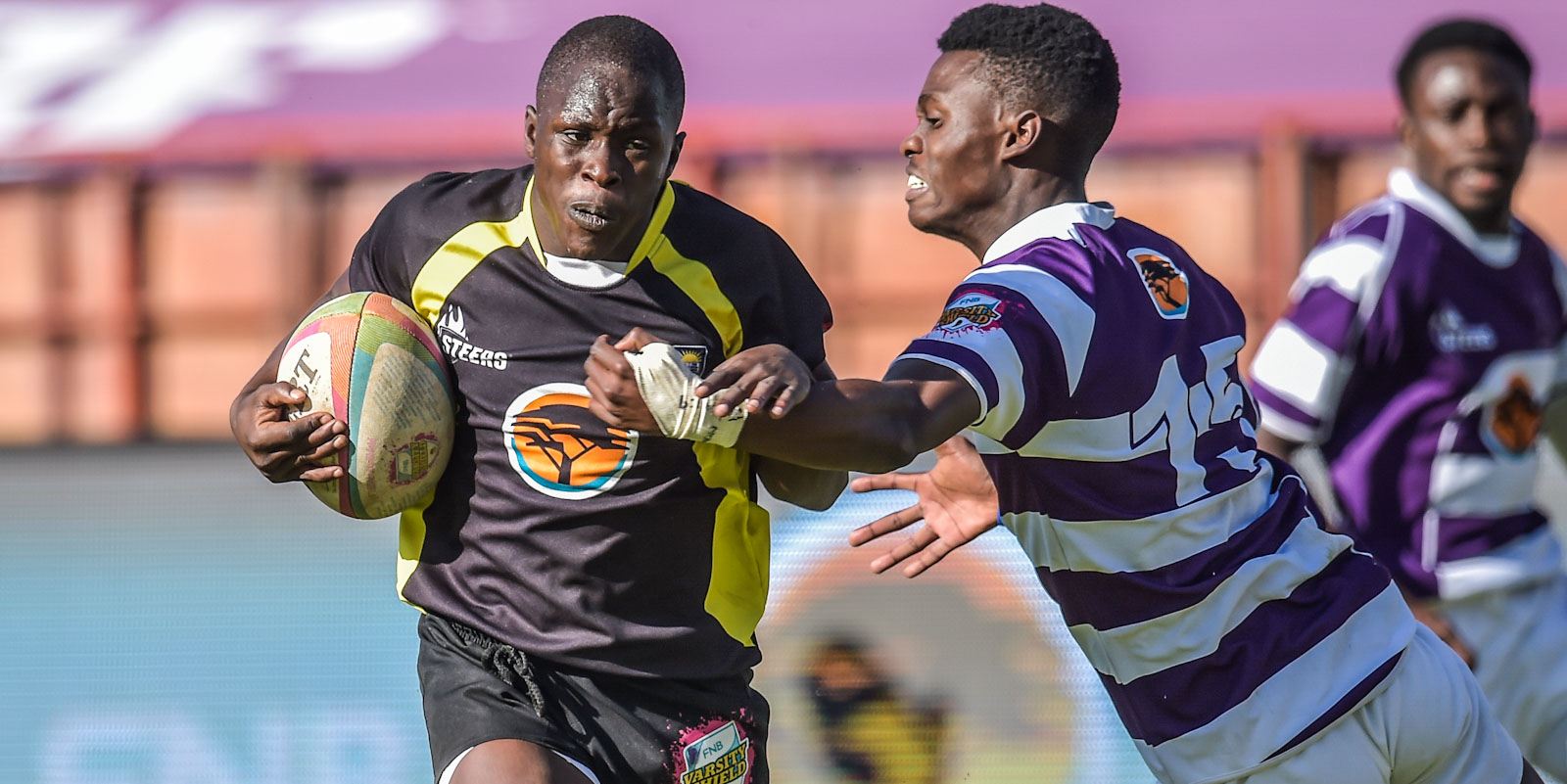 FNB CPUT 54 (37) FNB TUT Vikings 20 (6)
CPUT trampled TUT to record a fourth consecutive bonus-point win in a tough clash between two unbeaten contenders tht proved fairly one-sided in the end.
The Capetonians dominated their opponents throughout the match, attacking the gain line at will while stifling the majority of the Vikings' attempts on attack.
The first half dished up six tries to the defending champions as they ran rampant. Hooker Siyasanga Ngubelanga bagged a brace while No 8 Sesona Macala, flank Ché Klaasen and wings Asisipho Malotana and Nathan Nkutu crossed to record a bonus point before half-time.
Scorers:
FNB CPUT – Tries: Siyasanga Ngubelanga (2), Sesona Macala (2), Ché Klaasen, Asisipho Malotana, Nathan Nkutu, Anenceba Salman. Conversions: Feghon-Leigh Snyders (3), Imibongo Vabaza. Penalty goals: Snyders, Vabaza.
FNB TUT Vikings – Tries: Handro Horn, Lusanda Xakwana. Conversions: Xakwana (2). Penalty goals: Xakwana (2).
FNB UKZN Impi 73 (26) FNB DUT Rhinos 7 (0)
UKZN bounced back from two consecutive defeats with a big win in the first-ever KwaZulu-Natal FNB Varsity Shield derby.
After conceding 245 points and 39 tries in their first two games, this was a much improved performance by the Rhinos. They showed far more fight and even scored a try while down to 13 men, so will take some positives from this defeat. 
Impi No 8 Menzi Mabaso scored a memorable hat-trick and was named FNB Player that Rocks. 
Scorers:
FNB UKZN Impi – Tries: Jarryd Nicholls, Menzi Mabaso (3), Nkanyezi Gumede, Linamkele Mcwabeni, Gacula Poswa, Thando Cele, Sinamava Ntsinde, Thobani Shangase, Luyanda Zondi. Conversions: Jodian de Vos (7), Linamkele Mcwabeni (2).
FNB DUT Rhinos – Try: Moyomuhle Mkhize. Conversion: Nelson Mhlongo.