CPUT outplayed the Durban University of Technology (DUT Rhinos) 109-6, TUT edged the University of KwaZulu-Natal (UKZN Impi) 22-3 and in an Eastern Cape derby, the WSU All Blacks had too much class for their Alice foes, beating the University of Fort Hare Blues (UFH) 46-12.
The FNB Varsity Shield will continue on Tuesday, 20 April, with three fourth round matches at Loftus Versfeld - Rhodes vs UFH Blues (15h00), CPUT vs TUT Vikings (17h00) and the KZN derby between UKZN Impi vs DUT Rhinos (19h00). All the matches will be live on the SuperSport Rugby channel (211), while the WSU All Blacks have a bye.
After an 11-day break, the FNB Varsity Cup will resume on Thursday, 22 April, with five mathces in the fourth round at two venues in Pretoria:
FNB NWU Eagles vs FNB UWC (14:00, Tuks B-Field, DStv Now channel 245)
FNB UFS Shimlas vs FNB UCT Ikeys (15:00, Loftus Versfeld, SuperSport Rugby channel 211)
FNB Wits vs FNB CUT Ixias (16:00, Tuks B-Field, DStv Now channel 245)
FNB Madibaz vs FNB UJ (17:00, Loftus Versfeld, SuperSport Rugby channel 211)
FNB UP-Tuks vs FNB Maties (19:00, Loftus Versfeld, SuperSport Rugby channel 211)
Match summaries of Sunday's FNB Varsity Shield's action below:
FNB DUT Rhinos 6 (3) FNB CPUT 109 (55)
Hooker Siyasanga Ngubelanga scored four tries, including a first-half hat-trick, as CPUT totally dominated the clash. The Rhinos conceded 17 tries and another century of points.
Scorers:
FNB DUT Rhinos – Penalty Goal: Luyolo Nkwanca. Drop goal: Nelson Mhlongo.
FNB CPUT – Tries: Siyasanga Ngubelanga (4), Jurick Lewis (2), Roland van der Heever (2), Damian Isaacs, Asisipho Malotana, Butsha Mputa (3), Nathan Nkutu, Hughwan Engelbrecht, Tauriq Gamieldien, Lucien Phillips. Conversions: Feghon-Leigh Snyders (5), Imibongo Vabaza (7).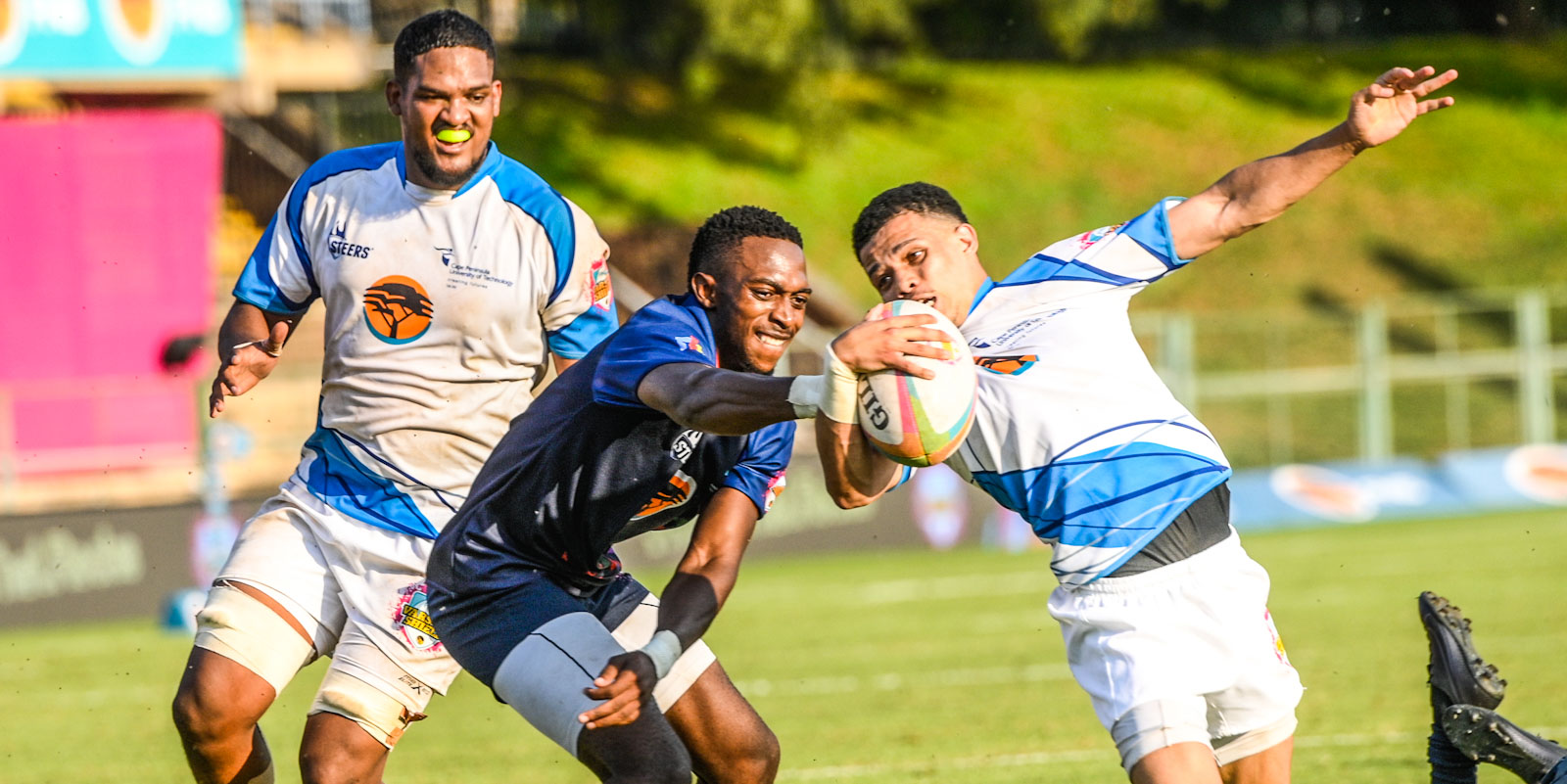 FNB TUT Vikings 22 (11) FNB UKZN Impi 3 (0)
The TUT Vikings pulled out all the stops to beat the UKZN Impi and secured only their third win from 12 meetings against the KZN side. The team from Pretoria controlled large swathes of the match especially at the set-pieces.
The first half belonged solely to TUT flyhalf Lusanda Xakwana as he kicked an early penalty goal before scoring a brilliant solo try in the 30th minute that saw him dummy, sidestep and collect his grubber.
The Impi managed a penalty goal in the second stanza while Vikings scrumhalf Ethan Wilson crossed the whitewash.
Scorers:
FNB TUT Vikings – Tries: Lusanda Xakwana, Ethan Wilson. Penalty goals: Xakwana (2), LJ Pretorius (2).
FNB UKZN Impi – Penalty goal: Sibongile Novuka.
FNB UFH Blues 12 (0) FNB WSU All Blacks 46 (25)
A dominant scrum set the platform for WSU's convincing win against UFH. The WSU backs made the most of the front-ball they were given, scoring three tries to take a 25-0 lead into half-time. The Blues were more competitive in the second half, scoring two tries, but conceded another three.
Scorers:
FNB UFH Blues – Tries: Intle Mancoko, Moeketsi Tuswa. Conversion: Apiwe Sidloyi.
FNB WSU All Blacks – Tries: Sakhele Ngeno (2), Sicelo Tole (2), Ayabulela Zono, Lisolethu Valisi. Conversions: Litha Nkula (5). Penalty goals: Nkula (2).