The Springbok front rowers' visit to the school was a reward for the winners of the #StrongerTogether for R32-12 Schools Challenge to the school who sold the most raffle tickets in the Springboks' hunger alleviation campaign earlier this year.
All the funds raised during the campaign were used to feed more than a million people who were negatively affected by the COVID-19 pandemic.
St John's College, based in Houghton in Johannesburg, won the Schools' Challenge – driven by Boys for Action – after a fantastic effort during which they sold more than 2 000 tickets, at R32-12 each, for the fundraiser.
Mtawarira retired after the Springboks' memorable triumph over England in the final of the 2019 RWC in Japan, but on Wednesday the "Beast" was back on Bok duty with Marx, who will travel to Japan next week to resume his club rugby commitments cut short by the pandemic.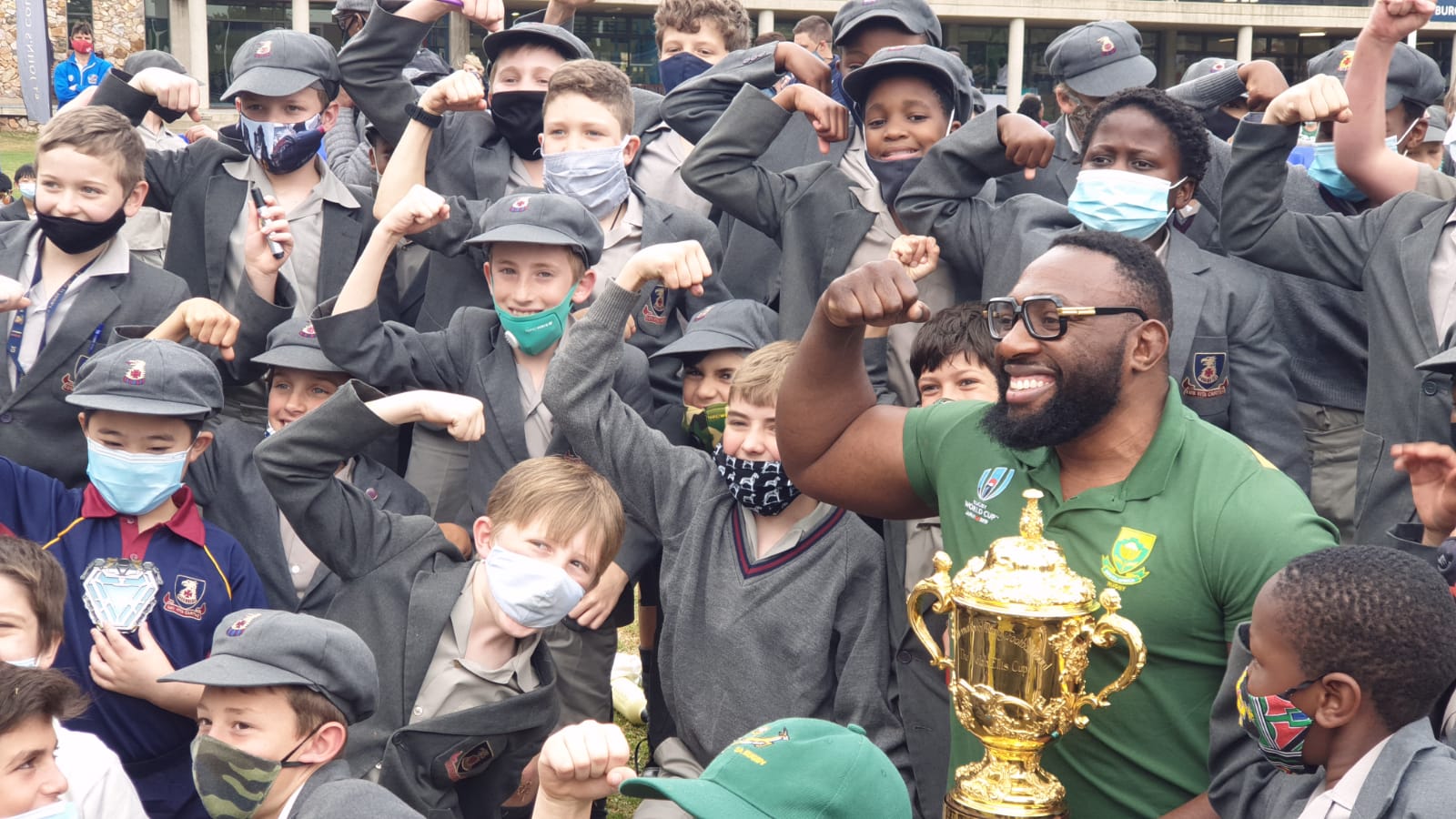 "Driving into the school grounds, seeing the Webb Ellis Cup and all those excited faces was something very special," said Mtawarira.
"St John's did a splendid job to answer to call of the Schools Challenge and their contribution made a massive positive impact on the lives of many people who were so severely affected by the pandemic."
During their visit, the two players answered several questions from the learners, paraded the Webb Ellis Cup around the rugby field to the learners and also performed the handover of jersey duties to the Saints' first team rugby side.
"The schoolboy rugby calendar was unfortunately cancelled because of the pandemic, but I hope that today's visit will give the boys something special to remember from this very difficult year," added Marx.
"Walking onto the school's rugby field with the Webb Ellis Cup and seeing the enthusiasm and jubilation of the learners and their teachers really brought back flashes of that amazing RWC Trophy Tour memories of last year."
The Springboks' #StrongerTogether for R32-12 fundraising campaign finished on a high note in early July with a total of 31 928 raffle tickets sold, while donations of close to R80,000 were received for a total raised of just over R1.1m. The two charities identified as part of the project – Gift of the Givers and Food Forward SA – received over R430,000 each (after VAT and sales costs were deducted).
Every member of the 2019 Springbok RWC squad, as well as the coaches, donated a unique prize which was up for raffle, with tickets going for R32-12, which pays homage to the Boks' winning score in the final last November in Japan.