Within the space of 48 hours, the Vodacom Bulls, Cell C Sharks, Emirates Lions and DHL Stormers went from being fierce competitors on the field at Loftus Versfeld on Saturday, to joining hands and packing 1000 food parcels for #RugbyUnites and the two official charities of the Lizo Gqoboka Foundation and Ashraful Aid.
The food parcels were made possible by the efforts of the four teams on the field, where each point at Vodacom Super Fan Saturday was rewarded with a R2 500 donation by Vodacom.
A total of R330 000 was raised for #RugbyUnites, a South African Rugby Legends Association (SARLA) initiative to help combat the economic devastation in families caused by the COVID-19 pandemic.
"Within a month of the lockdown I was seeing people begging for food on the streets, and it grew from just the friends on my WhatsApp group to the rugby legends and current players becoming involved, and then amazing sponsors such as Cell C and Vodacom," said SARLA President Gavin Varejes as he joined players from all four teams as well as sponsors at the official packing of the food parcels outside the Checkers at Loftus Park on Sunday.
"People just want to do good, and this is changing lives in our country. This is not about politics or religion. It's about rugby players uniting our communities and changing lives.
"We're extremely grateful to our sponsors and the rugby players because they are the ones who are helping us to go out there and make a difference."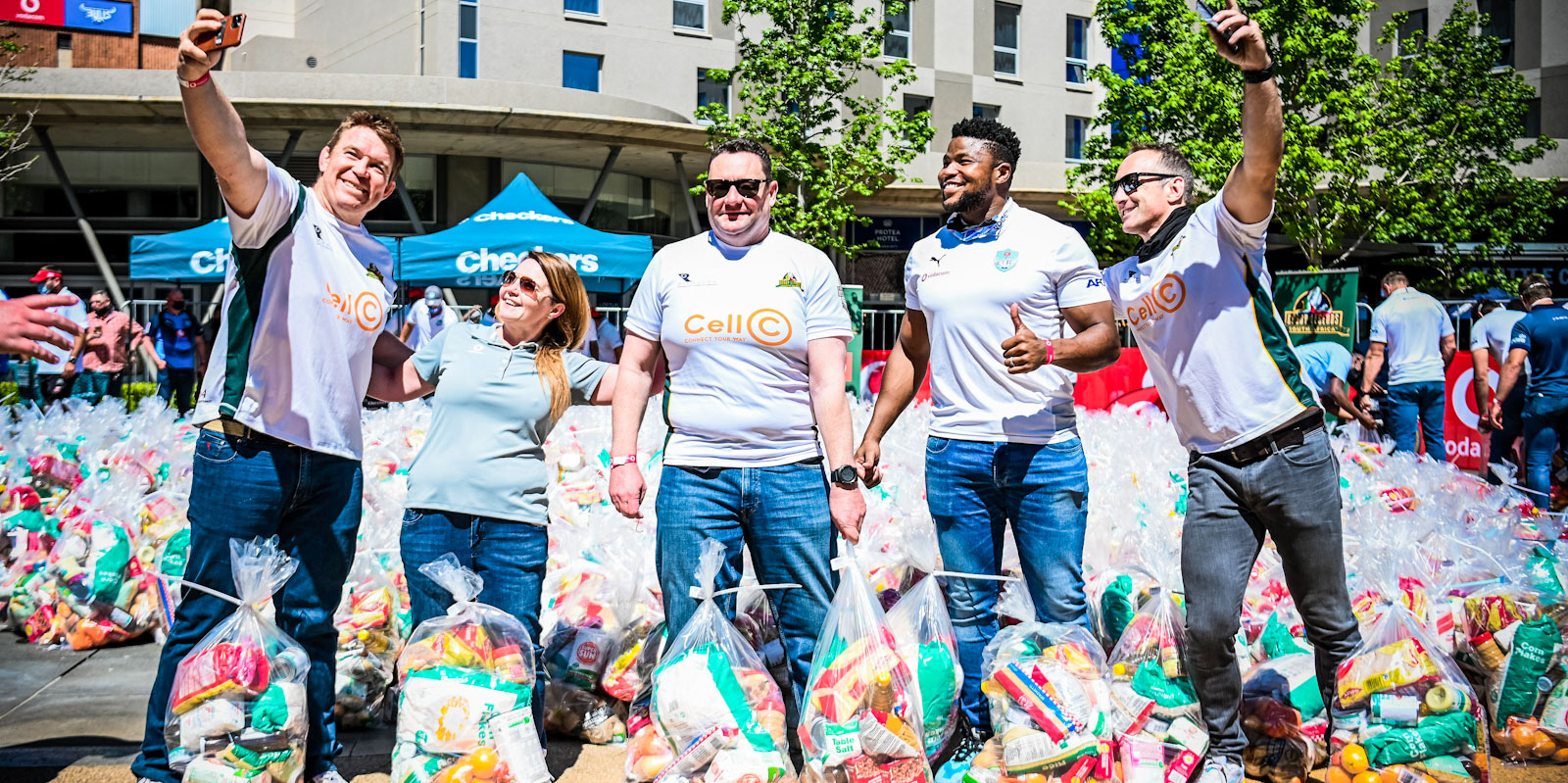 Springbok and Cell C Sharks centre Lukhanyo Am was amongst the rugby stars helping to pack food parcels on Sunday.
"We know people are struggling in South Africa," said Am.
"There are so many households where people aren't getting their basic needs. So what we're doing here to support them and give back to the community is very special to me."
Legendary Springbok captain John Smit was also amongst those doing his part and packing parcels.
"Poverty is everywhere - you see it at every robot or on every street corner, people are struggling," said Smit.
"It makes you realise the responsibility we have in this country. Being part of #RugbyUnites and seeing rugby coming together like this is amazing.
"Today we had all four of the big franchises here and the players were pairing up not just according to their teams, but they were mixing it up. This transcends provincialism. It's about a shared responsibilty to help those less fortunate than us."
Both the designated charities expressed their gratitude for the amazing show of unity and support on Sunday.
"I'm so grateful that companies like Vodacom and Cell C and the SA Rugby Legends are so committed to helping fight one of the giants in our country, which is poverty," said Lizo Gqoboka, Springbok prop of the Vodacom Bulls.
"To see all the players here united for this cause is amazing, and over 500 families will have food because of this."
Suhail Wadee, the Director of Ashraful Aid, said the food parcels will go a long way towards supporting their efforts to tackle the economic fallout of so many families at this time.
"The pandemic has placed tremendous strain on households - it's been a bloodbath economically for so many people in this country," said Wadee.
"We have hundreds of requests daily just for food. We're so grateful to all of those here who are helping us to ensure that at least for the next month over 500 families will have something to eat."
Michelle van Eyden, Head of Sponsorship at Vodacom, said they were delighted to be able to support #RugbyUnites and, in the same way as the opposing rugby teams came together for this cause, join with Cell C in uniting around the alleviation of poverty.
"This weekend has been about celebrating what rugby does for South Africa, from the pleasure it brings the players and fans to be back playing again, to the way it brings us all together in support of charity. It's a privilege for us to be involved in any effort to make a difference in our communities," said Van Eyden.