The versatile Mkhari returned from New Zealand last month, where she played for the Springbok Women in the Rugby World Cup, and now she gets another opportunity to wear the sevens jersey for her country, something she has not done in a while.
<< CLICK HERE TO BUY YOUR TICKETS TO THE HSBC CAPE TOWN SEVENS >>
In fact, the Rugby Africa Women's Sevens tournament in April was her last appearance with the squad, but she was injured in Tunisia and then started her road to recovery to make sure she made it to New Zealand, where her versatility to play lock and flanker proved priceless a month ago.
Injury ruled Mkhari out of the Rugby World Cup Sevens in Cape Town in September though, a factor that contributed to the broad smile on Monday as the squad went through their paces on the first day of the camp that will culminate in a trip to Dubai next week.
The Springbok Women's Sevens team will play against Kenya Lionesses, France A and Tunisia in the International Invitational tournament in Dubai and will return to South Africa a week later for the HSBC Cape Town Sevens.
"Yes, it is great being back with this group. I love playing sevens, I love the game and it is great to be part of the team again," Mkhari said as interim coach Renfred Dazel took the assembled players through their paces.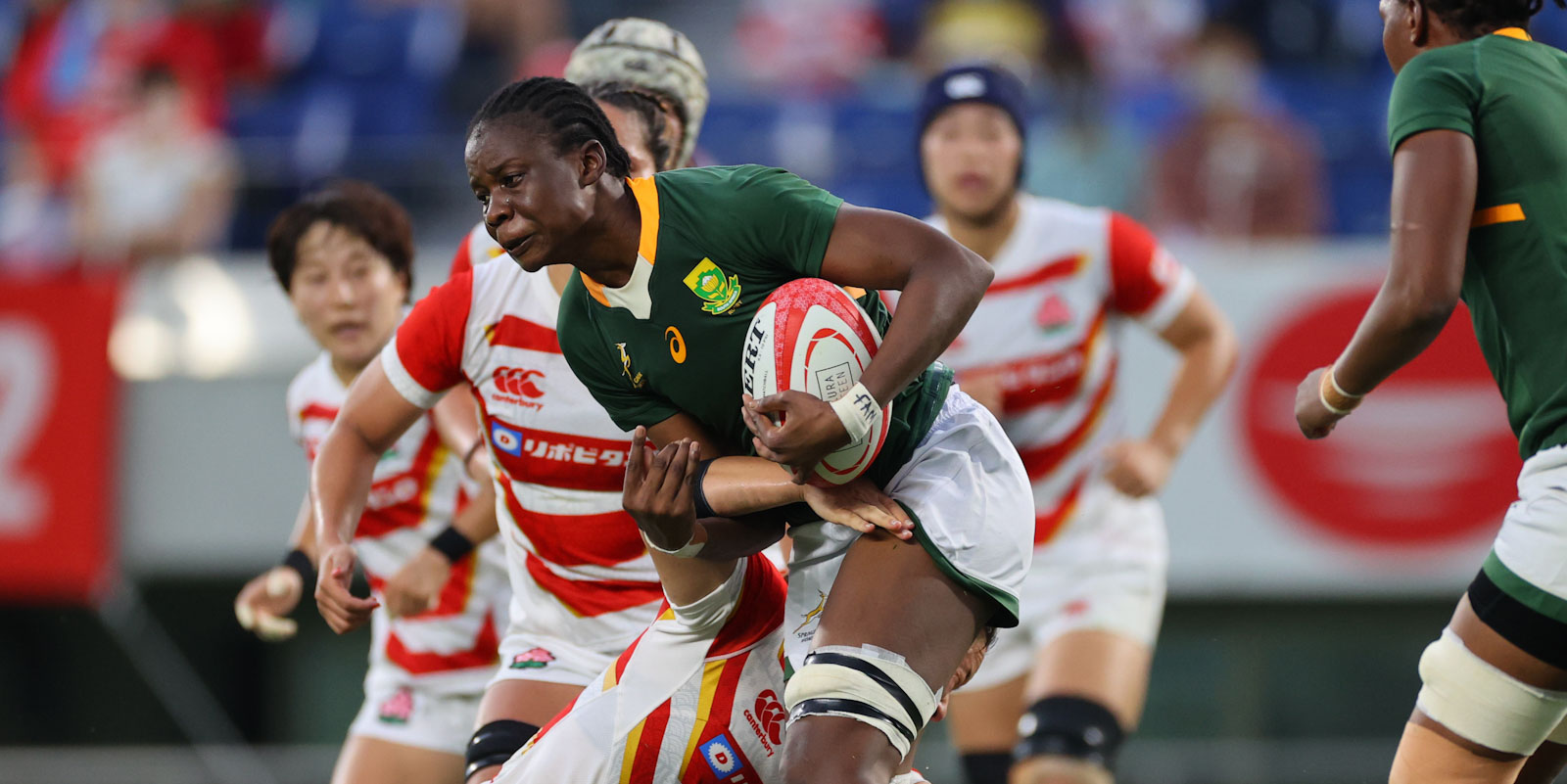 "We have some familiar faces, but there are also a couple of new players that I have not played with before. Although it was only the first day of the camp, it is clear that they are very capable players and that is good for us.
"It means that we can raise the standard from the start and push hard. Sevens camps are not supposed to be easy, we need to go to a dark place on the field to improve as a team and find each other while under pressure."
Mkhari, who made her sevens debut for her country in Cape Town in 2019, is keen to return to the Mother City this year, especially as she missed out on the Rugby World Cup Sevens two months ago, but she makes it clear that the focus for her now is to make sure she is a certainty for Dubai.
"First things first – no one is guaranteed to make the side, so we need to work hard to make sure the coach sees the value in each player," she said.
"It is not the first time I have worked with coach Renfred, and I knew it would be clear to all from the start that hard work on the field is very important to him. That is something I also believe in, so I do not mind that at all. Even nicer is the fact that we can push each other on the field in order to make the team as competitive as possible."
Mkhari said the quality of opposition in Dubai will demand an honest effort from the team this week: "We are playing teams that will be coming hard at us, so we must be prepared to respond with determination and skill. We certainly have a point to prove, first to ourselves, but also to show others that we can play a decent game of sevens."
Dazel will name the 12 players to travel to Dubai later this week. Ayanda Malinga, who got injured at the Rugby World Cup Sevens in September, will not be considered for either of the two events, but the rest of the group of 16 received a clean bill of health on Monday.