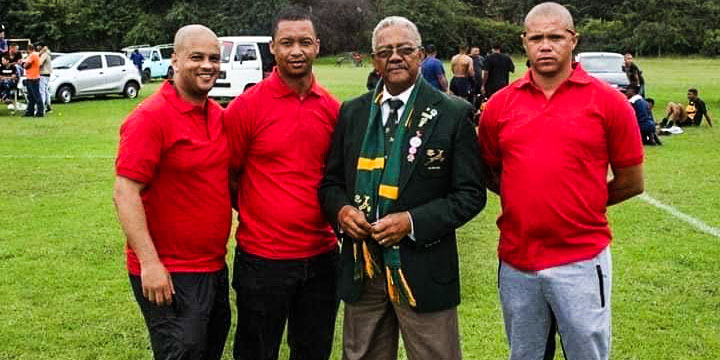 Mr Esterhuizen was a centre who not only played for SARU, but also Border in the SA Cup.
At the age of 16, he was selected to play for CADRU, as he was still deemed too young to play for Border, but following an assessment of his rugby prowess, he was accepted to play for Border and received his provincial colours despite his young age.
He played for Border for 14 years and for the King Union for five years, and later in his career, he also played for Western Province, Tygerberg and Boland.
In 1974, he was selected to play for SARU and received his national colours, playing with legends of the game such as Peter Mkata, Temba Ludwaba, Zola Yeye and Cassiem Jabaar.
Two years later, in 1976, he played for Transkei in a team that also included General Bantu Holomisa, Zola Dunywa and Yeye, who was a Springbok Team Manager at the Rugby World Cup in 2007.
"Tommy and a group of other players from his generation have been referred to as 'Rugby's Freedom Fighters', and that is how he will be remembered," said Mr Alexander.
"He played with a generation of legends, all of whom missed out on gaining recognition for their achievements due to the political situation in the country at that time, which is why it's important for us to honour his memory and his legacy.
Mr Esterhuizen laid the foundations for many a great player that hailed from the Breidbach and Ginsberg communities in King William's Town and surrounding areas, and his influence stretched further than just Border rugby.
In 2008, he was honoured for his role in sport in the Eastern Cape when the then MEC for Sports, Arts & Culture in the province, Ms Noxolo Abraham-Ntantiso, selected him to be a 2010 Soccer World Cup ambassador for the Eastern Cape
"Tommy is described as a true hero and role model who played a massive role in sport in the Eastern Cape, but also elsewhere he was involved," added Mr Alexander
"Our condolences are with his loved ones and friends in this very difficult time – may you find solace in the memories of Tommy, what he did for his country and rugby, and may his soul rest in peace."
Mr Esterhuizen will be laid to rest on Saturday, 6 August 2022.