Flank Dian Schoonees scored a brace as UP-Tuks claimed a 38-30 bonus-point win against UCT Ikeys in a wet and windy Pretoria, in a replay of the 2021 Final, which the hosts won by 34-27 over the men from Cape Town. 
The visitors scored three tries from the set piece in the first half, but Tuks showed greater ambition from deep and may have scored more points during this period if not for a series of handling errors.
Playing with a strong win at their backs in the second half, UP-Tuks proceeded to take control. The hosts navigated their way deep into opposition territory and then employed a driving maul of their own. Schoonees crashed over for his second try of the evening.
Just as the game was slipping away from the visitors, Koevort chased down a David Hayes kick and scored under the uprights. The point-of-origin try, as well as the successful conversion by Koervort, allowed the Tigers to claw their way back to within a point of their opponents. This kick took Koevort's personal tally for the evening to 21 points.
As the rain hammered down and after a sustained period of attack, scrumhalf Bernard van der Linde breached the defence. Stefan Coetzee's ensuing conversion stretched UP-Tuks' lead to eight points, and ultimately denied the visitors a losing bonus point.
Scorers:
FNB UP-Tuks 38 (21) – Tries: Dian Schoonees (1x7, 1x5), Kabelo Mokoena, Zander Reynders, Bernard van der Linde. Conversions: Stefan Coetzee (4). Penalty: Coetzee.
FNB UCT Ikeys 30 (21) – Tries: Duran Koevort (1x5, 1x7), Alex Castle (2). Conversions: Koevort (4).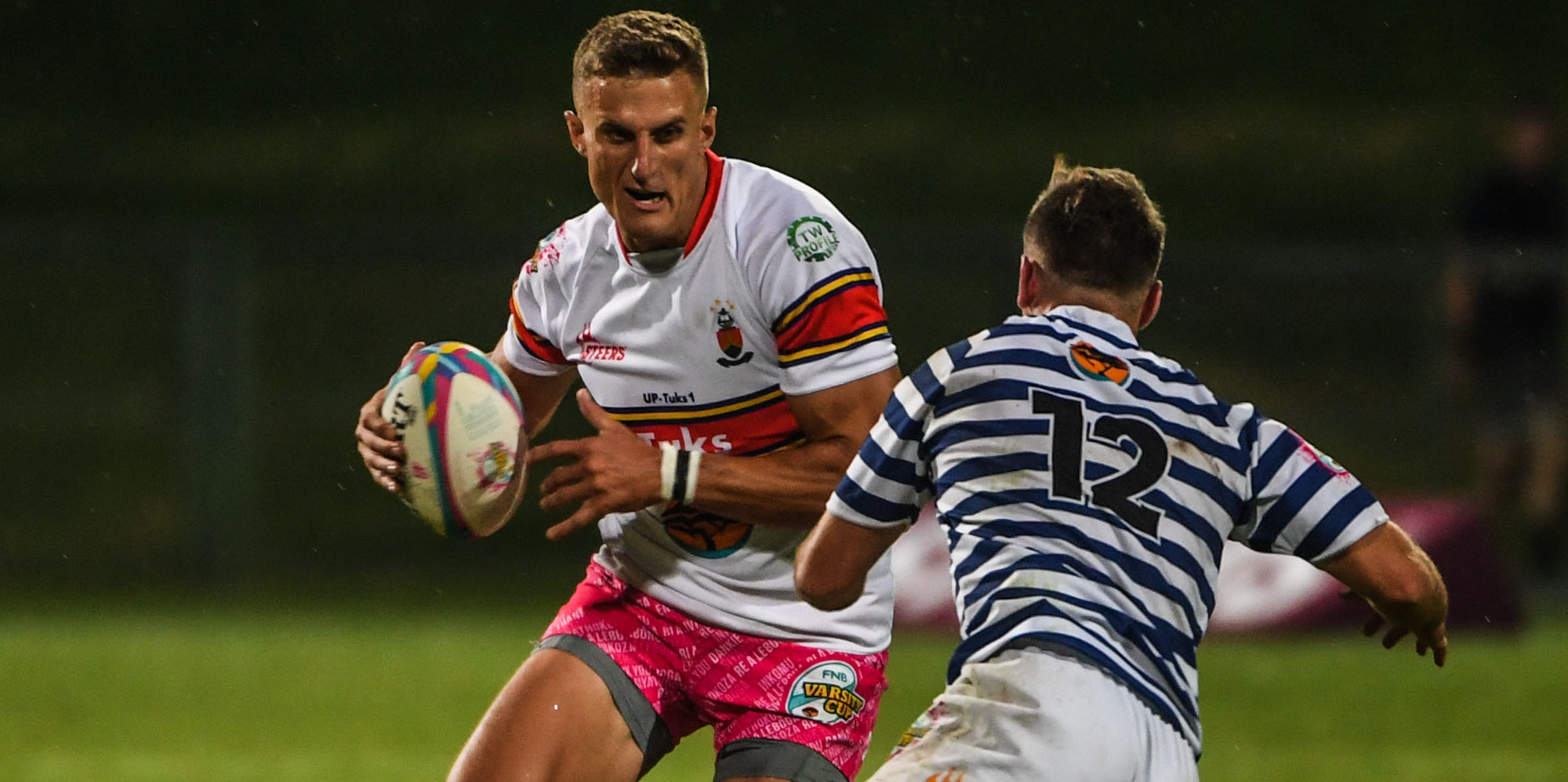 In the Bloemfontein derby, UFS Shimlas fought back from a 10-0 deficit to beat the CUT Ixias 48-27 and consolidate their position at the top of the log.
André Tredoux's charges have scored 154 points over the course of three games. Ultimately, they have racked up a maximum of 15 log points, and are full value for their position at the top of the standings.
That said, they were made to work for the result against a spirited CUT side in a fierce Bloemfontein derby. Braam van Straaten's side applied the pressure during the early stages, and powered their way into a 10-0 lead after 16 minutes.
UFS Shimlas endeavoured to play the game at a high tempo, though. They continued to run at the hosts' defence, and continued to win penalties, with CUT conceding 11 penalties in the first half alone. They failed to address their discipline issues in the second stanza.
Another series of infringements culminated in a whopping three yellow cards for the hosts between the 48th and 55th minute. Jan Kotzé, Sisipho Nofuya and Kevin Strydom ended up sitting alongside one another in the sin bin.
UFS Shimlas proceeded to put the 12-man CUT team to the sword. They scored 17 points while the hosts were short-staffed.
Scorers:
FNB CUT Ixias 27 (10) – Tries: Luvuyo Ndevu, penalty try, Teboho Rampai. Conversions: Zinedine Booysen (2). Penalties: Booysen (2).
FNB UFS Shimlas 48 (19) – Tries: Thabang Mahlasi, William Moffat, Janco van Heyningen, Lourens Oosthuizen, Asande Kunene (1x7, 1x5), Lohan Potgieter, Nqobani Dlamini. Conversions: Litha Nkula (3).
In Cape Town, UWC claimed their first win of the season with a convincing 60-26 victory against the Madibaz, who suffered a third straight defeat. Peter Williams set the tone for the hosts when a multi-phase attack finished with the winger diving under the posts for a point-of-origin try.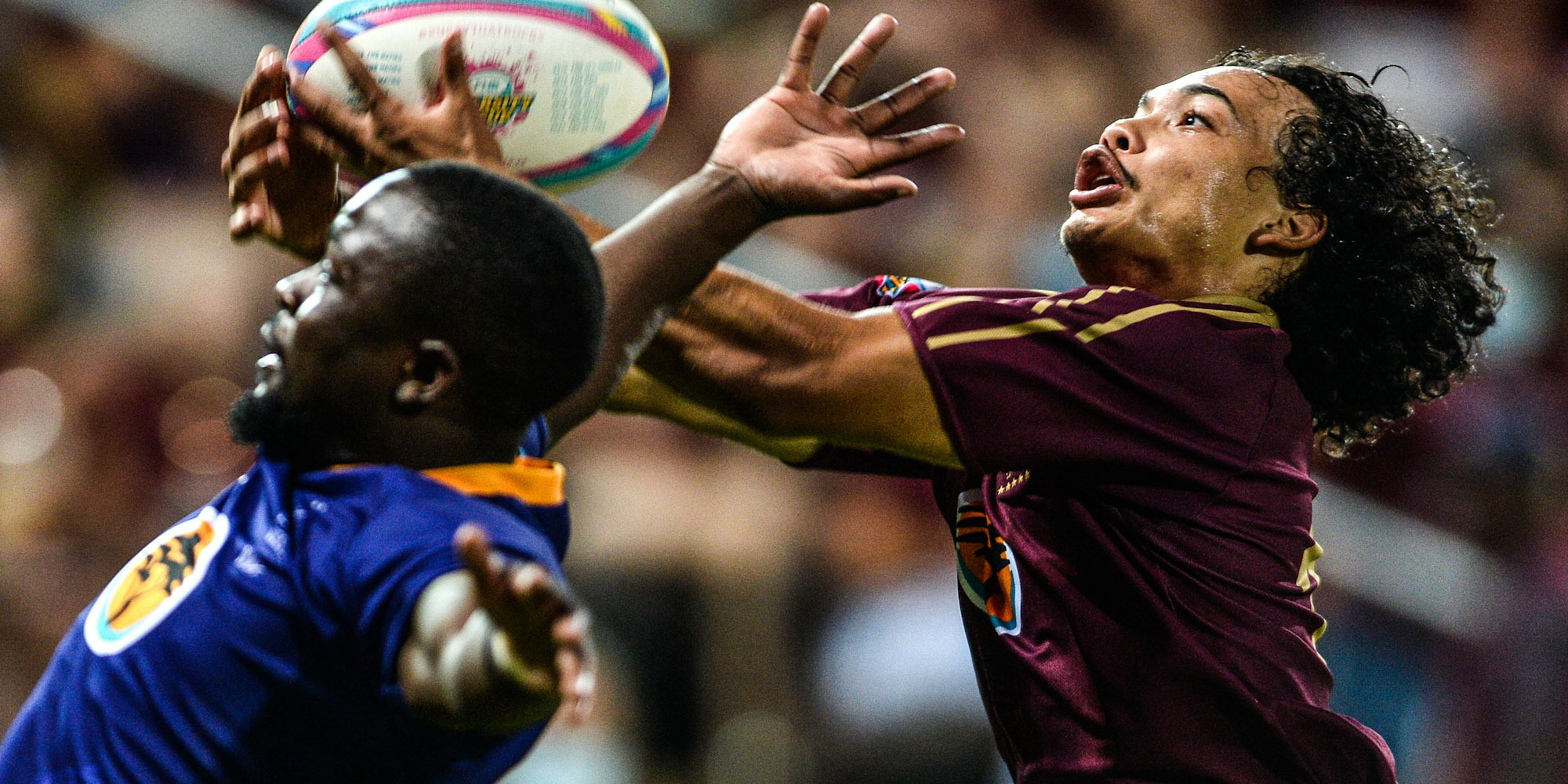 UWC scored another three tries to lead 30-7 and while the Madibaz crossed for their second try on the stroke of half-time, it was one-way traffic in the second half as the hosts scored another four tries.
Scorers:
FNB UWC 60 (30) – Tries: Peter Williams (1x7), Marsheleno Valensky, Reece Bocks (1x5, 1x7), Godfrey Muzanarwo, Tasriq Mynhardt, Aydon Topley, Will Vraagom. Conversions: Lyle Hendricks (7).
FNB Madibaz 26 (14) – Tries: Ruan Jonker, Khakalethu Bophi (2), Arnouw Nel. Conversions: Chadwyn November (3).
In Johannesburg, UJ came back from 14-0 down to beat the NWU Eagles 35-14 in a match that was delayed for 25 minutes because of heavy rain and a water-logged field.
The Eagles scored two first-half tries, including a penalty try, only to concede a penalty try themselves on the stroke of half-time that allowed the Orange Army to get back into the game. UJ then dominated the second half, scoring three tries.
Scorers:
FNB FNB UJ 35 (7) – Tries: Penalty try, Philip Apea-Adu, Kayden Kiewit, Rowan Malgas (1x7). Conversions: Jonathan Viljoen (3). Penalty: Viljoen.
FNB NWU Eagles 14 (14) – Tries: Vernon Paulo, penalty try. Conversion: Nivan Petersen.
And in the final match of the day, Maties returned to winning ways when they scored five tries in their 37-10 victory against Wits at the Danie Craven Stadium in Stellenbosch.
After two weeks on the road, it was the Maroon Machine's first home game of the season, and they made it count, leading by 18-5 at half-time and stretching their lead for a bonus-point win after the break.
Scorers:
FNB Maties 37 (18) – Tries: Mike Mavovana, Sean Swart, Marcqiewn Titus, Chris Rossouw, McKyle Volmoer. Conversions: Nevaldo Fleurs (3). Penalties: Fleurs (2).
FNB Wits 10 (5) – Tries: Prince Mulea, Thando Ngcelwane.
FNB Varsity Cup Round 4 fixtures (7 March): 
FNB Madibaz vs FNB CUT Ixias (17h00, Madibaz Stadium, SuperSport channel 211)
FNB NWU Eagles vs UP-Tuks (19h00, Fanie du Toit Sports Ground, SuperSport channel 211)
FNB Maties vs FNB UJ (19h00, Danie Craven Stadium, SuperSport Schools App)
FNB Wits vs FNB UFS Shimlas (19h00, Wits Rugby Stadium, SuperSport Schools App)
FNB UCT Ikeys vs FNB UWC (19h00, UCT Rugby Fields, SuperSport Schools App)