With international travel still not as straight forward as it used to be in the pre-COVID days, a number of flight options are being considered by team management, and their travel time to the Far East will probably be influenced.
In fact, the only confirmed aspects of the trip are the final destination, and that only 14 players will be making the journey to Japan.
For now, though, the Blitzboks are busy with a final training camp in Johannesburg, where they will play sets of matches against the Lions Sevens and All Star Rugby Academy teams in the next two days as Springbok Sevens coach Neil Powell looks to not only fine tune their tactics and approach, but also has to decide on the final make-up of his squad.
That will not be easy, though. Due to the pandemic, the Blitzboks last played in an overseas tournament 14 months ago and faced international opposition only once, against Kenya, Uganda and Zimbabwe in the Solidarity Sevens Camp in Stellenbosch last month.
A couple of local tournaments were also held, but players such as Dylan Sage, Stedman Gans, Ruhan Nel and Angelo Davids were amongst those who were called into fifteens teams at the time.
This weekend, for the first time in a long while, Powell has all of his contracted players and some additional players in camp. Gans is returning from injury, Sage is back from France and Nel from the DHL Stormers, while Davids faces a challenge of a different kind.
The 22-year-old, who has dotted down 18 times in 32 matches for the Blitzboks, has true try-scoring ability on the wing, but when they arrive at Johannesburg Stadium on Friday morning, Davids will be running at the Lions from the hooker position.
Backs transitioning into forwards in sevens is not new – Sage played most of his 26 tournaments as a forward, while Ryan Oosthuizen, Impi Visser and Sako Makata all played provincial rugby as backline players.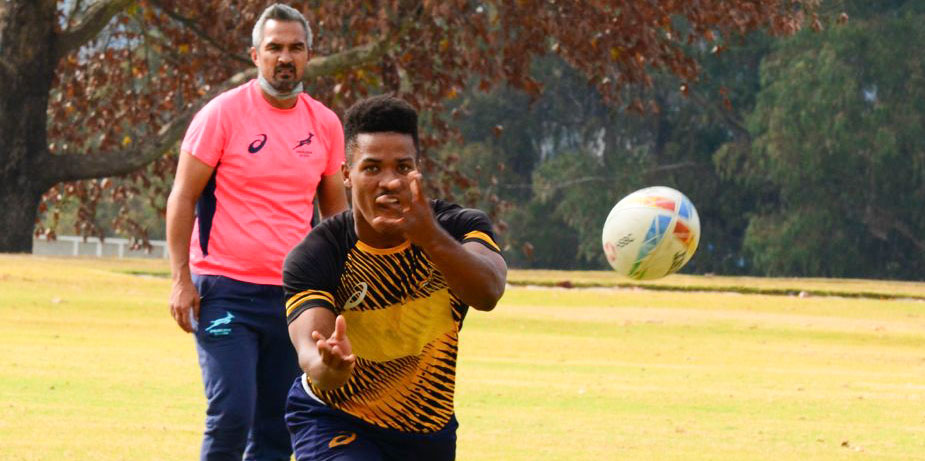 For Davids though, it could prove vital, as his sub 11 seconds time over 100 meters will not only speed up the pack, but could just secure his ticket to Tokyo.
Davids was asked to move to the forwards back in 2019, when he played in that position for the SA Rugby Sevens Academy side in Dubai, where he delivered a strong performance as they won the title.
"I am more than willing to move to hooker, although only in sevens, not fifteens," Davids said with a big smile on his face.
"It is what is best for the team and if coach feels that I will contribute more by playing there, I will do so. Last time out it worked out well, but then Shakes (Soyizwapi) got injured and I moved back to wing.
"So, the next two days will be all about picking up on the smaller details, getting the technical stuff right and having a proper go at it.
"We are all desperate to make that final Olympic squad and many sacrifices have been made so far on this journey. Not playing in my preferred position is one I will gladly make, especially if that helps my chances to make the side."
Despite players pushing each other for that final spot, the brotherhood in the Blitzboks remains strong, he said.
"We had a very productive team building and the guys really opened up on what it means to them to play for the team, but also for the guy next to them," said Davids.
"That was pretty inspiring, so everyone will be rooting for whoever makes the final selection. For me, having been handed this extra challenge of playing at hooker is great and I am really looking forward to the games tomorrow.
"Coach Neil has asked us to make it impossible for him not to select us, so I am hoping to give him a good headache," Davids laughed.