Mr Andile Nomlala, president of the Forum, made the award at a special ceremony attended by state president, Mr Cyril Ramaphosa, in Johannesburg on Friday.
"In the words of former President Nelson Mandela, sport has the power to change the world, and in the context of the Springboks victory in 2019, sport has the power to display progress in transforming not just itself, but the country at large," said Mr Nomlala, in his citation.
"Given the historical roots of the game and its exclusionary nature, the 2019 Rugby World Cup win has opened the door to more meaningful transformation in sport. The World Cup win for the Springboks elevates the transformation reality that black people can excel in the sport and become key components of the team in ensuring victory."
Mr Mark Alexander, SA Rugby president, Springbok coach Jacques Nienaber and captain Siya Kolisi were on hand to receive the award on behalf of team and management.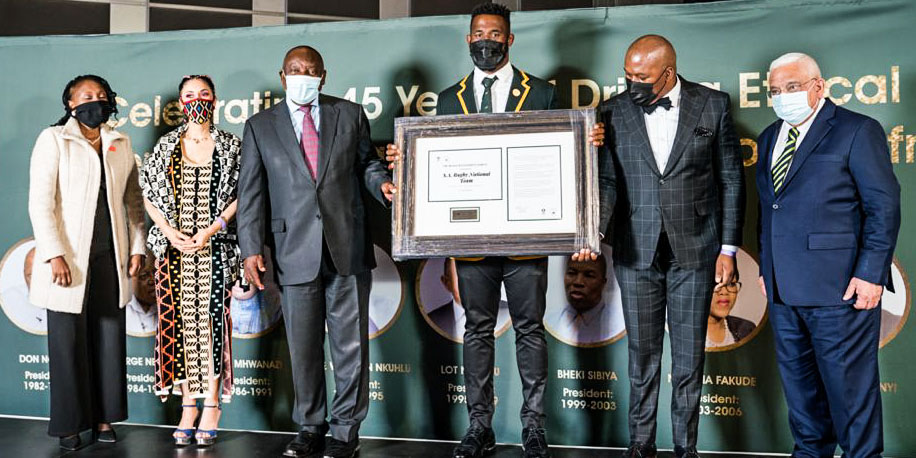 "We are greatly honoured to receive this award," said Mr Alexander.
"The South African Rugby Union is very proud of what Rassie (Erasmus, director of rugby), Jacques, Siya and the team achieved in 2019.
"Winning the Rugby World Cup was a magnificent achievement but just as significant was the way it was achieved. The combination of Rassie's leadership and Siya's character showed that diversity is our strength and that when South Africans unite in a harmonious whole, we are capable of great things."
Mr Nomlala said: "The selection of Siya Kolisi as the first black captain of the team sent rays of hope throughout the country, signalling the words of Nelson Mandela that sport creates hope where despair was resident. Siya Kolisi's role as the captain was inspirational and progressive, leading a more representative team to victory.
"The BMF has chosen to recognise the strides made by the Springboks through their victory. A victory which symbolises unity in purpose that results in meaningful transformation. Even though the road ahead remains thorny with challenges, this World Cup victory sends a clear message that transformation does not compromise quality but elevates black talent which can perform at the highest level in sport and any other sphere."
The Springboks return to action for the first time since that victory in November 2019 when they take on Georgia in the first of two tests on 2 July.