The University of Pretoria needed a penalty goal in the 83rd minute to snatch a 42-39 win from their Free State counterparts, while in a Cape derby played at Loftus Versfeld in Pretoria, the University of Cape Town had to hold on to keep out their University of Western Cape foes 58-55.
In the early match of the day, Stellenbosch University outplayed Nelson Mandela University 44-14.
All 10 teams will be in action on Thursday, 20 May, with five matches in round eight at the University of Pretoria: Wits vs UFS Shimlas (14h00, Tuks B-Field, DStv Now channel 245); Maties vs UJ (15h00, Tuks Stadium, SuperSport Rugby channel 211); Madibaz vs UP-Tuks (16h00, Tuks B-Field, DStv Now channel 245); UWC vs CUT Ixias (17h00, Tuks Stadium, SuperSport Rugby channel 211); and NWU Eagles vs UCT Ikeys (19h00, Tuks Stadium, SuperSport Rugby channel 211).
The remaining two round seven matches – UJ vs Wits and Ixias vs Eagles – will take place on Tuesday, 25 May, due to COVID-19 return-to-play protocols.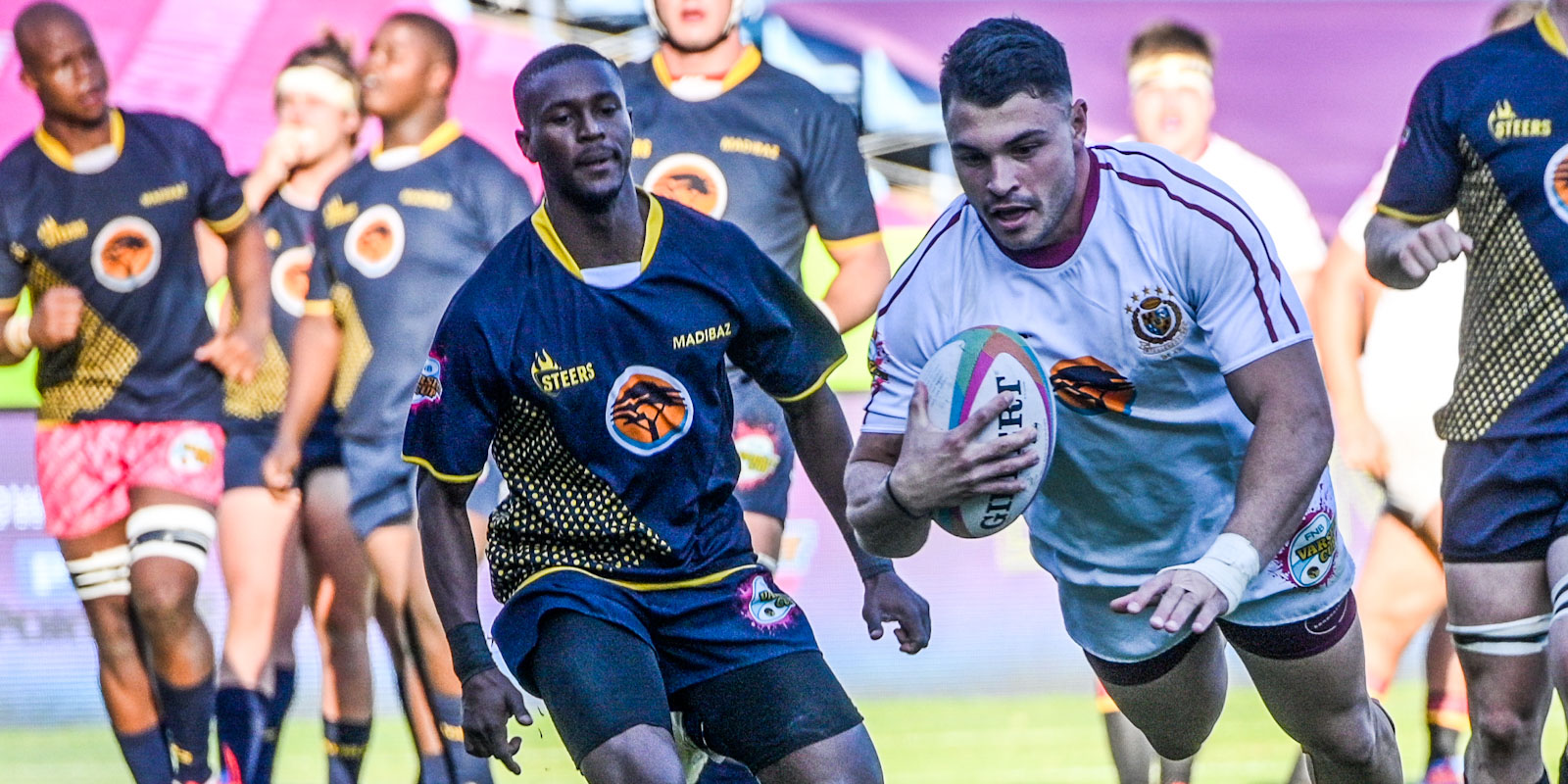 FNB Maties 44 (30) FNB Madibaz 14 (0)
FNB Maties scored six tries in a rather unconvincing win, but it saw them finish the day in third place on the log.
The Madibaz frustrated the Maroon Machine with a hardy defensive line. The Stellenbosch side got stronger as the half progressed and had a handy 30-0 lead at the break.
The second half delivered more of the same, but Maties were served two yellow cards in the final 20 minutes to hooker JJ Kotze and replacement lock James Combrinck.  
Madibaz seized the numerical advantage as replacement utility backs Khakalethu Bophi (point of origin) and Likhona Dywili scored tries, with Tiaan Schutte adding a conversion.
Scorers:
FNB Maties – Tries: Thys Kitshoff, Juan Mostert (1x5, 1x7), David Brits (2), Gift Dlamini (1x7). Conversions: Adriaan van der Bank (5).
FNB Madibaz – Tries: Khakalethu Bophi (1x7), Likhona Dywili. Conversion: Tiaan Schutte.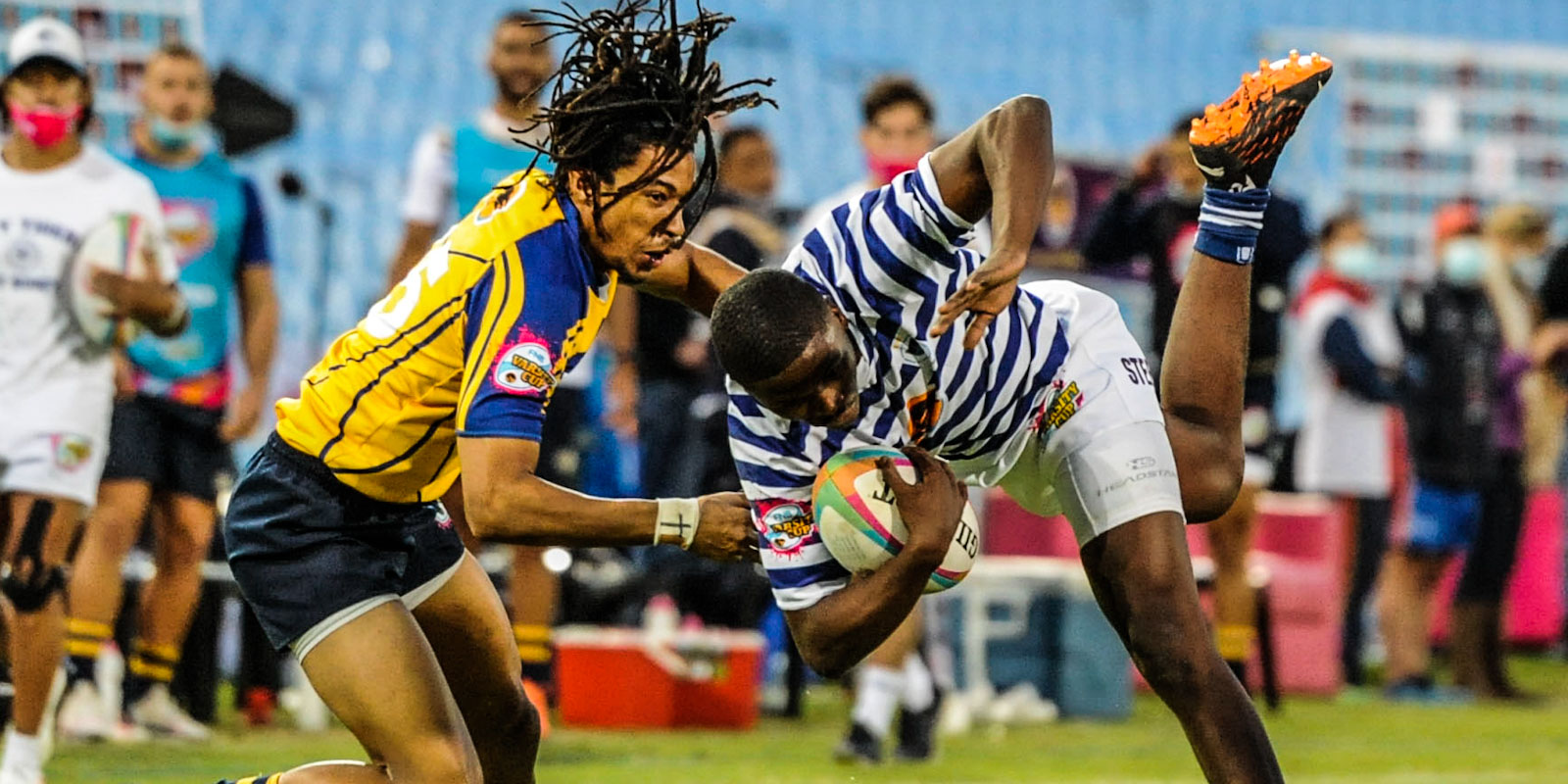 FNB UCT Ikeys 58 (31) FNB UWC 55 (22)
UCT edged UWC in a 14-try thriller to become the first holders of the Chester Williams Memorial Trophy.
This was the first Udubs/Ikeys Cape derby to be played in honour of the former Springbok wing, who coached UWC to their two FNB Varsity Shield titles, the second of which earned them promotion to the FNB Varsity Cup.
It looked like UWC might mark the occasion with an upset win when they led 15-3 after 13 minutes, and then fought back well late in the game to get to within three points of UCT. But the log-leading Ikeys Tigers, who outscored their opponents by eight tries to six, were able to hang on for the win.
Scorers:
FNC UCT Ikeys – Tries: Devon Arendse, Robert Hunt, Rethabile Louw (1x7), Kyle Bowman (1x7, 2x5), Le Roux Malan, Evardi Boshoff. Conversions: James Tedder (5). Penalty Goals: Tedder (2).
FNB UWC – Tries: Lungi Msenge (3x7), Tinotenda Mavasere, penalty try, André Manuel (1x7). Conversions: Branden de Kock (3). Penalty Goals: De Kock (3).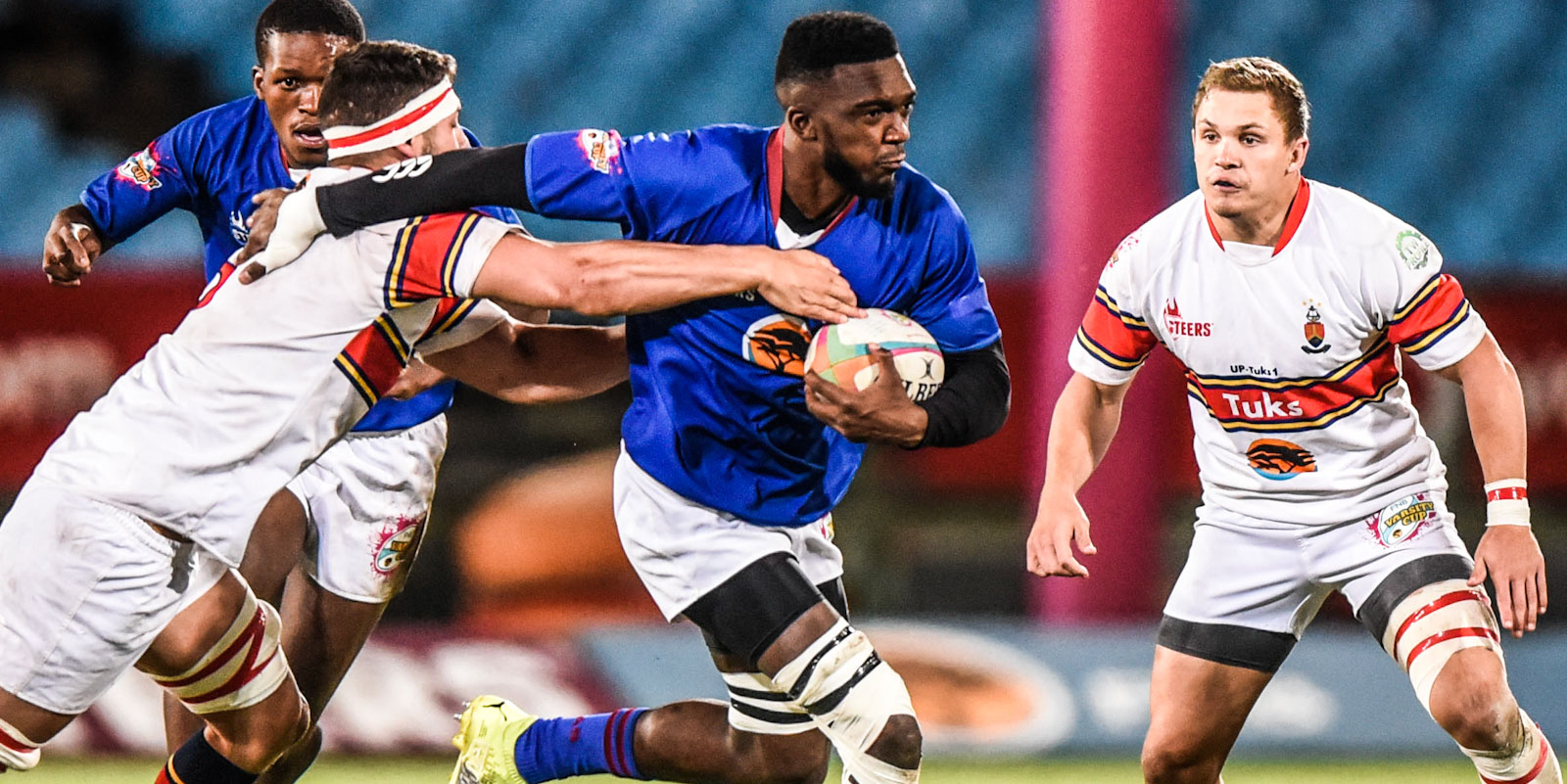 FNB UFS Shimlas 39 (16) FNB UP-Tuks 42 (27)
UP-Tuks fullback Zander du Plessis held his nerve to kick a match-winning penalty goal in the 83rd minute of their clash against Shimlas.
Du Plessis had missed a penalty from straight in front late in the game, but made no mistake when given the opportunity to make amends in stoppage time.
It gave Tuks a somewhat fortunate win against a Shimlas team that fought back from 20-0 down after 29 minutes to take a 39-32 lead after 64 minutes.
Shimlas centre Danco Burger and lock Pierre Uys both grabbed a double, while regular captain Rewan Kruger also scored in an impressive performance off the bench.
Scorers:
FNB Shimlas – Tries: Danco Burger (1x7, 1x5), Pierre Uys (1x5, 1x7), Rewan Kruger. Conversions: JP Duvenage (5).
FNB UP-Tuks – Tries: Dewald Donald, Louritz van der Schyff, Eduan Lubbe, Etienne Janeke (2). Conversions: Zander du Plessis (4). Penalty Goals: Du Plessis (3).