The Blitzboks competed against Kenya, Uganda, Zimbabwe and the SAS Sevens Academy with two squads, SA 1 and SA 2, with the former finishing the tournament top of the pile.
For Powell, the matches played against especially Kenya – who also qualified for the Olympic Games and are fellow HSBC World Rugby Sevens Series participants – provided the needed physical and mental challenges they were looking for.
"We are very happy about this opportunity and really want to thank Rugby Africa for organising this," said Powell.
"We needed to play at this level and intensity, and we learned a lot out of these two weeks. It was important to get an idea of where we are as a squad, where our standards are and how we respond to outside pressures.
"We also had a good look at the depth of our wider squad, with the players of our SA Rugby Sevens Academy side getting a look and feel of what international sevens are all about.
"We are not there yet with regards to where we want to be, but two months out from Tokyo, I am pleased with this effort."
The Blitzboks picked up a couple of niggles and Powell said full medical assessments on Monday should reveal the full impact the two weekends of matches had on the side.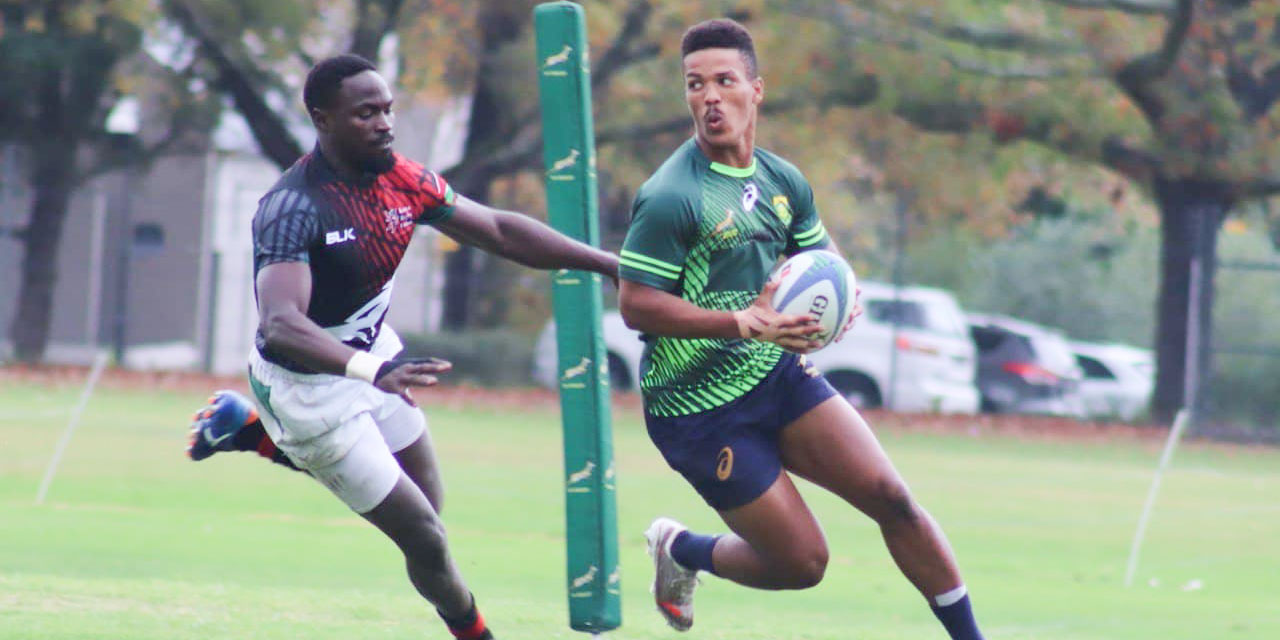 One of the main thrusts on attack on Saturday at Markötter Stadium was Angelo Davids, with the wing scoring two excellent tries against Kenya in the final match.
Davids said the game time they gained was much needed for all the players.
"In my case, having played fifteens earlier in the season, I needed to play lots of sevens to get back to the levels required in this code and I am pleased that it went well," said Davids.
"We are still not where we want to be, but that is understandable. At least we have a good idea of what areas we are lacking in, so will work on those when we get into the next phase of our Olympic preparation."
The final day of action saw two strong wins for the SA 1 side, beating Zimbabwe 36-0 and Kenya 31-5.
The South Africans used their strong defensive game to pin Kenya in their half for most of the first stanza, preferring to play off turnovers and quick tap penalties to turn the Kenyans around. This worked well as Sako Makata and Selvyn Davids ran onto kicks to score tries and had them a 12-0 lead at the break.
The second half was more of the same, but thanks to some dazzling runs by Angelo Davids, the Kenyan defence was breached more often. Angelo Davids scored twice in quick succession to put the result beyond doubt before Kenya finally managed a decent attacking play to score.
Muller du Plessis closed out the game with a well-taken try, with Branco du Preez starting an attack in his own half.
Selvyn Davids scored three tries in the SA 1 side's 36-0 win over Zimbabwe, played in wet and rainy conditions. The playmaker opened the scoring before JC Pretorius broke clear from a lineout to dot down to hand SA a 10-0 lead at the break.
The second half saw more dominance in ball carries from the South Africans. Selvyn Davids opened and closed the scoring in the half, with Pretorius and Du Plessis getting five pointers as well.
Scorers:
SA 1 31 (12), Kenya 5 (0) – Tries: Sako Makata, Selvyn Davids, Angelo Davids (2), Muller du Plessis. Conversions: Justin Geduld (2), Branco du Preez.
SA 1 36 (10), Zimbabwe 0 (0) – Tries: Selvyn Davids (3), JC Pretorius (2), Muller du Plessis. Conversions: Branco du Preez (3).