The 39-5 score line at Tuks Stadium was true to the WSU's impressive performance, but the Cape side, who already qualified for Sunday's final against the same opponents, rested a number of key players for this clash.
CPUT, the defending champions, made 14 changes to their team for this clash and have a bye on Friday, when the seventh and final round of matches will be played at Loftus Versfeld.
The fixtures are TUT Vikings vs WSU All Blacks (15h00); UKZN Impi vs UFH Blues (17h00); and DUT Rhinos vs Rhodes (19h00). All three matches will be broadcast live on the SuperSport Rugby channel (211).
FNB UFH Blues 75 (35) FNB DUT Rhinos 0
The University of Fort Hare ran in 11 tries, including a hat-trick and two braces, to demolish the Rhinos from KZN. Hard as they tried, the Durban University of Technology could not break down the Blues' defence and it was the Alice team who ran riot with ball in hand.
Brandt Fields scored a brace and kicked six conversions for an impressive haul of 22 points, bagging the wing the FNB Player That Rocks award.
Scorers:
FNB UFH Blues – Tries: Brandt Fields (2), Jonathan Booysen, Kamvelihle Fatyela (2), Keith Chiwara (3), Yamkela Mzozoyana, Lukho Jongizulu, Lungelo Rintsana. Conversions: Fields (6), Apiwe Sidloyi (2), Chiwara (2).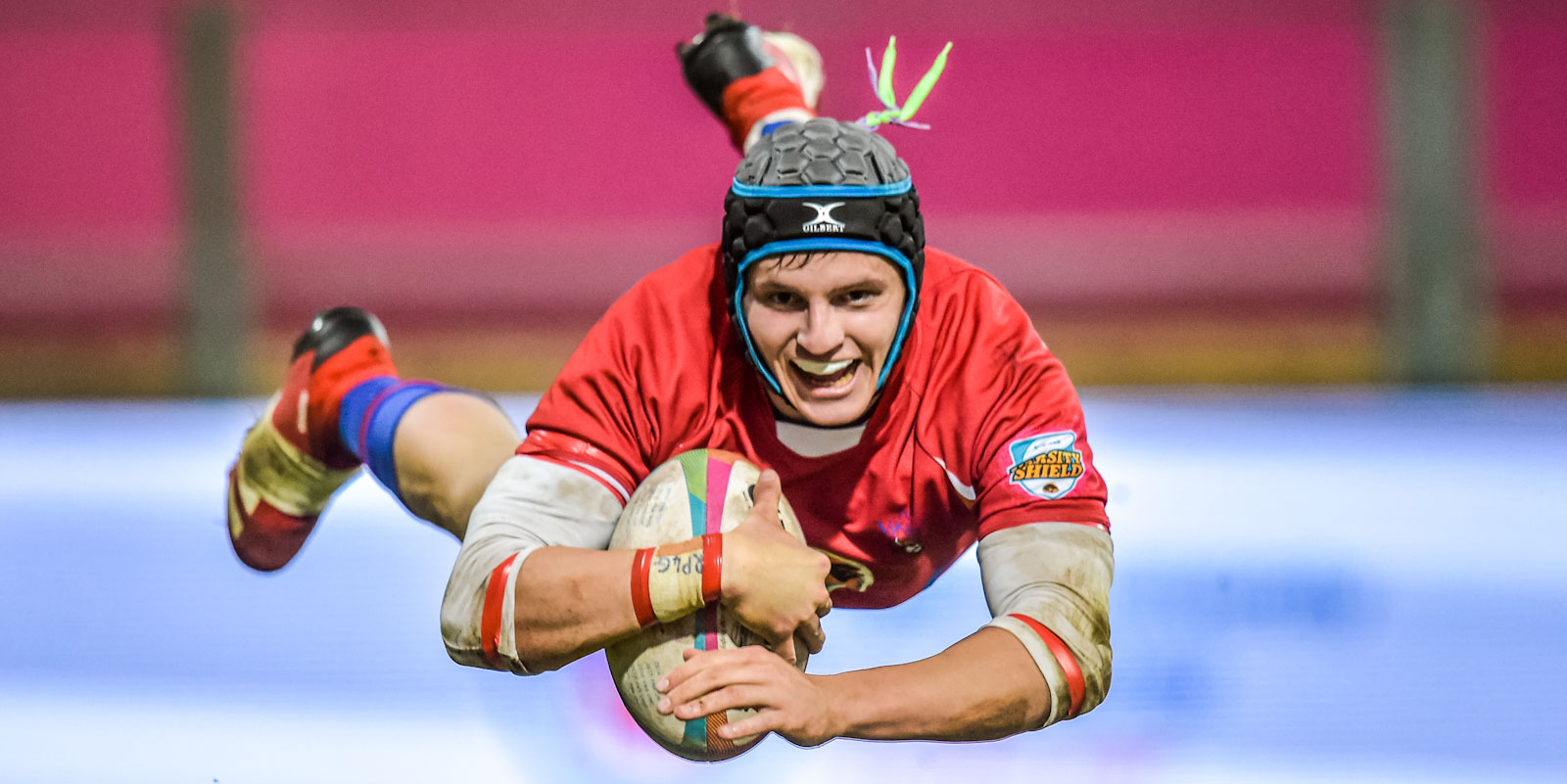 FNB TUT Vikings 64 (12) FNB Rhodes 6 (6)
The Vikings overcame a slow start to outplay Rhodes. The Tshwane University of Technology side only had a six-point lead at the break, but a strong second half performance, which yielded eight tries, saw them romp away from their opponents from Grahamstown.
Scorers:
FNB TUT Vikings – Tries: Laro Delport, Mauritz Maritz (2), Francois de Villiers, Musawenkosi Sili, Lusanda Xakwana, Dieter Groenewald, Franco Stassen, Kazadi Mukendi, Handro Horn. Conversions: LJ Pretorius (2), Lusanda Xakwana (5).
FNB Rhodes – Penalty goals: Matthew Royle (2).
FNB WSU All Blacks 39 (12) FNB CPUT 5 (0)
WSU booked their place in the FNB Varsity Shield final with a convincing win against a much-changed CPUT side, which saw their defence stretch to breaking point, especially in the second half, when the All Blacks' backs turned on the charm.
Scorers:
FNB WSU All Blacks – Tries: Yamkela Nyemba, Asekho Marubelela (2), Sicelo Tole, Lwandile Mapuko, Litha Nkula. Conversions: Mapuko (3). Penalty Goal: Mapuko.
FNB CPUT – Try: Björkan Hendricks.