The Boks face the mammoth task of defending their Rugby World Cup title later this year in France following an abbreviated Castle Lager Rugby Championship and warm-up Tests against Argentina, Wales and the All Blacks, with their international season set to kick off in July.
"There were a lot of positives we took from the year-end tour last season, but there's still a lot of room for improvement, so it's great to have this opportunity to work with the players on their rugby and conditioning in this early part of the year," said Stick.
"The break was good for them, and to have this chance to work with them on their rugby and fundamentals will certainly help them going to their franchises and playing play-off rugby.
"Next week we are going to Stellenbosch, and everyone knows how hot it is there, so there are a few surprises for the players."
Kolisi also spoke highly of the strides made at the camp since they assembled two Sundays ago: "It has been great. We had a month off, which was good because some of us played rugby solidly from January to January.
"It's been tough, but we've been able to recap the year and see if we achieved our goals, and also look at ways to do things better. It has also been a good reminder about what it takes to be here and to remain here. We have one and a half weeks left, so we still have a way to go."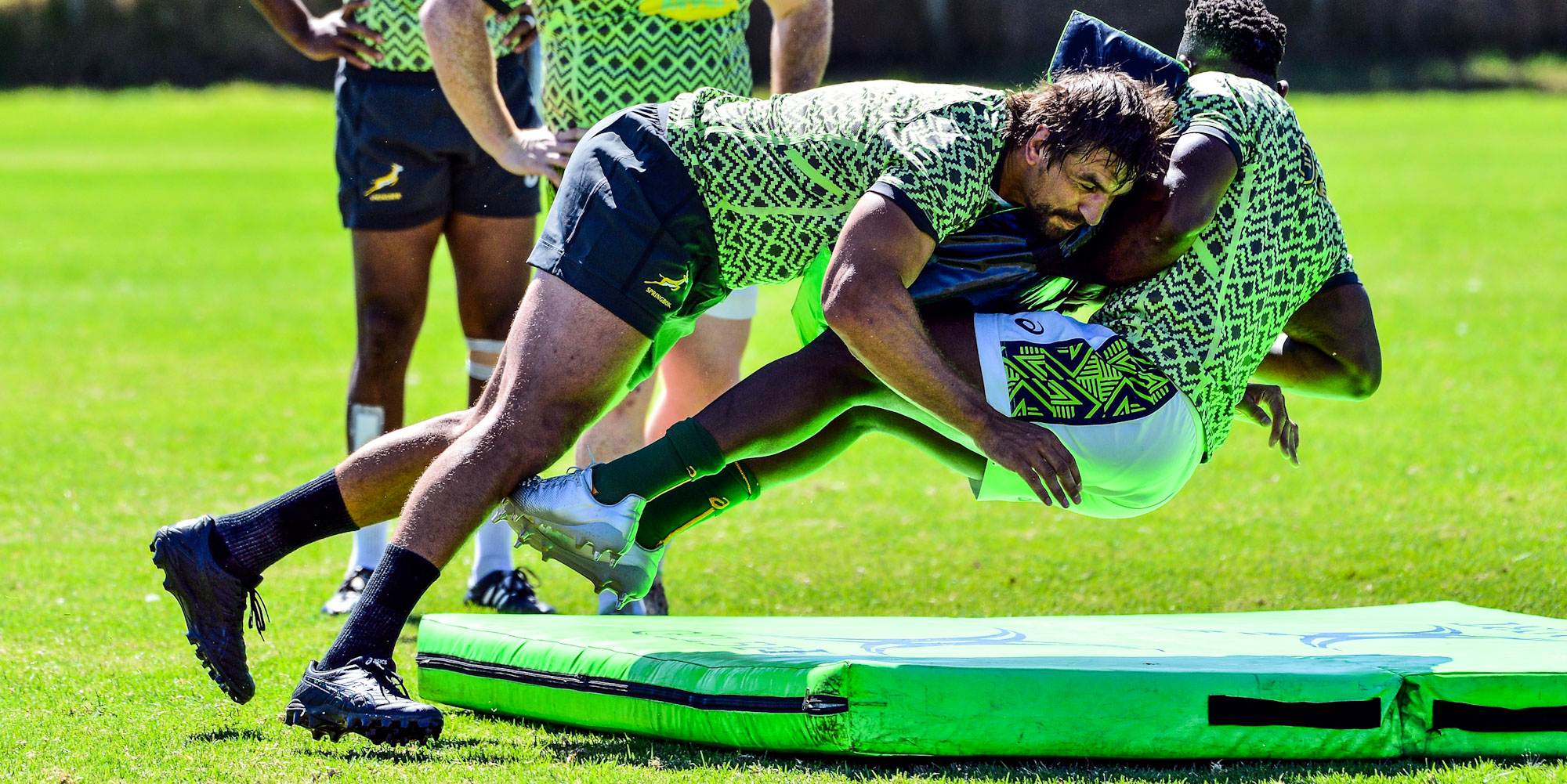 Kolisi added: "My focus is now to go back to the Cell C Sharks as an improved player and to try to play my way into the Rugby World Cup squad."
While Stick spoke of the tough competition at international level with several teams set to enter the Rugby World Cup as contenders, especially after seeing the Six Nations unfold in the last few weeks, Kolisi said the players have benefitted immensely from the on and off-field sessions.
"With all the surprises we are seeing in international rugby, we can't ask for anything more going into a World Cup year," said Stick.
Kolisi added: "We are growing as a team, and the coaches have set the standard and told us that we cannot do the same things we did in 2019 and expect to win the Rugby World Cup.
"We want to improve our discipline and we are working on lowering our body height in the tackle and on our fitness, which are all important aspects as the rules of the game are changing and the game is getting faster, so we have to be prepared for that."
Of reports that the Springboks are seeking a potential candidate focused on giving advice and dealing with the match officials during the international spectacle in France, Stick said: "One will have to ask the Director of Rugby about that. But if we can get someone with us to advise us on those matters and let the coaches concentrate on coaching and the players to do their jobs on the field, it would be positive for the team."
The Springboks will have a short break over the weekend to rest after this week's training and rugby block and will wrap up the camp at the end of next week.