The Border Ladies and Boland Dames will clash in Mdantsane on Sunday, with both coming of good wins last weekend, while the Cell C Sharks Women can ill-afford another defeat in the competition, although they have the unkind matter of the Blue Bulls Ladies at Loftus Versfeld on Saturday.
In Saturday's first game at Wits in Johannesburg, the DHL Western Province outfit is expected to maintain their top sport against lowly Mastercard Golden Lions Women, while another contender, the EP Queens, have a bye.
The Cape side looked ominous in their two wins so far, with a star-studded pack full of international players that will test the Lions defence big time. There is no Felicia Jacobs to snipe around the fringes though as the scrumhalf is on Springbok Women's Sevens duty, however, replacement Alicia Willemse is a class player in her own right and will not slow down what is expected to be a relentless attack.
The home side realised that the step-up to the Premier Division was going to be a huge one and for coach Timmy Goodwin, each match against the big guns is another where his squad can learn and improve. He did spread his resources cleverly for this one, with the likes of Edwaline Dickson in the forwards and Piwo Nyanda at the back, set to make an impact off the bench in the latter part of the game.
Any match between the provincial sides from Pretoria and Durban is always a big one and the clash at Loftus Versfeld between the Blue Bulls Women and Cell C Sharks Women will be exactly that. The visitors' pack of forwards are stronger with the return of Springbok Women locks Karthy Dludla and Mpumie Mathe, and that should provide them with enough quality ball to attack.
Whether they can break the defence of the home side is another matter though, as the blue jerseys have been on another level with their defensive effort this season.
According to Blue Bulls Women scrumhalf, Rumandi Potgieter, it has all to do with attitude.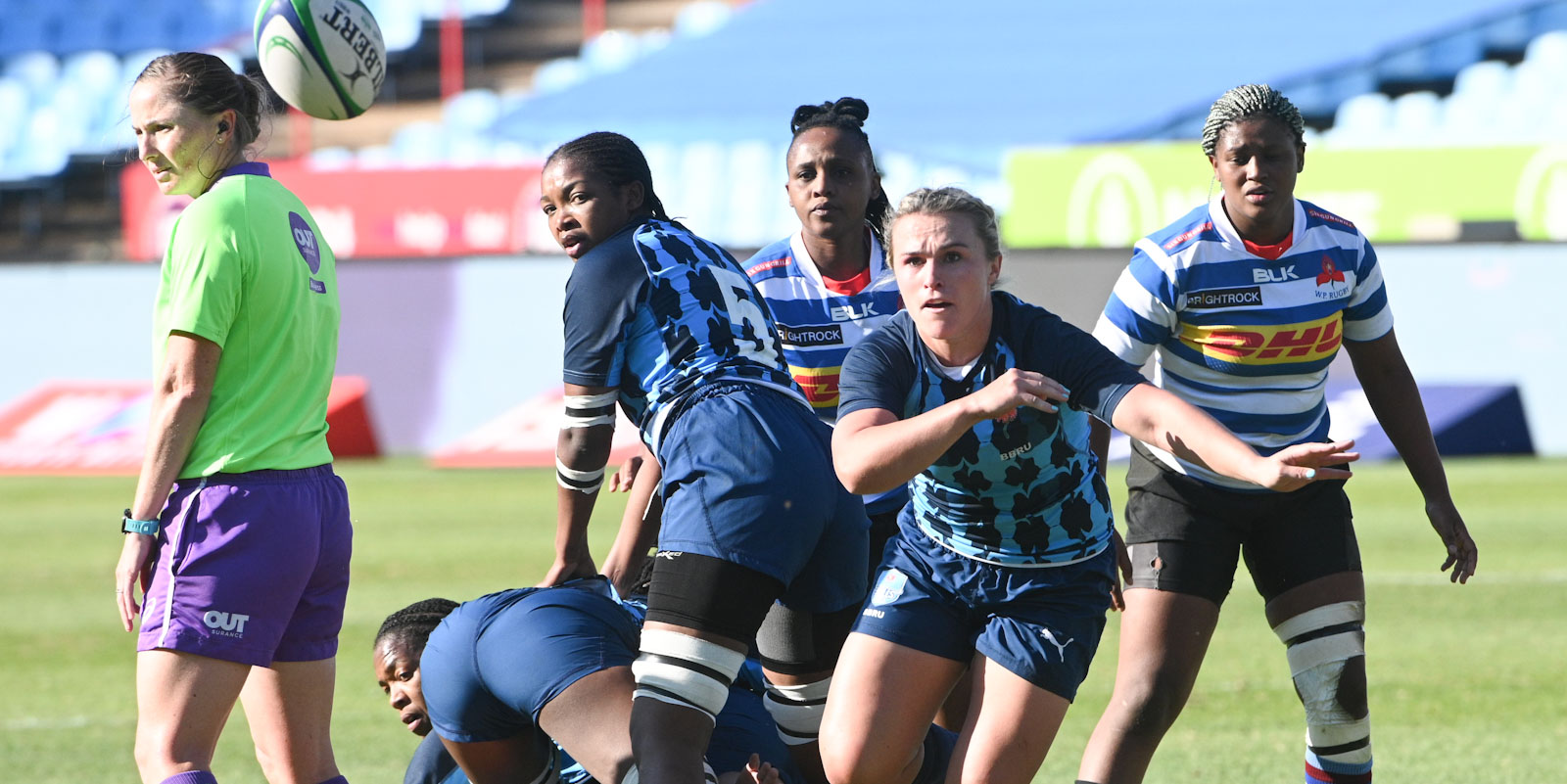 "We have a never-say-die attitude on defence and that is massive for us. We often found ourselves in difficult situations on the field, but due to our high work rate on defence, we manage to get out of those again," explained Potgieter.
"We had various defensive sessions before the competition and had discussions as well on how we needed to improve from last year's defensive effort, and that is bearing fruit for us," according to the Springbok Women tourist.
"The Sharks have strong ball carriers up front and they are competing in every set piece, so that is something we need to be aware of. The tempo is definitely picking up in the tournament and that makes it very competitive. It is a big year for women's rugby in the country and this tournament is laying a good foundation, no doubt," reckons Potgieter.
The final fixture of the round takes place in Mdantsane on Sunday, where the Border Ladies host Boland Dames. Both teams are coming of good wins - where they did not concede a try - winning 39-0 against the Cell C Sharks and 29-0 against Mastercard Golden Lions Women, respectively.
Boland Dames coach Thomas Chowles made a very interesting team selection by moving Bernice Strydom to centre for this clash. Strydom, who played flyhalf at school, represented South Africa at lock and was outstanding at no 8 last weekend and if this plan works, the normally fluent Border midfield could be disrupted.
The Border midfielders Aphiwe Ngwevu and Zintle Holofela, are both experienced campaigners though, and will have plans in place to stop a charging Strydom.  Both sides are playing with good confidence, and this is shaping up to be another massive clash.
The Round Four fixtures are:
Saturday 14 May 2022
Mastercard Golden Lions Women v DHL Western Province
Venue: Wits University, Johannesburg
Kick-off: 12h30
Referee: Maria Mabote
Blue Bulls Women v Cell C Sharks Women
Venue: Loftus Versfeld, Pretoria
Kick-off: 14h20
Referee: Angie Bezuidenhout
Sunday, 15 May
Border Ladies v Boland Dames
Venue: Sisa Dukasha Stadium, Mdantsane
Kick-off: 13h00
Referee: Siyanda Pikoli