Springbok Women's Sevens coach, Paul Delport, had the luxury though of selecting Liske Lategan, Nadine Roos, Mathrin Simmers, Sizophila Solontsi and Eloise Webb for the trip to Toulouse, all of whom played in the HSBC Cape Town Sevens two and a half years ago.
Solontsi will wear the captain's armband at the HSBC France Sevens, to be played at Stade Ernest-Wallon in Toulouse from 20 to 22 May.
Five of the seven players who are yet to feature in a World Series tournament – Anacadia Minnaar, Donelle Snyders, Snenhlanhla Shozi, Asisipho Plaatjies and Alicia Arries – made their international sevens debuts late last month in Tunisia, where South Africa claimed the Rugby Africa Women's Sevens crown.
For Shozi, the trip to Toulouse will be an interesting one. She will make her World Series debut, but apart from featuring in the tournament win in Tunisia, she also played at the 2018 Rugby World Cup Sevens in San Francisco.
Lusanda Dumke (rested) and Rights Mkhari (injured), both of whom travelled to North African last month, miss out though, which means that Ayanda Malinga and Lerato Makua will get their first taste of international sevens in France. The duo, like the other debutants, have played for the Springbok Women and come into the squad as capped fifteens players.
South Africa will join the tournament – the last installment of the 2022 World Series – as an invitational team and ranked 12th out of the 12 competing sides.
"The last time we played at a World Series event, it was in front of a magnificent home crowd in Cape Town and we finished tenth out of twelve," said Delport.
"We also had the benefit then of an established programme with contacted players and a solid foundation. Unfortunately, that was derailed by the pandemic, so we are basically starting over, but from a much lower base.
"We are grateful for World Rugby for the invitation as we prepare for the Commonwealth Games (in July), the World Series qualifiers (August) and the Rugby World Cup Sevens (September), and we hope to finish every tournament in a stronger position as a squad."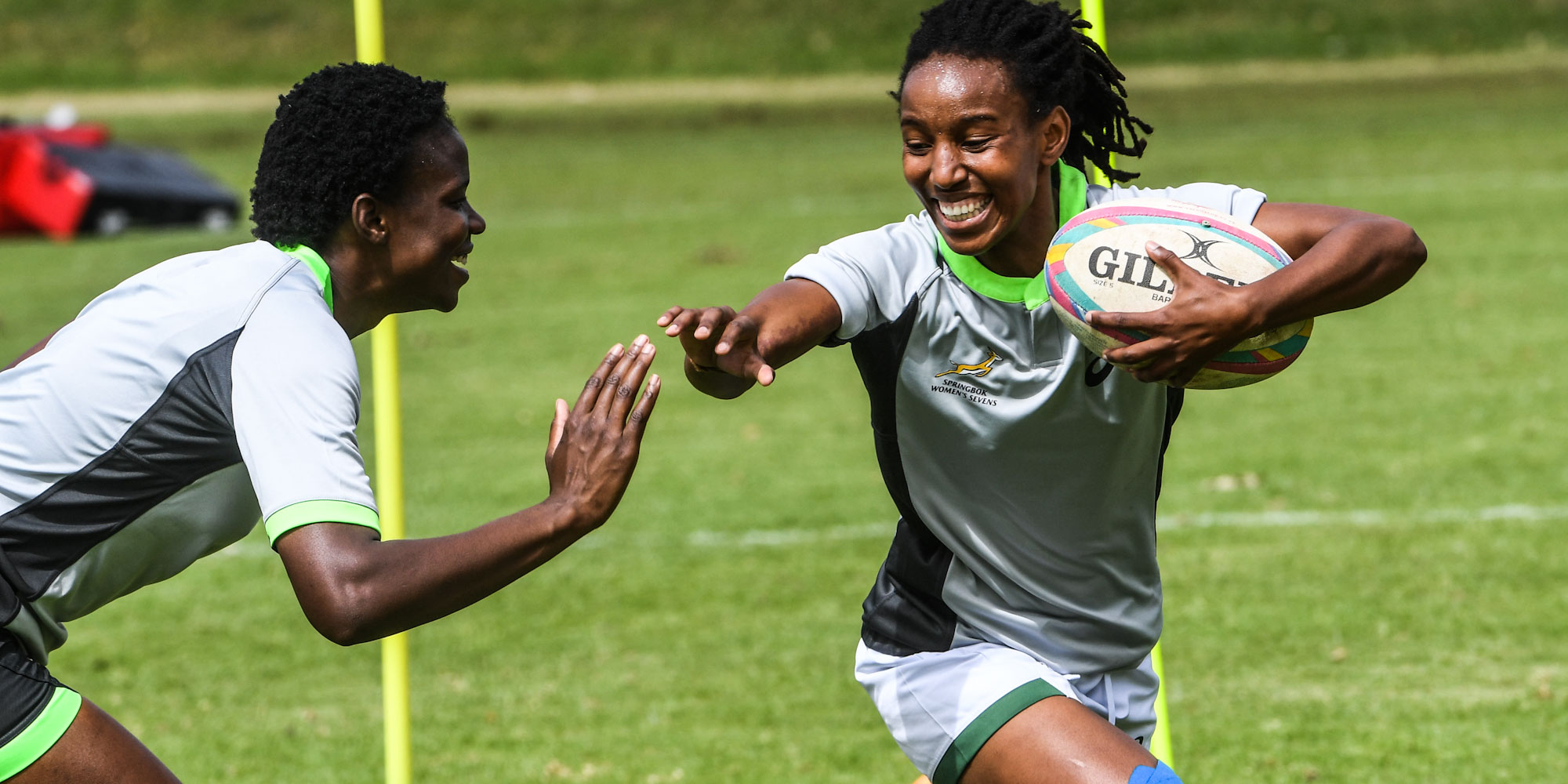 Delport did not beat about the bush about the realities that awaits them in France with Australia, USA and Fiji awaiting in pool play.
South Africa faced Fiji in pool play in their last appearance in Cape Town, losing 5-27. They have beaten Fiji once and played to a draw once in seven outings since 2013. They have beaten the USA only once in six previous World Series meetings (in 2016 in Dubai), but are yet to lower Australia's flag in six outings.
"I think the squad is full of potential – in fact, a couple of debutants have test caps for the Springbok Women in fifteens already, but this will be a very steep hill for us," the coach said.
"We are approaching this tournament to learn from the very best teams on the circuit, so in a way, our pool is a blessing in disguise. Australia have just won the World Series with a tournament to spare, Fiji won a medal at the Olympic Games and the USA are third on the World Series log."
Solontsi made it clear that this is a fresh start for the squad: "Our first mission when we got together was to make sure we are victorious in Tunisia and get that Commonwealth Games spot awarded to the best team in Africa.
"That is now done and the focus and intensity now move to the World Series, where we want to become a core team.
"We will be tested like never before, but we need to play the best to become the best. The players are well aware of the enormity of this mission and one thing we owe ourselves and our supporters is to give it all and leave nothing out there," she added.
Delport named only 12 players in his squad on Thursday, but a 13th player will be added before departure to France on Sunday, pending fitness tests, with three players shortlisted and on standby.
The Springbok Women's Sevens squad (with World Series stats):
Lerato Makua – uncapped
Asisipho Plaatjies – uncapped
Ayanda Malinga – uncapped
Snenhlanhla Shozi – uncapped
Donelle Snyders – uncapped
Anacadia Minnaar – uncapped
Eloise Webb – 3 tournaments, 13 matches, 2 points (1 conversion)
Sizophila Solontsi (captain) – 1 tournament, 4 matches
Nadine Roos – 3 tournaments, 14 matches, 41 points (7 tries, 3 conversions)
Mathrin Simmers – 8 tournaments, 40 matches, 30 points (6 tries)
Alichia Arries – uncapped
Liske Lategan – 1 tournament, 4 matches, 10 points (2 tries)