A late first-half try by Vodacom Bulls fullback Kurt-Lee Arendse to add to an earlier five-pointer by Cyle Brink (flank) and a conversion by Chris Smith (flyhalf) saw them trail 16-12 at the break, with Benetton earning their points from a try by centre Tommaso Menoncello and three penalty goals and a conversion by their SA-born fullback Rhyno Smith.
The hosts dominated the second half scoring four tries, with Arendse earning his brace, while the Italians managed only one, yet again by Menoncello, while Smith added two more kicks at goal.   
Benetton threatened early on, coming close to the tryline shortly after the start of the match, but they were held out by the tenacious Vodacom Bulls defence, however, they earned the first points of the match a few minutes later as Rhyno Smith kicked a sixth minute penalty goal.
The Pretoria side hit back with a good attacking spell before conceding a penalty close to tryline for holding on, while Benetton in turn made the most of their opportunity to score a try as Menoncello took advantage of a knock-on by the hosts in the 11th minute to chip through and score.
The vising fullback added their second penalty goal minutes later to extend their lead to 13-0, but this was short-lived as Brink scored fantastic try in the 25th minute after a great backdoor pass by Ruan Nortje (flank) close to the tryline, which left them trailing 13-5.
Chris Smith missed a penalty goal in the 29th minute, which denied them an opportunity to reduce their deficit on the scoreboard, while his Benetton namesake took full advantage of his shots at the goal posts adding his third three-pointer in 31st minute to hand them a 16-5 lead.
The men from Pretoria, however, managed to sneak through for a try in the final minute thanks to Arendse who received the ball out wide after some good patience on attack by the side close to the tryline, and this saw them trail 16-12 at halftime.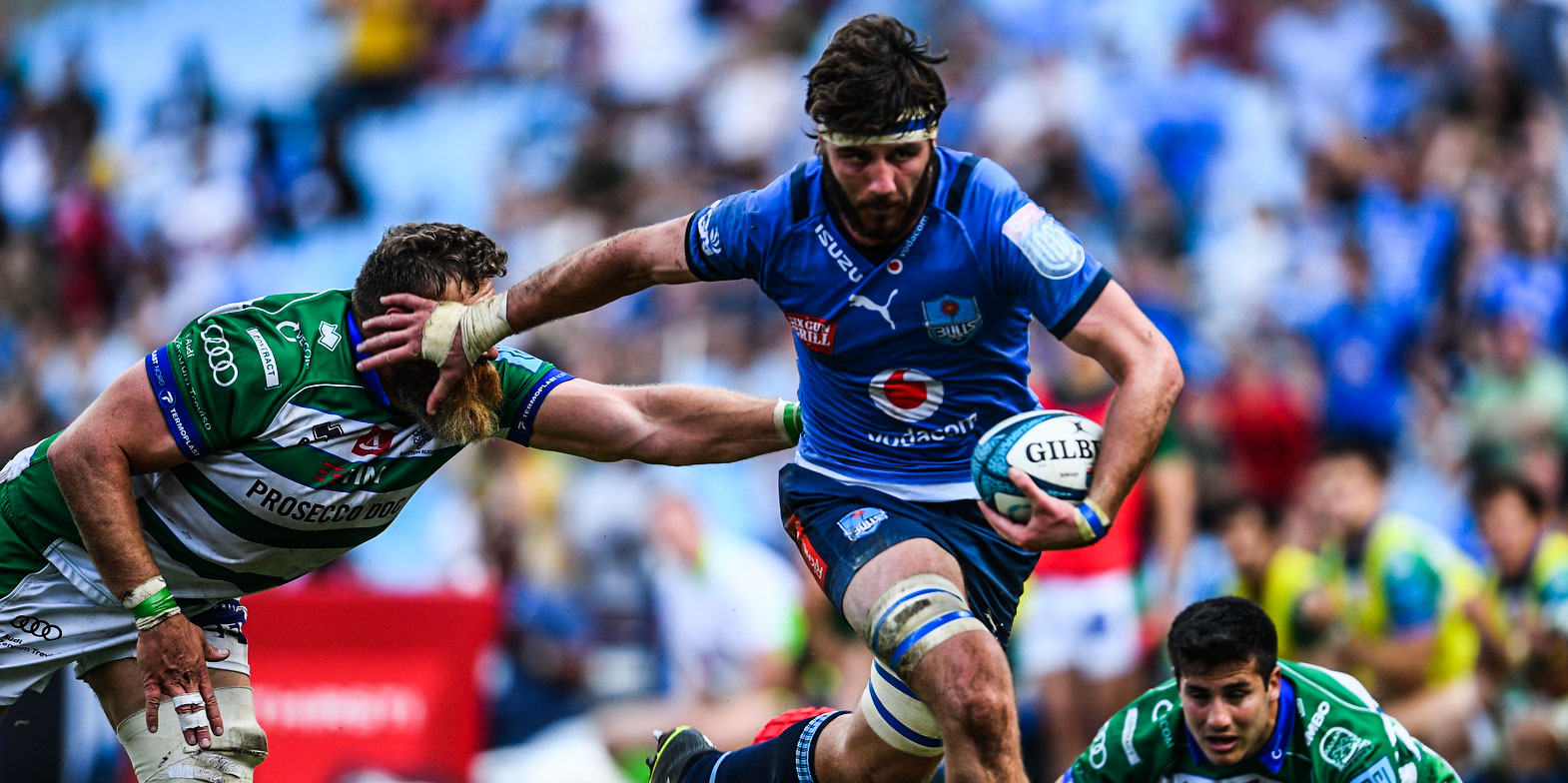 Rhyno Smith extended the Italian's lead with his fourth penalty goal shortly after halftime, but this was cancelled out soon after by Chris Smith as he kicked a penalty goal, to trail 19-15.
The hosts got a wind in their sail in the 49th minute as Arendse dashed over for his second try as he used his pace to take advantage of a loose ball from a Benetton mistake in their own half, which saw them take a 22-19 lead.
Chris Smith had an opportunity to add to this with another penalty goal minutes later, but his attempt went wayward, but the Vodacom Bulls continued to march on with Marcell Coetzee (No 8) crashing over for their bonus-point try on the stroke of the fourth quarter, which pushed them 10 points ahead on the scoreboard.
Rhyno Smith added yet another yet another penalty goal in the 64th minute, which the Vodacom Bulls cancelled out in the 68th minute with their own three-pointer to push the hosts 32-22 up on the scoreboard.
Benetton were hit hard minutes later as replacement lock Niccolo Cannone received a red card for elbowing a Bulls player on the chin while making contact on attack, and this left them a man down for the rest of the match.
The hosts took advantage of this with a stunning counter-attack which saw Junior Springbok win Canan Moodie dot down for their fifth try under the posts in the 73rd min.
Benetton refused to give up and this saw Menoncello score his second try thanks to a great kick through, and the extra two allowed them to close the gap on the scoreboard to 39-29.
A final shove by the Vodacom Bulls over tryline in the 79th minute, however, allowed them to snatch their sixth try thanks to replacement prop Simphiwe Matanzima, which this wrapped up the 46-29 victory for the side.
Scorers:
Vodacom Bulls 46 (12) – Tries: Cyle Brink, Kurt-Lee Arendse (2), Marcell Coetzee, Canan Moodie, Simphiwe Matanzima. Conversions: Chris Smith (3), Morne Steyn (2). Penalty goals: Chris Smith (2).
Benetton 29 (16) – Tries: Tommaso Menoncello (2).  Conversions: Rhyno Smith (2). Penalty Goals: Smith (5).