The DHL Western Province, Springbok Women and soon to be Springbok Women's Sevens wing feels the discipline needed in rugby helped her to finish matric last year in what turned out to be a massive year for the 19-year-old from Kraaifontein, Cape Town.
Completing her Grade 12 year in 2021 was riddled with interruptions, inevitably due to COVID-19, but also due to rugby call-ups as the former Western Province sprinter blitzed her way into the Springbok Women's side, after some blistering performances for WP in the SA Rugby Women's Premier Division.
Two test matches against Kenya for the then matric pupil from Bernadino Heights High School came with missing valuable school time – and resulting in catching up on schoolwork whenever possible.
Arries was so determined to successfully complete her school career, so when the Bok Women left on their November tour to France, Wales and England, she stayed behind to sit for her final exams.
"I had to make some tough choices if I wanted to keep playing rugby while also studying for my matric," Arries said in Pretoria, where the national women's sevens squad are completing their preparations for the Rugby Africa Cup Sevens, to be played in Tunisia next weekend.
"Because I was going to miss schoolwork if I wanted to play rugby, I did the classes after hours and sometimes till late at night. I had to, because I enjoyed rugby so much.
"It also became a vehicle for me to inspire and reach out to younger kids in my area. When I started playing for the Springboks, many people from our community contacted me and told me how I give them hope.
"I wanted that to continue, but in order to keep playing rugby, I needed more discipline in my schoolwork. So, I had to do extra work and that again helped me to complete my school year."
The opportunity to travel abroad for the first time, to see the Eiffel Tower – something on her 'bucket list' – and to continue in her desire to become the best player and inspiration she can be, had to wait as Arries completed her schooling.
So, when the next opportunity arose – this time with the sevens squad – she can really enjoy the moment: "I am not going to lie to you, the excitement is real as this will be my first time abroad.
"I am going to take it all in, but will also have some senior members in the squad to make sure that my mind stays on next weekend's tournaments," she smiled.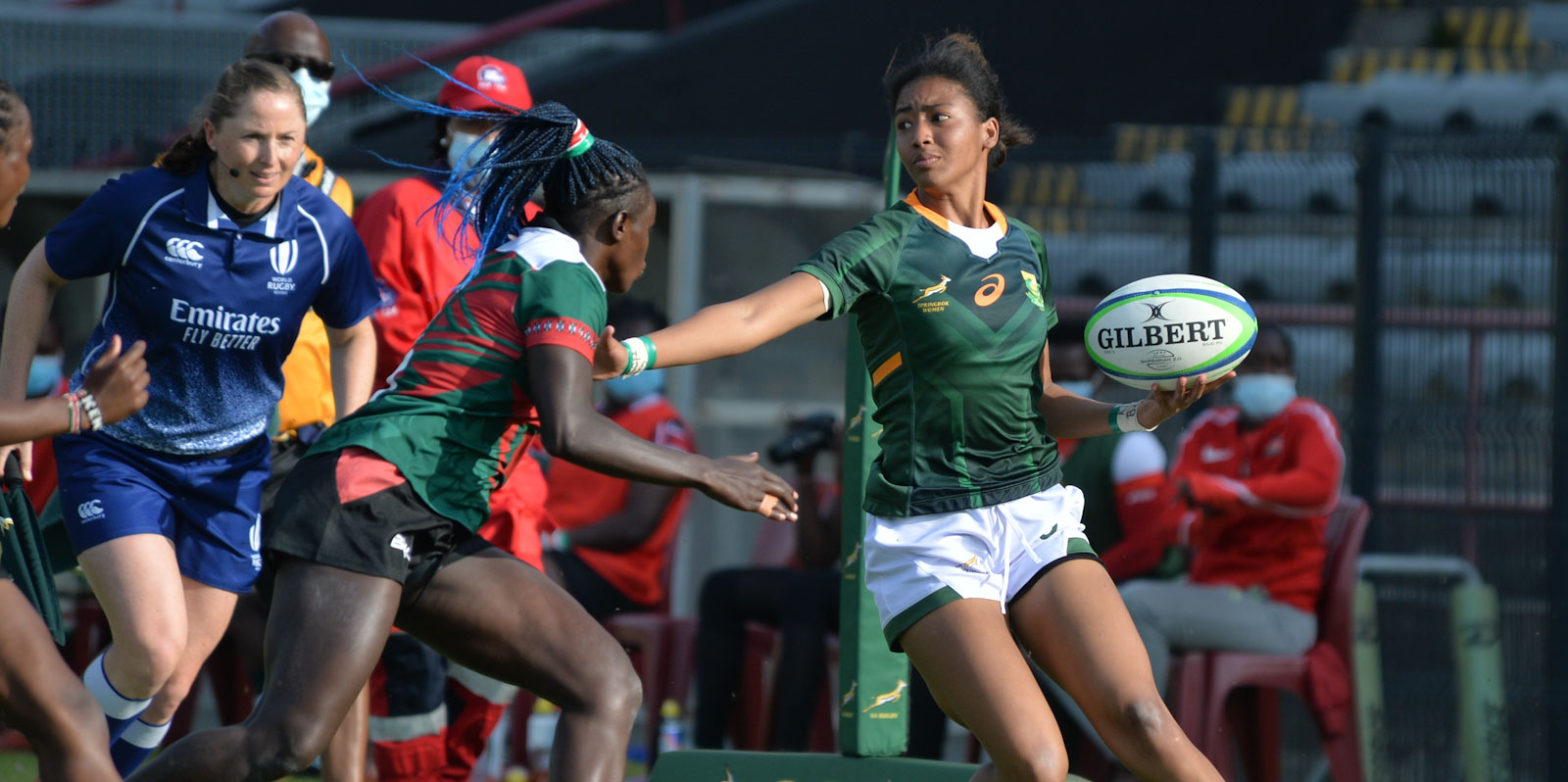 Earlier in 2022, with the first naming of the wider sevens training squad, Google came to her rescue.
"The SA management created a WhatsApp group called 'Commonwealth Games' and I was added," she said.
"I had no idea what the Commonwealth Games were and found out via Google that they play Rugby Sevens. I was told that because of my speed I could do well in sevens and when we had our first camp in January this year, I was properly introduced to the game.
"I have now learned what sevens is all about and what potential there is for me in that code."
She agrees that playing both sevens and fifteens will improve her development as a player: "I have areas where I want to improve and the codes challenges you in different ways, so I don't mind playing both. My footwork needs to improve and that is something I am working on."
Arries says she inherited her speed from her mother, who is also a former sprinter. She excelled in sprints and later long jump and that speed, added with a real determination when on the field, makes her a handful to handle.
"I really like team sports now, as it is quite lonely if you are an athlete, so although I would love to run around everybody on every occasion to score a try, it is those team tries that I enjoy most. It is such a great feeling when I finish what my teammates started as that is what teamwork is all about, everyone adding their bit."
Those familiar with her game also points to her tenacity on defence and that she is the one player who will always try to chase down a would be try-scorer, no matter what the odds are of catching her.
"My mother did not really want me to play rugby, so I sneaked out to go and play," she said.
"And then, in my first match, I injured my collarbone. But I wanted to play again. I was inspired by Seabelo Senatla and the way he plays the game. I also had the chance to meet him and realised that he is also a great role model to many young kids, something I want to be as well."
Arries is adamant that creating opportunities could ease the burden to many of her peers in her community and she is part of a group that on Sunday mornings, run a workshop for the youth where actors, karateka and a prayer group all reach out to those youngsters in an interactive way to uplift their minds and bodies.
"I have already experienced how my profile as a rugby player has helped those around me and that is something I hope to continue doing. Playing for my country provided me with that chance and what is more, my mother is now fully supportive of me playing," she said with a broad smile.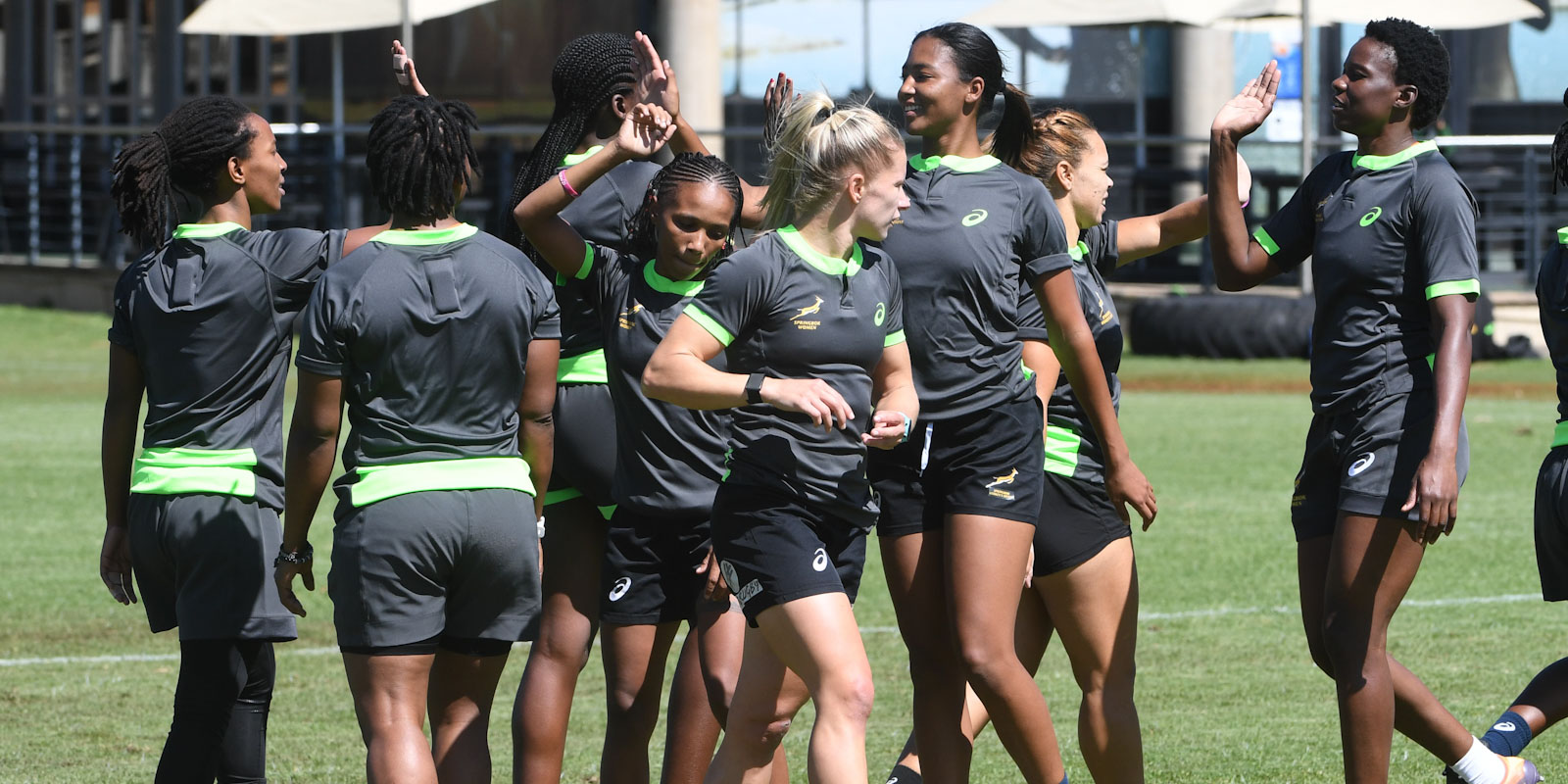 Arries was playing for Western Province at the Under-18 Girls Week in 2019 and although she did not feel that she did anything special, she was named in the High Performance U18 squad that was named after the event: "I was also named the player of the tournament, which came as a huge surprise."
Another surprise was her inclusion in the Springbok squad: "I did not even play for a club yet, but was drafted straight into the WP side and then played all the matches but two in the Premier Division.
"So, when I got called up to the Springboks, it was tears of joy, especially because I had to do that extra schoolwork as well."
Now, given that Springboks' Rugby World Cup-winning right wing hails from Kraaifontein and played sevens and fifteens for South Africa, what are the chances of the one of country's finest female left wing coming from the same suburb?
"I never even thought about that," Arries said in reply to the Kolbe reference. "That would be great, would it not. That will be an inspirational story indeed."