That is the wish of Blitzboks coach Neil Powell as his team start the HSBC Canada Sevens tournament with matches against Mexico, Spain and Kenya on Saturday.
The South Africans are ranked first in the tournament, consisting of 12 teams, with a number of regulars on the World Series, such as New Zealand, Australia, Fiji and Argentina, not involved this weekend.
For Powell, the focus will be on the effort from his own players, rather than the opposition they play.
"Although we are first ranked, we are not the favourites," said Powell.
"There are so many changes in all the squads, and everyone will be at different levels of preparation as well. There will be no form line to guide anyone at this tournament and is it therefore very important for us to focus on our standards. We need to make sure we bring the effort and keep the focus on ourselves."
The Blitzboks will have four uncapped players – Christie Grobbelaar, Ronald Brown, Shaun Williams and Darren Adonis – representing them in the World Series for the first time and Powell welcomed their presence.
A lot of the teams here are in the same situation, with players moving on after the Olympics and will have squads that have a mix of new players and regular players on the circuit," he said.
"For the new guys in our squad this will be a huge opportunity. They have been in our system for a while now and it is their time to step up and show they can play against international competition."
Reflecting on their opponents on the first day, the coach was adamant that they will not underestimate any of their rivals, especially Mexico, who are one of the invitational teams in Canada.
"That is an easy trap to fall into, but we are mindful of that," said Powell.
"We have not seen much of Mexico, but they did play in that repechage tournament before the Olympics. We need to lay a good foundation for day one and that first match is always the best place to start, so we will approach that match in that way."
Spain and Kenya are regulars in the World Series and known opponents to the Blitzboks.
"Spain, as we know, are a team that can surprise you on the day – they have actually beaten New Zealand here in Vancouver in the past, so it will be a challenging game," warned Powell.
"They come off their line very fast and make it tough to score tries against them. We will have to be prepared for what they will bring.
"Kenya will have one of the most experienced squads here and as always it will be very physical against them," Powell added.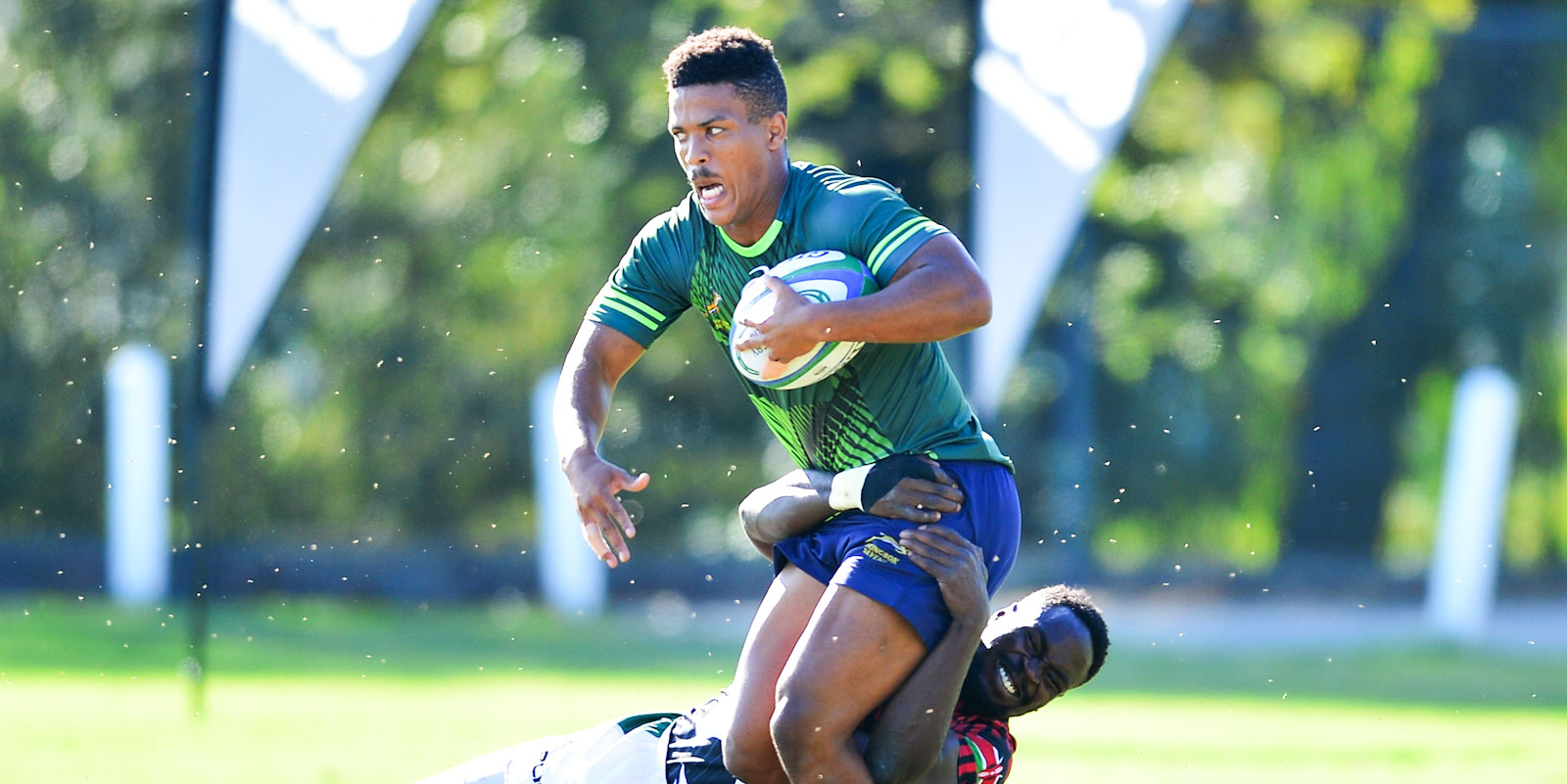 Physicality is an aspect Angelo Davids will enjoy. The 22-year-old winger – who has a healthy strike rate of 18 tries in 32 matches – is also being used at hooker by the Blitzboks, and he does not mind being moved to the forwards on occasion.
"When you play in the forwards, the physical demands are greater, no doubt," said Davids.
"But I enjoy that part of the game, so I don't mind being moved to hooker when the team need me to play there. I like the physical stuff. Luckily for me, there are some experienced forwards in the squad, and they help me out immediately if there are any issues at scrums or the lineouts."
It was not too long away ago – six tournaments in fact – when Davids himself was handed his very first match jersey.
"The new guys bring lots of energy and that is always good for the team," he said.
"I can only tell them what coach Neil told me on debut – go out there and enjoy. Express yourself and do not worry about making mistakes, the other guys will look after you."
Selected stats:
Head-to-Head:
Mexico: Played 2, Won 2; average score 66-0
Spain: Played 14, Won 14; average score 36-6
Kenya: Played 59, Won 52, Lost 6, Drawn 1; average score 26-9
Blitzbok match schedule (SA times):
Saturday, 18 September
19h35: Mexico
23h04: Spain
Sunday, 19 September
02h35: Kenya
Springbok Sevens squad (with caps and points):
Christie Grobbelaar (one tournament, 0 matches, 0 points)
Ryan Oosthuizen (21 tournaments, 107 matches; 23 tries, 115 points)
Sako Makata (nine tournaments, 36 matches; four tries, 20 points)
Zain Davids (22 tournaments, 109 matches; 16 tries, 80 points)
Angelo Davids (six tournaments, 32 matches; 18 tries, 90 points)
JC Pretorius (10 tournaments, 54 matches; 24 tries, 120 points)
Ronald Brown (on debut)
Shaun Williams (on debut)
Darren Adonis (on debut)
Dewald Human (nine tournaments, 43 matches; 12 tries, 27 conversions, 114 points)
Siviwe Soyizwapi (captain; 30 tournaments, 157 matches; 93 tries, 465 points)
Muller du Plessis (14 tournaments, 63 matches; 42 tries, 210 points)
James Murphy (four tournaments, 12 matches; 0 points)