The Durbanites were in great form as they beat the Toyota Cheetahs by 47-30 in Bloemfontein on Saturday, and on Sunday in Nelspruit, a big second half burst saw Province crush the New Nation Pumas, 37-23.
The final game of the weekend was a Jukskei Derby in Pretoria, where the home side had too much firepower for their neighbours from the south as they beat the Sigma Lions by 40-21.
With no midweek matches scheduled in Premier Division this week, the action resumes on Friday, with three more encouters on the cards next weekend.
Meanwhile, the Carling Currie First Division is going down to the wire, with six teams still in with a shout to reach the semi-finals after important victories this weekend for the Leopards, Eastern Province and the Border Bulldogs.
Premier Division
With six rounds completed, the Cell C Sharks top the standings on 24 points, with the Vodacom Bulls in second on 23, followed by Tafel Lager Griquas on 19. DHL Western Province have 17, the New Nation Pumas are on 15, and the Toyota Cheetahs and Sigma Lions both have 10 points each.
Bosch stars as Cell C Sharks cool down Toyota Cheetahs
The Cell C Sharks returned to Carling Currie Cup action with a bang when they claimed a 47-30 bonus-point win over the Toyota Cheetahs in Bloemfontein on Saturday afternoon.
Having not featured in the competition since their 32-31 loss to Western Province a few weeks ago, Sean Everitt's men emerged from the Carling Currie Cup shadows and issued a reminder of their championship quality as they halted their hosts' two-match winning streak.
Curwin Bosch starred for the visitors, scoring 22 points in a complete performance to steer his side to their first win in the City of Roses since 2018 and the top of the standings.
Scorers:
Toyota Cheetahs 30 (11) – Tries: Rosko Specman (2), Brandon Thomson, Duncan Saal. Conversions: Ruan Pienaar, Reinhardt Fortuin. Penalty goals: Thomson, Pienaar.
Cell C Sharks 47 (24) – Tries: Werner Kok, Grant Williams (2), Anthony Volmink, Kerron van Vuuren. Conversions: Curwin Bosch (5). Penalty goals: Bosch (4).
DHL WP bounce back in style in Nelspruit
Tristan Leyds scored two tries as DHL Western Province bounced back in style with a hard-fought 37-23 Carling Currie Cup victory over the New Nation Pumas in Nelspruit on Sunday, after leading by 16-10 at the break.
After losing their last two Premier Division matches, the Capetonians were with their backs against the wall, but they responded well to beat the tough Lowvelders at Mbombela Stadium, grabbing a try-scoring bonus point in the process.
DHL WP played tactically well, were more clinical in their execution and their defence also stood firm – they only conceded a penalty try in the first 70 minutes of the match.
The New Nation Pumas will be wondering where things went wrong. Despite conceding too many penalties, many of them for ill-discipline, their pack also failed to gain any form of ascendancy in the match.
Scorers:
New Nation Pumas 23 (10) – Tries: Penalty try, Simon Westraadt, Eddie Fouche. Penalty goals: Gerrie Labuschagne, Niel Marais.
DHL Western Province 37 (16) – Tries: Tristan Leyds (2), Paul de Wet, Evan Roos. Conversions: Tim Swiel (4). Penalty goals: Swiel (3).
Vodacom Bulls run wild in Jukskei Derby
It was the running of the Vodacom Bulls as the men in blue romped to a 40-21 bonus-point win over the Sigma Lions in an entertaining Carling Currie Cup encounter at Loftus Versfeld on Sunday afternoon.
A free-flowing Jukskei Derby produced six tries in the first half and three in the second, with the hosts scoring six of them to move up to second place on the log and add to the Sigma Lions' woes this week, which started with a 41-31 loss to Tafel Lager Griquas at home on Wednesday.
A month to the day of their last Carling Currie Cup clash, with COVID-19 and other complications leading to three consecutive match cancellations, Jake White's charges built on the momentum of their 17-14 win over South Africa 'A' as they spread the ball wide and ran their neighbours ragged.
Scorers:
Vodacom Bulls 40 (28) – Tries: Harold Vorster, Zak Burger (2), Johan Grobbelaar, Richard Kriel, Dan Kriel. Conversions: Johan Goosen (5).
Sigma Lions 21 (14) – Tries: Vincent Tshituka, Courtnall Skosan, Sti Sithole. Conversions: Jordan Hendrikse (3).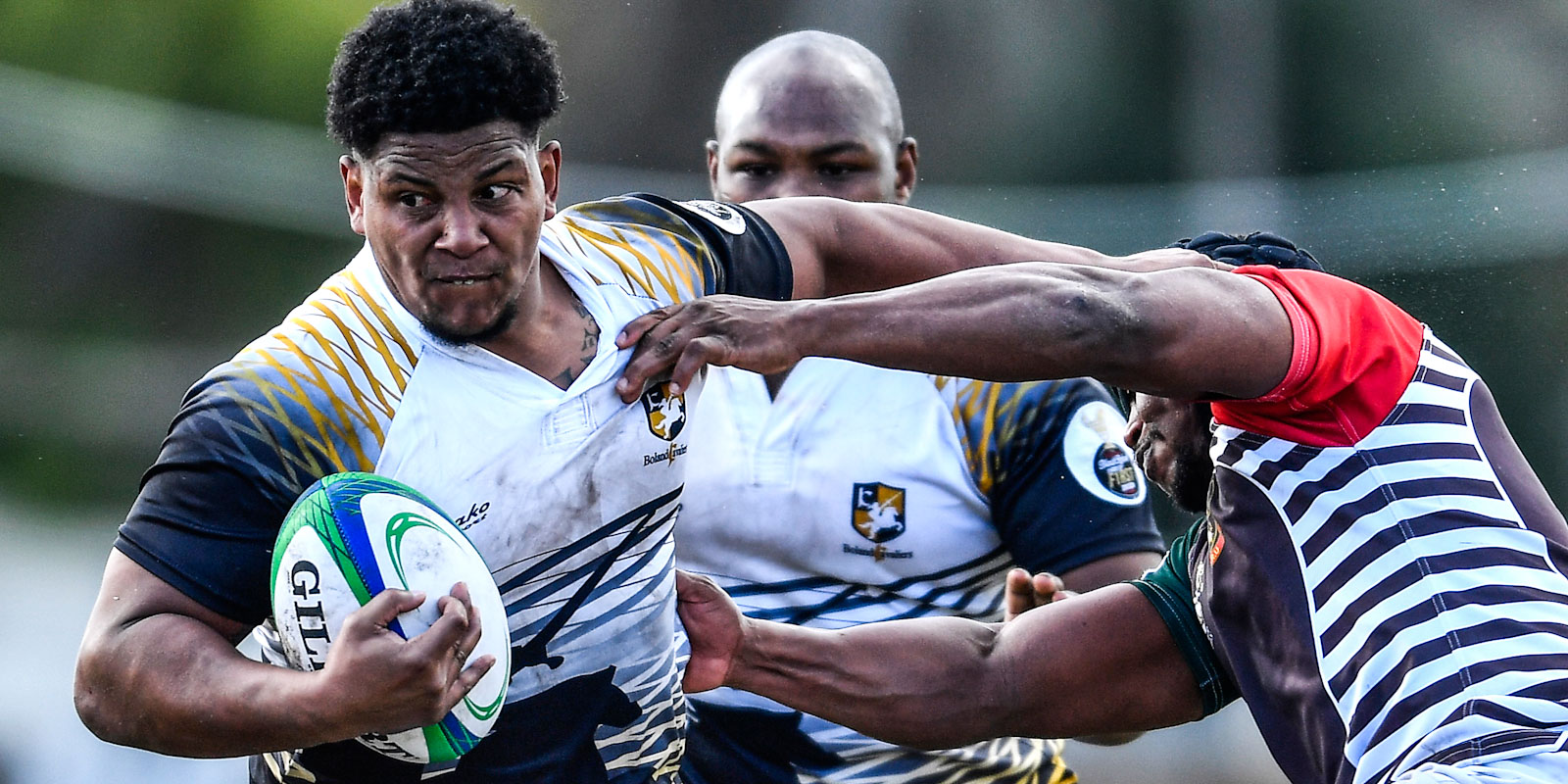 First Division
The Carling Currie Cup First Division is going down to the wire this coming weekend, with all six teams in action still in with a shout of making the semi-finals after Eastern Province and the Border Bulldogs won their matches last weekend.
Both sides from the Eastern Cape were in must-win situations, and they obliged with good victories over the SWD Eagles and Valke. They will need to win upcountry and will require some mathematical assistance on the log to make it to the top-four.
The Elephants scored four tries to three against the Eagles in Despatch to win by 28-19, and were in control for most of the match as they moved up to 11 log points.
In East London, the Bulldogs delivered a very strong second half performance to come back from 10-20 down at the break to "win" the second half by 24-7 for a 34-27 victory to keep their semi-final aspirations alive.
Border showed great character and determination, with their younger players rising to the occasion, and Litha Nkula (flyhalf) adding 14 points from the kicking tee.
The Leopards also required a step up after the break against Boland in Wellington, where the men from Potchefstroom eventually won 29-23 (halftime 5-17).
With 10 minutes to go, the Kavaliers were still in the lead by 20-17, but two late tries – to take their second half try-tally to four – sealed the win for the Leopards. The Bolanders kicked a penalty goal in injury time for a valuable bonus point.
With one round of action left, the Leopards have taken the lead on the log with 21 points, followed by the Down Touch Griffons (20), Boland (16), Valke (13), Border and Eastern Province (both on 11) and SWD (6).
The top two teams on the log have all but secured their spots in the top four, and Boland will need some serious bad luck to drop out, meaning the Valke, Border and EP will be particularly desperate this weekend. In the final round, the Valke host Eastern Province, Border travel to North West to take on the Leopards, and the Down Touch Griffons take on Boland in Welkom.
Scorers:
Border Bulldogs 34 (10) Valke 27 (20)
Border Bulldogs – Tries: Ntsikomzi Daka, Billy Dutton, Yamnkela Mzozoyana (2). Conversions: Litha Nkula (4). Penalty goals: Nkula (2).
Valke – Tries: Dwayne Pienaar, Denzel Hill, Lundi Ralarala. Conversions: Anrich Richter (3). Penalty goals: Richter (2)
Eastern Province 28 (15) SWD Eagles 19 (7)
Eastern Province – Tries: Duan du Plessis, Lupumlo Mguca, Sherwin Slater, Riaan Arends. Conversion: Keagan September. Penalty goals: September (2).
SWD Eagles – Tries: Deon Slabbert, JP Duvenhage, Keano Hendricks. Conversions: Duvenhage (2).
Boland Kavaliers 23 (17) Leopards 29 (5)
Boland Kavaliers – Tries: Deon Carstens, Dylan Maart, Gavern Skippers. Conversion: Garrick Mattheus. Penalty goals: John Lourens (2)
Leopards – Tries: Vincent Maruping, Andries Fouche, Shirwin Cupido, Danrich Visagie, Lincoln Daniels. Conversions: Visagie (2).