That series will kick off in Dubai in two weeks and two convincing wins in two warm-up matches for the South Africans against the same Belgium side at the same venue earlier on Friday, brought a smile to the face of Springbok Women's Sevens head coach Renfred Dazel.
His troops outplayed Belgium 22-0 and 19-5 in two competitive matches, with the winning margins indicating progress since their previous meeting.
Dazel saw the wins in a positive light and said he was happy with the day's performances.
"It has been close to seven months since we last played Belgium in the Challenger Series and I am happy with things we improved on," he said.
"It is obviously just training matches and the last time was a tournament final, but the luxury since then of having a bigger squad showed today, we have much more depth already and even today, we could blood young players," Dazel said.
Junior Springbok Women midfielder Shiniqwa Lamprecht and former national player Shona-Leah Weston were amongst the new faces from seven months ago.
"The advantage of a full-time programme is that you can bring in someone like Shiniqwa and develop her skill level over time," said Dazel.
"The matches also gave me the opportunity to test Shona against an international team, while someone like Asisiphe Plaatjies made a good return from injury. Those are valuable improvements for us out of these two matches, and I'm grateful to Belgium who provided us this opportunity."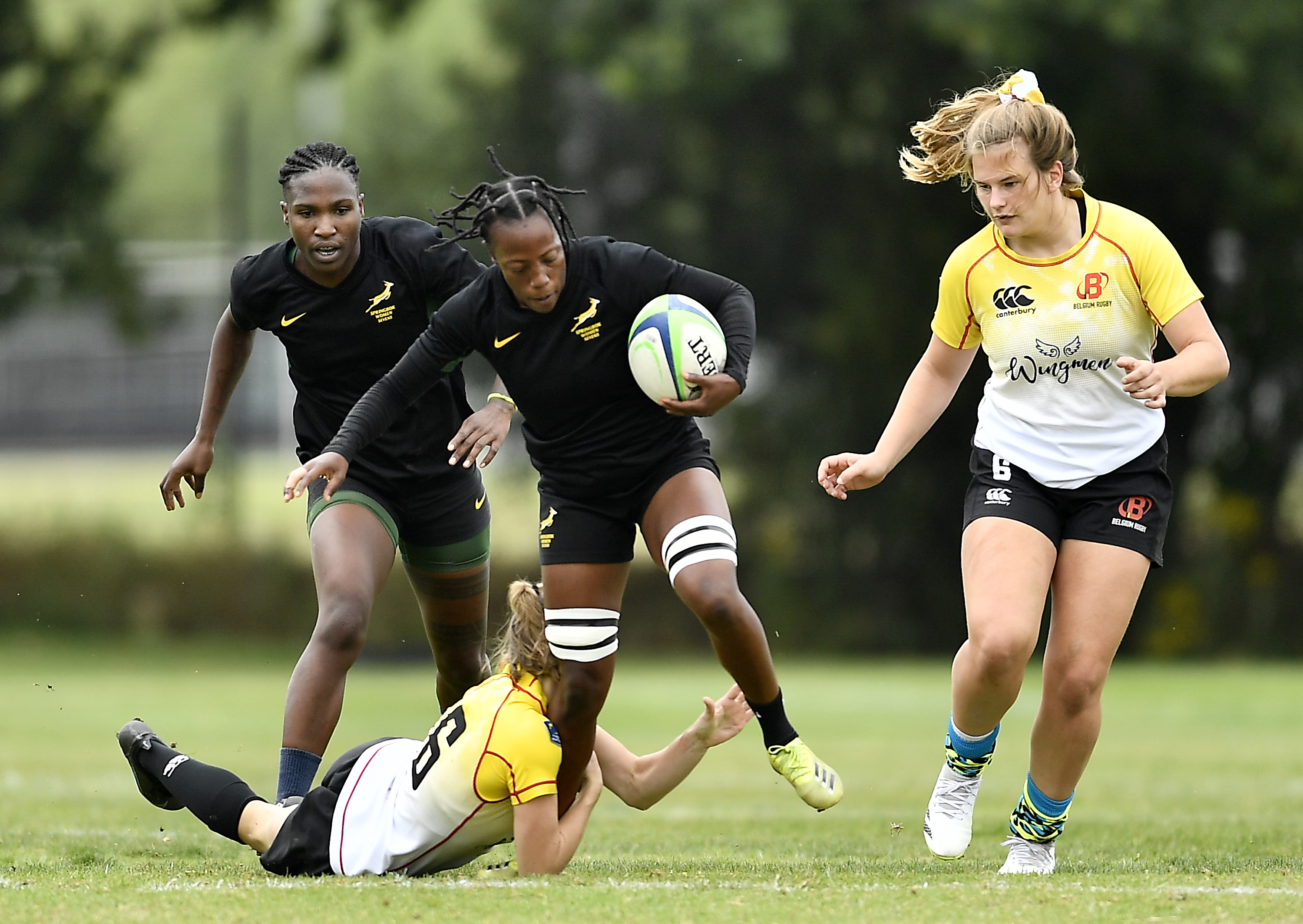 "We started slowly today, but the team picked it up quickly and overall, it was a good day. The biggest difference between now and seven months back was the ability to build a structure and culture in this time and that showed. We are two weeks away from the opening match against New Zealand and I am pleased with our preparations towards that.
"We have another week of work here at SAS and then a week in Dubai. Coaches always want more time, but I am comfortable that we have used ours well up to this point."
Dazel said they have targeted areas where improvements were identified: "As an example, we wanted to have a better scrum and Chris Dry (former Springbok Sevens player and current SAS Sevens Academy coach) gave valuable input in that regard. Each team brings a different challenge to scrums and Belgium added their flavour to it today, but I was pleased in how we reacted and delivered."
There was one sour note to the day however when playmaker Eloise Webb hobbled off the field with an ankle injury, but Dazel is hopeful that she will recover in time: "I wanted to finalise the squad today, so that did influence my plans, but early reports indicate that the injury is not that bad, so we will make a call on her soon."
Dazel will announce the squad for the opening tournament in Dubai next Friday.