Jimmy Stonehouse's team delivered the performance of the opening round with their record 63-15 victory over the Vodacom Bulls at Loftus Versfeld.
With young flyhalf Kade Wolhuter pulling all the strings, DHL Western Province used their running game to dismantle Fidelity ADT Lions 44-28 in an entertaining fixture at Emirates Airline Park on Saturday afternoon.
In Saturday's earlier fixture, the Cell C Sharks recovered from a slow start to beat newly promoted NovaVit Griffons 32-16 at Hollywoodbets Kings Park in Durban, and on Friday, the Toyota Cheetahs sent a clear signal of their title ambitions when they outclassed Windhoek Draught Griquas 42-19 in Kimberley, with Ruan Pienaar turning back the clock with a classy display at scrumhalf.
In next weekend's second round action, the Airlink Pumas face Fidelity ADT Lions on Friday in the Mbombela Stadium (17h05) and the Vodacom Bulls host DHL WP in a 19h05 kick-off in Pretoria.
The two remaining games take place on Saturday – NovaVit Griffons face Toyota Cheetahs in Welkom (14h00) and Windhoek Draught Griquas entertain the Cell C Sharks from 16h00 in Kimberley.
Vintage Ruan Pienaar shines on his birthday
Veteran scrumhalf Ruan Pienaar celebrated his 39th birthday in style by delivering an outstanding display for the Toyota Cheetahs in their 42-19 victory over Windhoek Draught Griquas on Friday in Kimberley.
The experienced scrumhalf was at the heart of almost every movement for the Bloemfontein side and he contributed 17 points to their winning cause via four conversions and three penalty goals.
The side from Kimberley lost at home in last year's pulsating Currie Cup final to Airlink Pumas, and they were determined to start the 2023 edition on a positive note. However, the Bloemfontein sidehad plans of their own as indicated by their 22-0 halftime lead.
Scorers:
Windhoek Draught Griquas 19 (0) – Tries: Gustav Du Rand (2), Luther Obi. Conversions: Lubabalo Dobela (2).
Toyota Cheetahs 42 (22) – Tries: Marnus van der Merwe, Gideon van der Merwe, Jeandre Rudolph, Friedle Olivier, Daniel Kasende. Conversions: Ruan Pienaar (4). Penalty goals: Pienaar (3).
Cell C Sharks recover from slow start to down NovaVit Griffons
In Saturday's early afternoon fixture, the Cell C Sharks were off to slow start and trailed 10-13 at halftime to the fired-up NovaVit Griffons, however, they turned things around after the break to secure a 32-16 win in Durban.
After trailing by three points at the break, the KwaZulu-Natalians found their mojo in the second spell to add four more tries to their sole effort in the first half, while also restricting the Welkom side to just one penalty goal.
The black and white jerseys scored five tries, with hooker Fez Mbatha leading the charge with two, while reserve flyhalf Bradley Davids added two conversions and a penalty goal.
Scorers:
Cell C Sharks 32 (10) – Tries: Fez Mbatha (2), Murray Koster, Damon Royle, Khutha Mchunu. Conversions: Bradley Davids (2). Penalty goal: Davids.
NovaVit Griffons 16 (13) – Try: Carel-Jan Coetzee. Conversion: Jaywinn Juries. Penalty goals: Juries (3).
Wolhuter steers DHL WP to convincing Joburg triumph
Young flyhalf Kade Wolhuter was the most influential figure at Emirates Airline Park as he guided DHL Western Province to a convincing 44-26 triumph over the Fidelity ADT Lions an entertaining clash in Johannesburg.
The young pivot hit the mark with all five try conversions and succeeded with three penalty goals for a personal tally of 19 points, but it was his all-round game which troubled the Highvelders the most.
Right wing Boldwin Hansen proved to be a handful and he scored twice with brilliant footwork for the hosts, while Raynard Roets (replacement lock), and Nico Steyn (replacement scrumhalf) also went over.
Scarra Ntubeni (hooker), Marcel Theunissen (loose forward) and Keke Morabe (No 8) each dotted down for DHL WP, while there were also good impact from the bench from Suleiman Hartzenberg (wing) and Andre-Hugo Venter (hooker), who got a try each.
Scorers:
Fidelity ADT Lions 28 (14) – Tries: Boldwin Hansen (2), Raynard Roets, Nico Steyn. Conversions: Vaughen Isaacs (4).
DHL Western Province 44 (34) – Tries: Scarra Ntubeni, Marcel Theunissen, Keke Morabe, Suleiman Hartzenberg, Andre-Hugo Venter. Conversions: Kade Wolhuter (5). Penalty goals: Wolhuter (3).
Clinical Airlink Pumas outsmart Vodacom Bulls
The Airlink Pumas showed their 2022 Currie Cup triumph was no flash in the plan when they got their new campaign off to a perfect start with a brilliant 63-15 victory over the Vodacom Bulls in Pretoria on Sunday afternoon.
Jimmy Stonehouse's troops ran in nine tries in total to overwhelm the men from Pretoria on their own turf. The blue jerseys were simply no match for the team from Mpumalanga's high-tempo, all out attacking game.
Airlink Pumas flyhalf Tinus de Beer pulled the strings superbly behind a superb pack and he was deservedly named Player of the Match. Apart from his superb distribution skills, he also contributed 14 points with four conversions and two penalty kicks, while Diego Appollis (outside centre) scored twice for the visitors.
Scorers:
Vodacom Bulls 15 (8) – Tries: Mihlali Mosi, Cornal Hendricks. Conversion: Morne Steyn. Penalty goal: Steyn.
Airlink Pumas 63 (27) – Tries: Eduan Swart, Giovan Snyman, Sebastian de Klerk, Jade Stighling, Devon Williams, Andre Fouche, Diego Appollis (2), Francois Kleinhans. Conversions: Tinus de Beer (4), Giovan Snyman, Brandon Thomson. Penalty goals: De Beer (2).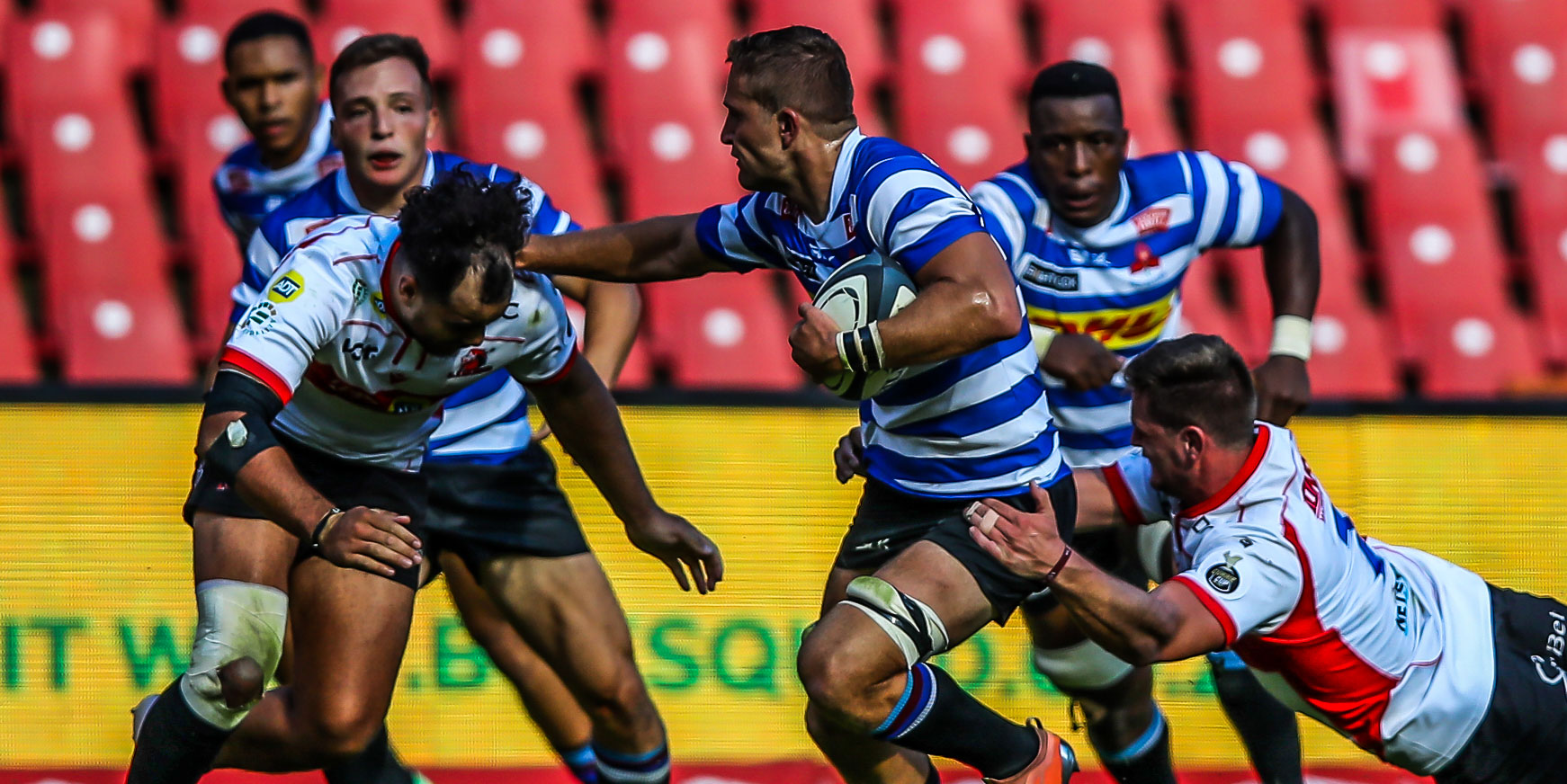 Currie Cup First Division
In Currie Cup First Division action, the Leopards just managed to beat the Boland Kavaliers by 33-32 in a nail-biting fixture in Potchefstroom, which was the visitors' first loss of the season.
Meanwhile, in the other fifth round fixtures, Eastern Province won the battle of the Eastern Cape by a margin of 22-15 over the Border Bulldogs in in Dispatch, while the Valke managed to hold out for a 44-38 win over the SWD Eagles in Kempton Park.
Despite their defeat, Boland still lead the First Division standings on 22 points. However, second placed EP (18) have managed to trim their lead to just four points, while Valke in turn is just one point behind EP in third on 17. They are followed by SWD (13 points), the Leopards (11 points) and Border, who have a single point.
Following completion of round five, the competition will have a break at the halfway stage with action resuming in two-weeks' time again.