It was the first time he earned the prestigious award, and it could not have come at a better time for the Springbok lock, with the Rugby World Cup only a few months away and his wedding day this Saturday when he will tie the knot with his fiancé Anlia van Rensburg, who sang the national anthem at his 100th Test match against Wales in Cape Town last July.
"It is a privilege to have my name on this trophy," said Etzebeth, who made his Test debut in 2012, when he was deservedly named as the SA Rugby Young Player of the Year.
"There was a top-class list of nominees, so to win it for the first time was a real honour. In the last year I earned my 100th Test cap, got engaged, I'm getting married on Saturday and now winning this award make things as special as it gets.
"It is also fantastic to be recognised this way in a team sport."
The 31-year-old lock – who faced the media at the union's Plattekloof offices, a stone's throw from where he went to Tygerberg High School many years ago – said he was raring to go for the international season as the Boks prepare to launch their Rugby World Cup title defence in France, where they will face Scotland (Sunday, 10 September), Romania (Sunday, 17 September), Ireland (Saturday, 23 September) and Tonga (Sunday, 1 September) in the pool stages.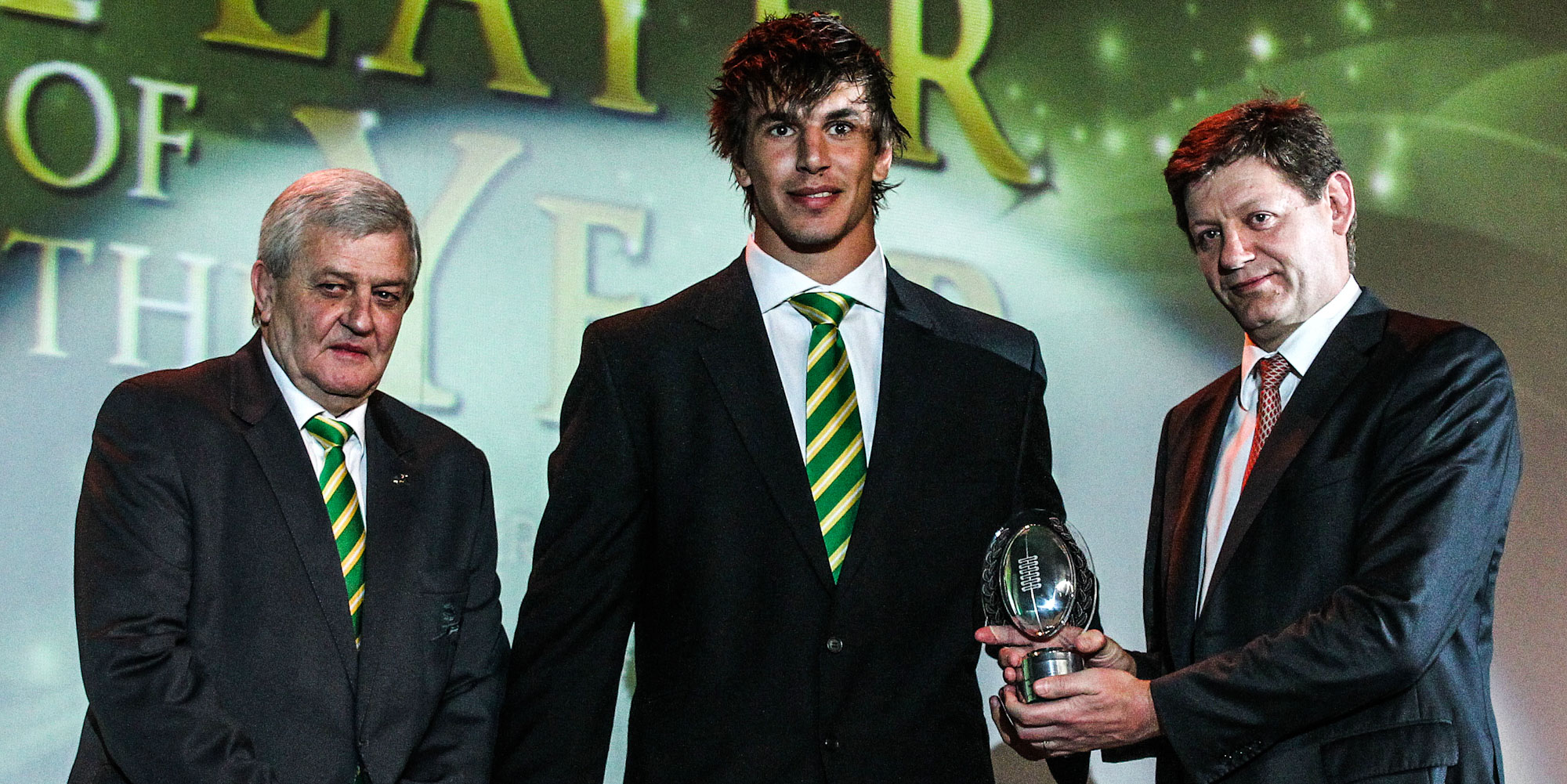 "The coaches are probably going to discuss their plans with the provincial unions and finalise things, so as players we will wait for them to tell us what the plans are. The one thing for certain is that we are all keen to get going in this Rugby World Cup year," he said.
Reflecting on the 2022 season, in which the Boks won eight of their 13 Tests, and zoning in on the Rugby World Cup, Etzebeth said: "We were certainly not happy with the two defeats on the year-end tour (against Ireland and France), but if a few more things went our way we could have won those matches.
"This is a big season for us, and the players and coaches are looking forward to it. We have to pitch up and win three of our four World Cup pool matches and all our playoff matches to win the competition.
"The French are certainly among the favourites as they have home ground advantage, but I think there are about eight teams that can win the competition.
"In our pool alone, Scotland and Ireland are very good teams, so we know winning our pool matches and the knock-out games are going to be vital."
Etzebeth, who boasts an impressive 110 caps in 10 seasons of Test rugby, may be in with a shot of improving Victor Matfield's record of 127 caps, but the big lock was reluctant to comment on his personal goals going forward.
"I've always kept my goals close to my heart. But being part of this squad and hopefully getting the opportunity to be selected for the Rugby World Cup and doing the best we can to win it again would be great," he said.