DHL Western Province finished strongest at HT Pelatona Projects Stadium on Wednesday, beating the Blue Bulls by 44-0 in a commanding performance in a tournament that yielded 100 tries. The Lions and Valke scored 13 tries apiece, with the girls from Johannesburg finishing the tournament with the best points' difference of them all.
The U18 Girls Week concludes on Thursday, with DHL Western Province and the Sharks playing in the final match of the day.
The Sharks will also be in action in the final match of the SA Rugby U16 Grant Khomo Week in Kimberley, where they will meet Free State for bragging rights. Both are undefeated after two rounds of matches. Namibia and Griquas XV will play the final match on the B-field.
U16 Girls Week results:
DHL Western Province 44 (27), Blue Bulls 0 (0)
WP – Tries: Iviwe Jonas, Asiphe Moni (2), Nuha Levy, Cleo Harris,  Emma Bester, Ronecia Gordon (2). Conversions: Anita Fazi (2).
Limpopo Blue Bulls 12 (7), Border Country Districts 10 (5)
Limpopo – Tries: Kuriso Nkena, Karabo Rabekane. Conversion: Rabekane.
Border - Tries: Khayakazi Giqika, Isibabale Tyobosini.
Mastercard Golden Lions 30 (20), Pumas 0 (0)
Lions – Tries: Chioma Onuegbu (3), Esther Ntanda, Angelique Ross-Allen, Sinethemba Zwane.
Border 25 (5), SWD 0 (0)
Border – Tries: Unako Pontshi, Zeze Gcaza, Hluma Tsheula, Zanele Sikela, Yandi Menzi.
Eastern Province 20 (17), Boland 15 (10)
EP – Tries: Alutha Ngcezula, Aba Mlonyeni, Janique Scholz. Conversion: Scholz. Penalty goal: Scholz.
Boland – Tries: Tlotlisang Khati, Nicole de Kock, Nadine Phaff.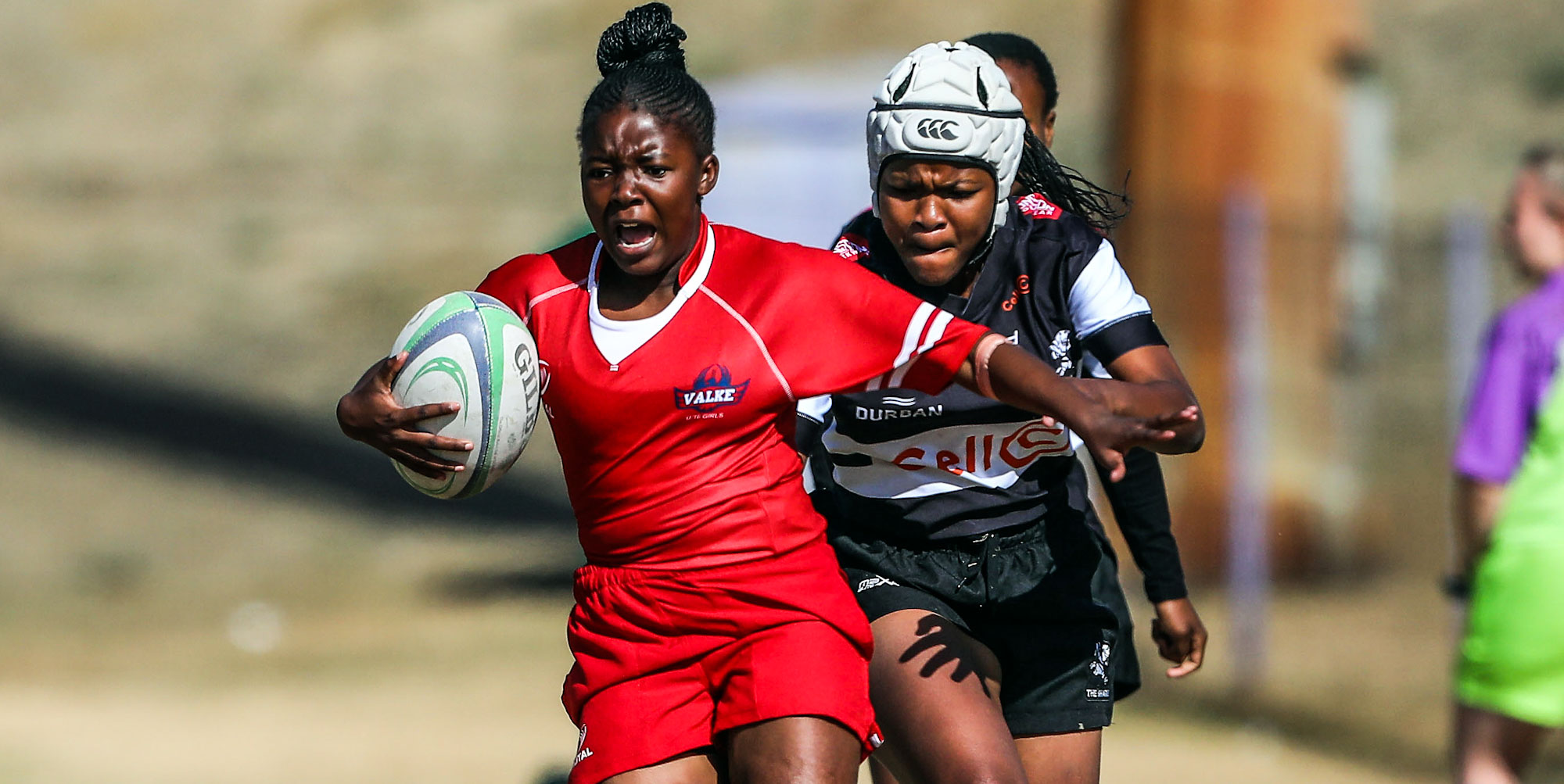 Sharks 15 (5), Valke 10 (0)
Sharks – Tries: Thomas Habyalimana, Asanda Mnyandu, Amahle Ngcobo.
Valke – Tries: Itumeleng Malala (2).
Free State 15 (0), Griquas 7 (7)
Free State – Tries: Zane van Heerden (2), Ntheriseng Moeketsi.
Griquas – Try: Fazline van Wyk. Conversion: Hope Florence.
Leopards 15 (5), Griffons 10 (0)
Leopards – Tries: Ama Tsheko, Thandi Obos, Ani Mnyamana.
Griffons – Tries: Ongezwa Ongezwa, Rapelang Ujunwa.
U18 Girls Week fixtures for Thursday:
08h00: Leopards v Zimbabwe; Griffons v Free State
09h20: Pumas v Valke; Limpopo Blue Bulls v Boland
10h40: Mastercard Golden Lions v Eastern Province; Border v Griquas
12h00: SWD v Blue Bulls
13h20: DHL Western Province v Sharks
U16 Grant Khomo Week fixtures for Thursday:
B-field:
08h00: Border Country Districts v Zimbabwe
09h20: Pumas v Thepa Trading Motswako Griffons
10h40: Leopards v Limpopo Blue Bulls
12h00: SWD v Eastern Province
13h30: Namibia v Griquas XV
A-field:
08h00: Valke v Griquas
09h20: DHL Western Province XV v Blue Bulls
10h40: Golden Lions v Border
12h00: DHL Western Province v Boland
13h30: Sharks v Free State