DHL Western Province host Boland Dames in a Western Cape derby in Cape Town, while the Mastercard Golden Lions Women will welcome Cell C Sharks Women to Johannesburg. The Blue Bulls have a bye.
<< LIVE STREAMING OF ALL THE GAMES >>
The Eastern Cape match-up will be an interesting one indeed. The EP Queens scored a good win over the Mastercard Golden Lions Women last weekend, but will not be happy with the two tries they conceded at home, while the Border Ladies will be eager to bounce back after their opening defeat to the Blue Bulls in Pretoria.
The sound wake-up call handed to them by the women from Pretoria will no doubt spur Border on to deliver at home and in front of their fans as they aim to rebound in the defence of their title.
The front row battle will be intense. Border's two props, Yonela Ngxingolo and Asithandile Ntoyanto, scrummed with the EP trio of Amahle Nyoba, Sanelisiwe Charlie and Monica Mazibukwana when the Springbok Women toured Europe last November, and all of them would have a point to prove with the Rugby World Cup in New Zealand later this year a big motivation.
The Mastercard Golden Lions Women will play their first game at home since being promoted and will be keen to make an impression.
Timmy Goodwin is an experienced coach so will have his plans ready to topple the Cell C Sharks, who – on paper – look to have too much fire power, especially up front where Springbok Women players such as Micke Gunter (hooker), Nompumelelo Mathe and Karthy Dludla (locks), and Tayla Kinsey (scrumhalf) will ask questions all day.
The KwaZulu-Natalians outplayed the women from Gauteng when the two sides last played in 2021, and the home side will do well to reverse the trend.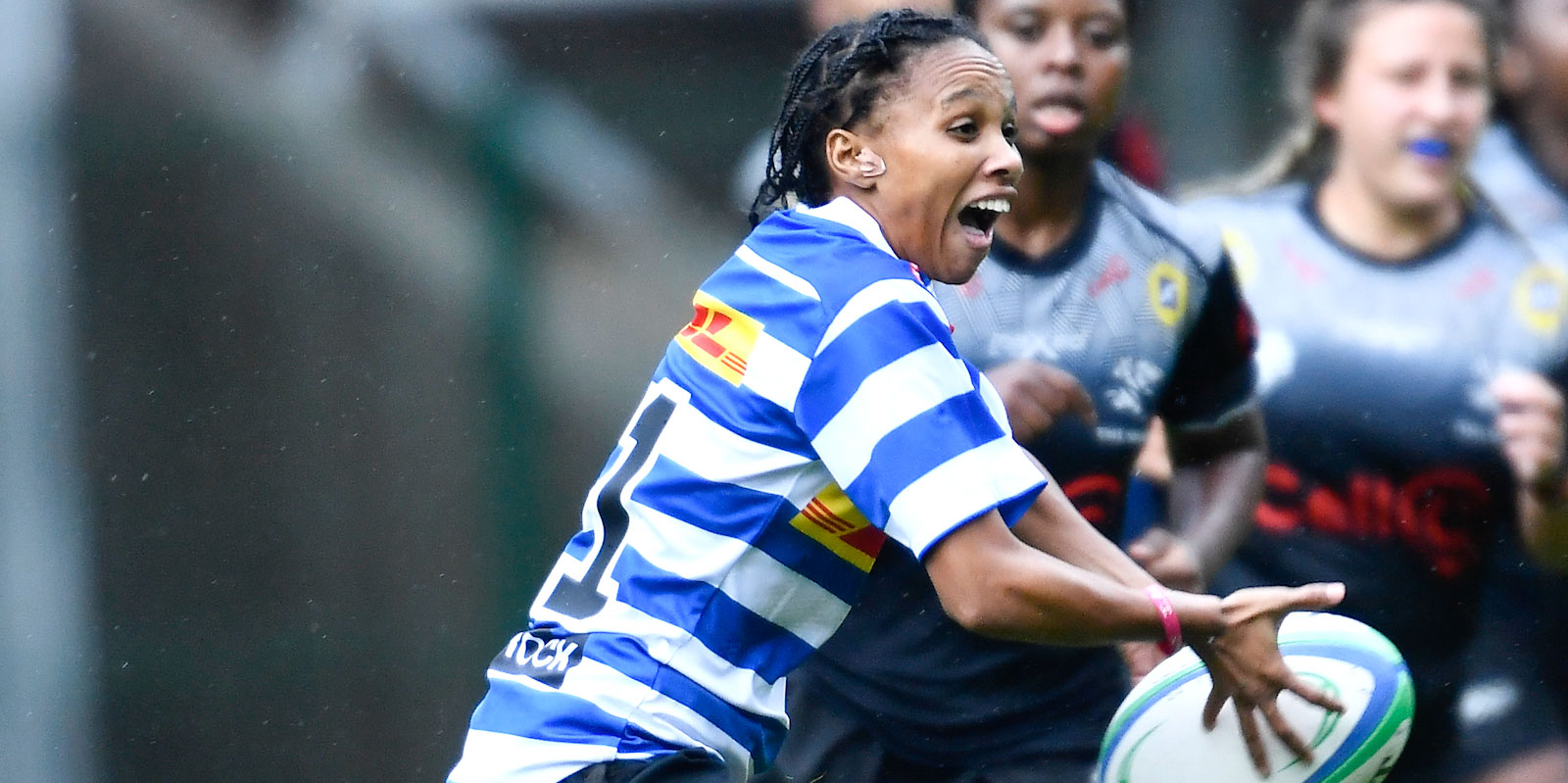 The Western Cape derby will be physical, no doubt. Boland Dames coach, Thomas Chowles, managed to lure Ayanda Malinga down south and although the Blue Bulls and Springbok Women wing is still recovering from injury, the likes of Demi Nel (centre) Anelca Hess (flyhalf), Kimico Manuel and Lulu Tyibilika (wings) will test the WP defence.
DHL Western Province coach, Laurian Johannes-Haupt, said last weekend's victory in Durban was important for their squad in many aspects: "We managed to get that first game jitters out of the way at a venue where we never seem to play well, so I was pretty pleased with that win.
"Boland is going to be a proper test. There are players in each team that have played for the other, so we can expect a proper derby out there."We are happy to have Felicia Jacobs back at scrumhalf; she provides that X-factor that could make the difference in tight matches. She also brings speed onto the ball, which is how we like to play," Johannes-Haupt added.
The WP coach feels her team benefitted from last week's outing, while Boland Dames, who had a bye in round one, could take time to get into their stride.
"We are expecting a tight game against a durable opponent, while the squad is also keen to play at home for the first time since last year," she said.
All matches will be streamed live on www.springboks.rugby.
Women's Premier Division round two fixtures – Saturday, 30 April
Mastercard Golden Lions Women v Cell C Sharks Women
Venue: Wits University, Johannesburg
Referee: Maria Mabote
Kick-off: 12h00 
Border Women v EP Queens
Venue: Police Park, East London
Referee: Angie Bezuidenhout
Kick-off: 13h00
DHL Western Province v Boland Dames
Venue: Hamilton RFC, Cape Town
Referee: Ashleigh Murray-Pretorius
Kick-off: 14h30