The Boks registered a 29-10 victory at the Nelson Mandela Bay Stadium on Saturday after opening up their campaign with a 32-12 victory at the same venue the previous week, and while the players were pleased with the results, they agreed there was room for improvement.
"It was pretty tough playing against Argentina - they are always hard opponents to face, and they are a physical side," said Marx.
"During the week we focused on doing what we do well and the guys that prepared us were great in ensuring that we performed well, and credit to them for that."
Marx added: "At times we had them under pressure, and there were one or two things that didn't go our way or where we didn't capitalise (on our opportunities). We enforced our game plan on them well in the first half, but there is always room to get better."
Am also rued the missed opportunities to add scoreboard pressure during the match and said: "There were good opportunities, but with the stop-start nature of the game not capitalising on those chances was our downfall. 
"We made a couple of metres by taking on their players, but we didn't make the most of our chances to due to errors or being unable to get fluency."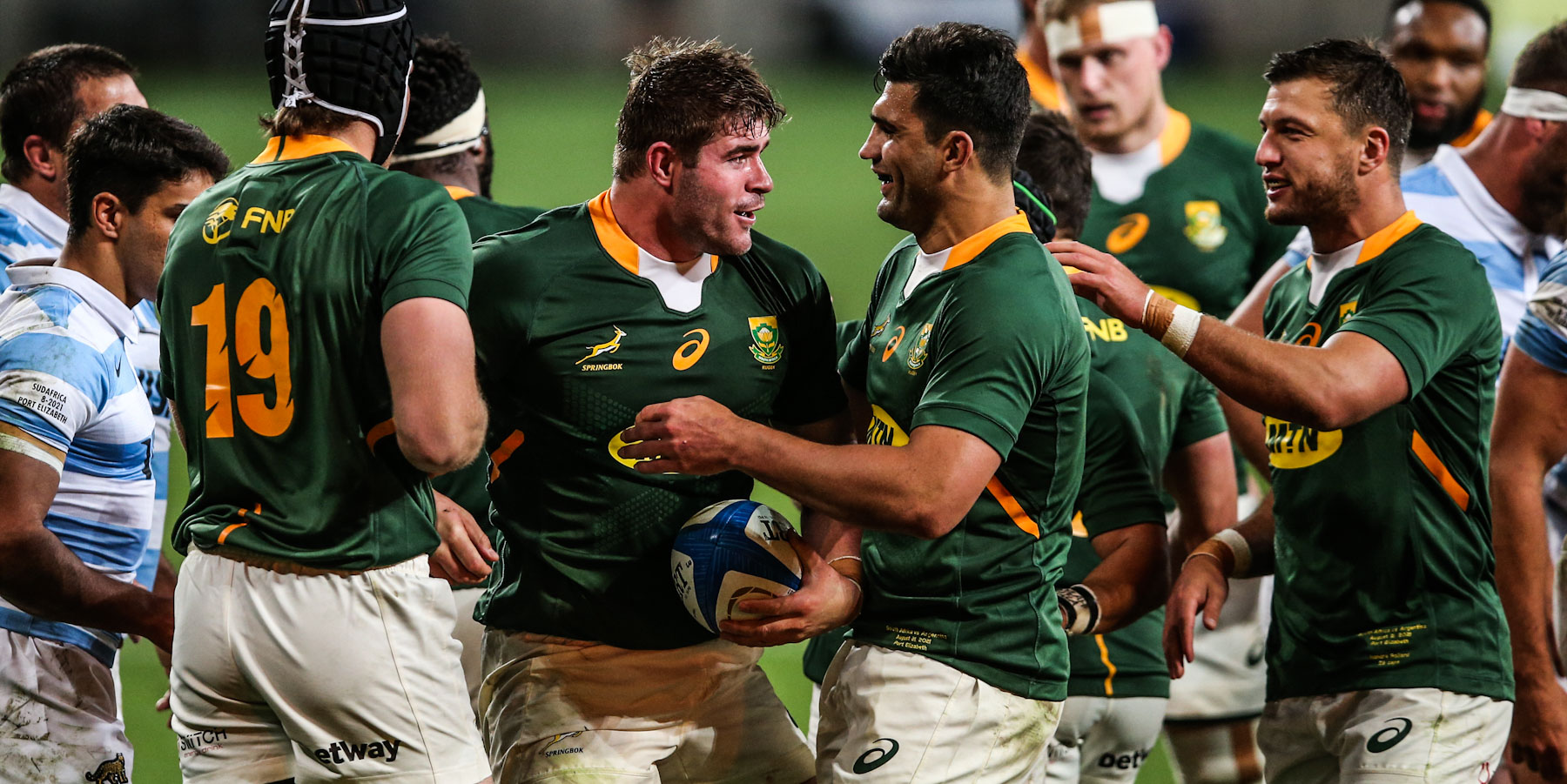 After missing a full season of international rugby in 2020 due to the COVID-19 pandemic Am was pleased with the trajectory the team was on after clinching the Castle Lager Lions Series by winning two of their three Tests against the British & Irish Lions and registering victories against Georgia and Argentina.
"It's been great playing in the green and gold and we managed to build from the Rugby World Cup (in 2019)," said Am.
"We are getting to where we want to be, and we are building consistency in the team."
Marx, meanwhile, was pleased to start the match after being a key member of the bomb squad in recent years and said: "It is an honour to put on the Bok jersey, even if it is the No 16 jersey.
"It was great to start (the match). There is a lot of competition in the squad, and the better we prepare, the better we'll be on the weekends (when we play)."
The Springboks will remain in Nelson Mandela Bay until a decision is made on where the remaining Castle Lager Rugby Championship fixtures will be played following the announcement on Saturday that the latest outbreaks of COVID-19 in Australia and New Zealand resulted in the tightening of regulations placed on travel and quarantine by various state and national governments.
With the Springbok matches in in New Zealand against the All Blacks in Auckland and Dunedin cancelled, SA Rugby offered to host the remaining fixtures. A decision on the match venues is set to be made in the next few days.