As a result of their failure to win any pool games on Saturday, the South African team didn't gain automatic qualification to the 2024 Olympic Games and Blitzbok coach Sandile Ngcobo said they were bitterly disappointed with that.
However, the Blitzboks hit back with two strong performances on Sunday, beating Japan (29-7) and the USA (47-5), after their disappointing pool results on Saturday, when they drew one and lost two matches.
"We are not happy at all, because this is not how we wanted to finish the season," said Ngcobo.
"We're very disappointed, but again, our actions will determine our character going forward and how badly we want to fix this, and to play like we're Springbok Sevens players."
While Ngcobo would have been happy with the performances on Sunday, he pointed out some shortcomings that ended up costing his team dearly on Saturday.
"We spoke about urgency and respecting our ball, which we did well at times, but the biggest thing was not finishing our opportunities," he said.
"We've been relentless on attack – we score tries and take the lead in our matches – but then we don't put our opponents away.
"We wanted to work on improving how we receive restarts and our speed to the breakdown, which we mostly got right, but we need to be more relentless because at this level, you only get a few opportunities."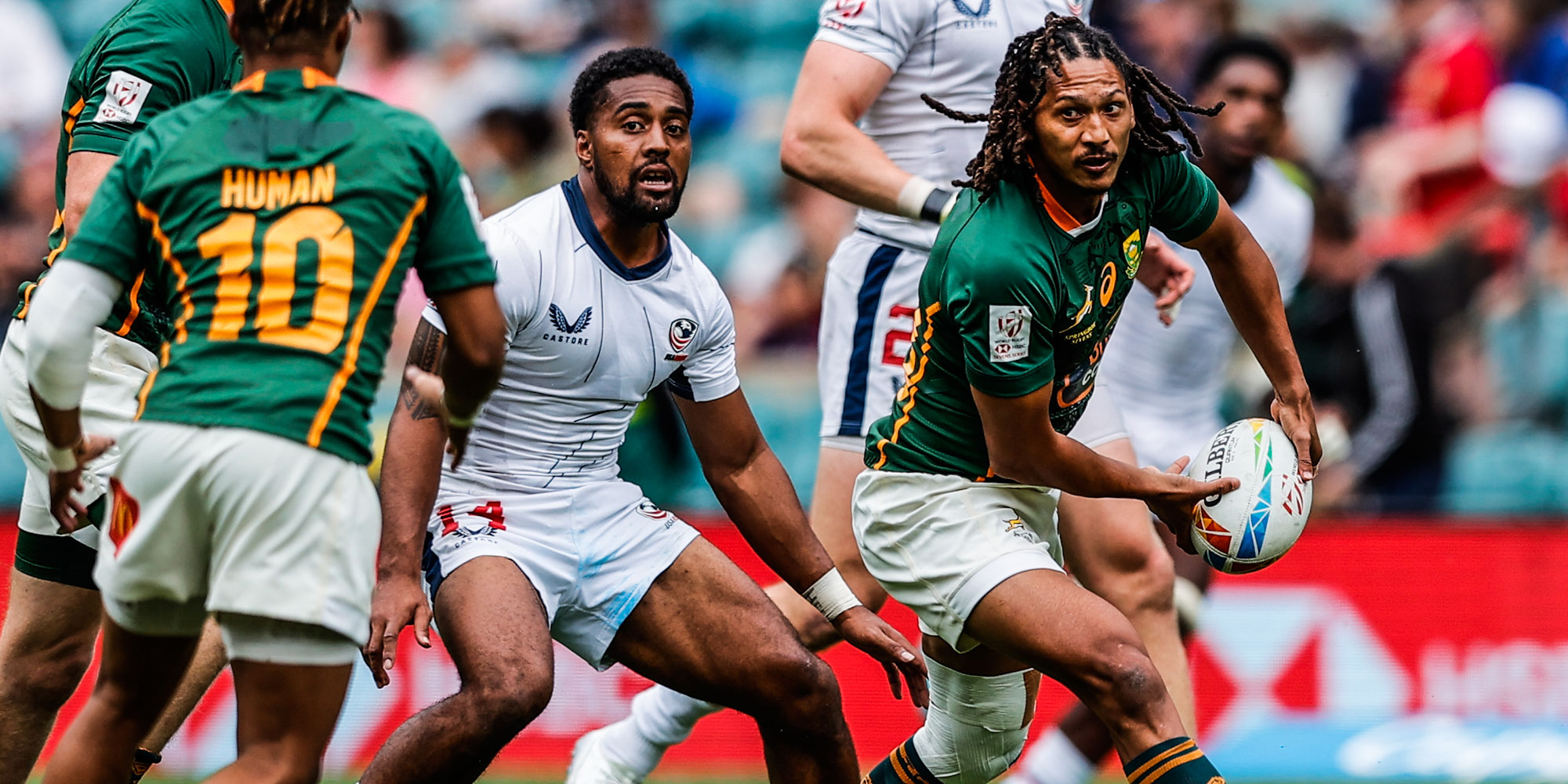 The South Africans started the day with a 29-7 win over Japan in the ninth-place semi-final. They looked composed and scored five tries against the Japanese team, with Ronald Brown grabbing a first-half brace.
Impi Visser also scored before the break to help the Blitzboks to a 17-7 lead, with Brown's second try coming late after Japan lost a player to the sin-bin.
Shaun Williams went over early in the second half but he lost ball over the line, however, a minute later Christie Grobbelaar made no mistake after a good chip from Mfundo Ndhlovu. Travis Ismaiel had the last say with his second try for the Blitzboks in only his fifth tournament.
Against the USA, they stepped up a gear and scored seven tries, with Grobbelaar grabbing a brace.
Shilton van Wyk and Ndhlovu crossed the whitewash early in the match, while Grobbelaar and Ryan Oosthuizen also added their names to the score sheet in the first half as the Blitzboks took a 28-0 lead.
Brown, Grobbelaar and Justin Geduld scored after the break before the USA got a consolation try late in the match.
New Zealand, who lost to Samoa in the bronze medal match, were crowned World Series winners for 2023, while Argentina beat Fiji by 35-14 in the Cup final in London.
The five teams that qualified for the 2024 Olympic Games in Paris are New Zealand, who finished the season on 200 points, Argentina (179 points), Fiji (156 points), hosts France (151 points), and Australia (133 points). Samoa finished sixth (132 points) and South Africa seventh (120 points).
Scorers:
South Africa 29 (17) Japan 7 (7)
South Africa - Tries: Ronald Brown (2), Impi Visser, Christie Grobbelaar, Travis Ismaiel. Conversions: Ricardo Duarttee, Justin Geduld.
Japan - Try: Taiga Ishida. Conversion: Taichi Yoshizawa.
South Africa 47 (28) USA 5 (0)
South Africa - Tries: Shilton van Wyk, Mfundo Ndhlovu, Christie Grobbelaar (2), Ryan Oosthuizen, Ronald Brown, Justin Geduld. Conversions: Ricardo Duarttee (3), Brown, Geduld (2).
USA - Try: Aaron Cummings.