The Springbok Women open their 2023 international season against Canada at Estadio Nacional Universidad Complutense in Madrid, where the 20-year-old Zulu will be wearing the No 15 jersey.
Few would have expected inhabitants and patrons of the Brotherhood of Blessed Gérard in Mandini, KwaZulu-Natal, to jump up and down for a rugby match in faraway Madrid, but thanks to Zulu's exploits, this will indeed be the case on Saturday.
After all, the current University of KwaZulu-Natal B.Sc. Sport Science student was taken into the home shortly after birth and looked after by staff and especially Father Gérard Lagleder, an ordained German priest who founded the orphanage in Mandini in 1992.
"Without Father Gérard and Mr Hayne Clarke, I would not have been here, there is no doubt in my mind," Zulu said from the team hotel as she awaited the biggest day of her rugby playing life.
"I was abandoned as a baby and they took me in and became my family and the orphanage my home and my life.
"I can honestly say that rugby has given me everything I could have ever dreamed for, and for me to be playing for the Springbok Women tomorrow is almost surreal, but very true. Dreams really come true, and rugby made that happen for me."
Zulu fiddled around with various sports at school, but once she caught a rugby ball for the first time, she had made up her mind. She would later represent KZN at the SA Rugby Under-16 and Under-18 Girls Weeks and then the Cell C Sharks Women (2021 and 2022) before playing for the Junior Springbok Women in 2022.
"When I played in my first game, with the encouragement of Father Gérard and Mr Clarke, I immediately felt the sense of belonging," said Zulu.
"I was at ease with the sport from the start and from then on, rugby became a very important aspect of my life. When I first made the Sharks team, I realised what rugby could mean for me and started to really invest back into the game.
"I was offered a scholarship at university because of rugby and that opened even more doors for me. And look where I am now."
Sharks selection in the SA Rugby Women's Premier Division straight out of school made Zulu realise that she needed to invest more of her time into the game and improve her skill levels.
"That first year was tough for me, I was young and it was tough mentally, as I was suddenly playing amongst senior players," said Zulu.
"In fact, at one stage that year I almost quit, but I realised that criticism towards me was not personal, but to improve as a player.
"I am a quiet person, but was told that I had to become more forceful in communicating if I wanted to succeed on the field of play. Once I understood not to take it personally and to actually do that, I became a better player."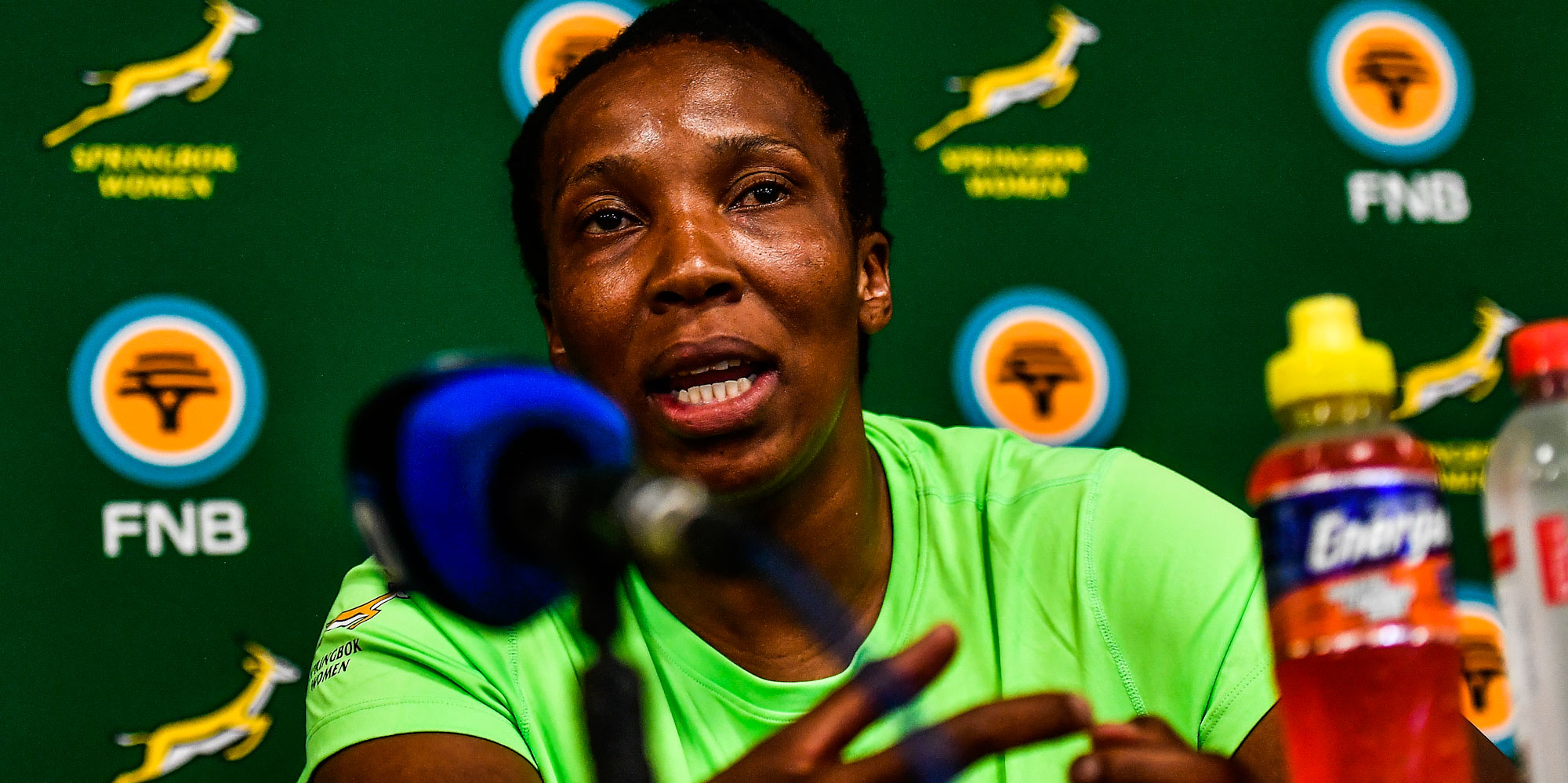 Selection to the Junior Springbok Women last year was another boost for Zulu: "It made me realise that I was noticed by the national coaches and the fire to one day play for the Springbok Women was burning bright after that."
The call-up to the travelling squad was huge, to be named in the starting line-up even more so, said Zulu, who can also play at flyhalf and centre.
"There were so many emotions and thank yous that flooded me," she said. "It will be such a special occasion for me, but emotions aside, I have a job to do out there.
"Coach Louis (Koen) has a clear plan and I know where I need to fit in and what I need to do. Yes, I want to step people and kick 50/22's, but I need to make sure I serve the team first by executing what I was picked for.
"I don't know if I will miss touch or drop a high ball, but what I do know is that I will leave nothing out there. I will play my heart out on that field, in honour of all who made this possible."
On the other side of the spectrum, Nolusindiso Booi – with all of her experience in the green and gold jersey – will be running out for a 34th Test and according to the Springbok Women's captain, she will be urging all to be at their best.
"We are certainly going out there to give everything we have," said Booi.
"The energy from the youngsters is always nice and we need to combine the emotions of playing for our country with the realities of the job at hand. Canada have been in great form in recent years and no wonder they are fourth ranked in the world. But that gives us an ideal measuring tool to see where we are.
"The squad prepared well in the camps we had and the interventions by the various Springbok coaches did a lot to give us confidence. Yes, we have not played since the Rugby World Cup, but we worked hard in those camps. I think our set piece will stand up to the challenge and if we play to our plan, we will be competitive."
Booi played the last time the two sides met in 2013, the only one in the squad that had faced Canada before.
"That was a long time, but in recent times we have seen how good they can attack with their maul, which is really a powerful weapon," she said. "The trick will be for us to not give penalties away and prevent them from playing in our area. We realise it will be a huge task to subdue them, but the players are ready for this day."
Match details – South Africa v Canada
Venue: Estadio Nacional Universidad Complutense, Madrid
SA time: 17h00
Referee: Kat Roche (USA)
Live Stream: https://ferugby.tv
Head-to-Head: Played 3, Canada won 3 (average score 47-17)