The Springbok Women held a 20-0 lead at the break and then scored 24 more points before conceding a try on the final buzzer for the scintillating win, and for Raubenheimer it is a sign that their hard work is starting to bear fruit.
"This was a very good performance by the squad today and I want to congratulate the players with their effort," said Raubenheimer.
"We have lost to Spain twice since I took over the coaching of the squad and this was a very sweet victory. We did play well in most phases of the game today and although we conceded a late try, really dominated the game."
Raubenheimer said their victory against Japan two weeks ago and this win over Spain, which will see their world ranking improve to 12th place, prove that the hard work of the last four months is bringing a change.
"It has to do with the confidence of winning as well – we have now beaten Japan for the first time and Spain for the first time and that builds belief in what we want to achieve," he said.
"This is a Spain team in transition, but you cannot take anything away from our squad, who delivered big time today."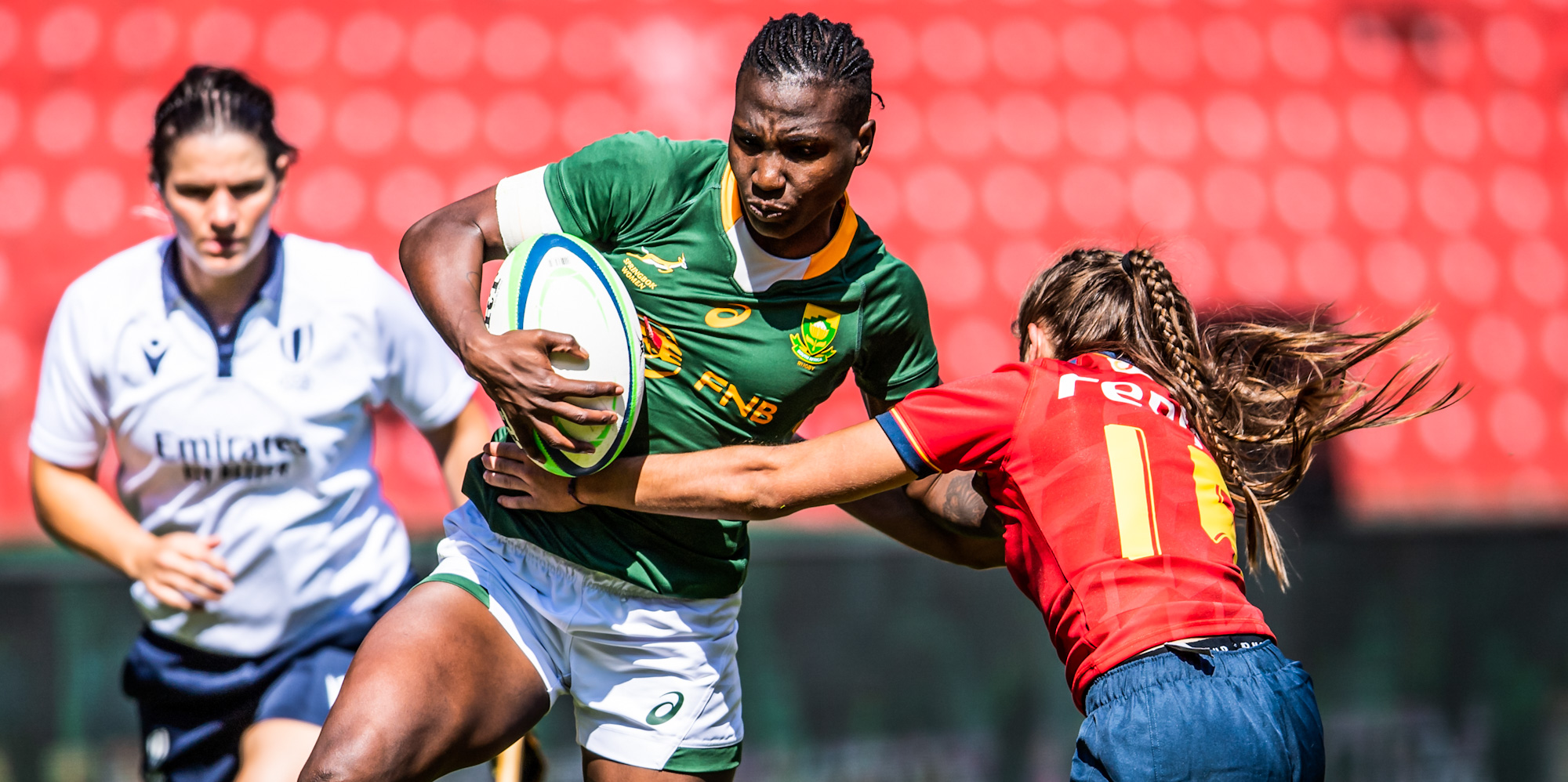 For team captain Nolusindiso Booi, the win was an important one: "We had our very first sponsor announced earlier in the week with FNB coming on board as our partner and we played with their logo on our chest for the first time.
"That show of faith in us as a team from them did give us a tremendous boost and it made us aware that more and more people are starting to believe in us and our capabilities. It was just a wonderful experience to be playing here at this amazing stadium and the team responded to the big occasion. I am a very happy captain."
Booi said the players have bought into the coaches' plans and are seeing the benefits: "We did very well in many areas of the game today and we played to our strengths very well. That contributed to this very pleasing result. That said, we will start all over again for next Friday's match against Spain in Potchefstroom."
SA flyhalf Libbie Janse van Rensburg delivered a perfect kicking display to score 19 points via three penalty goals and five conversions. Winger Ayanda Malinga showed her finishing prowess by scoring two tries, while the SA midfield combination of Chumisa Qawe and Zintle Mpumpha delivered strong performances.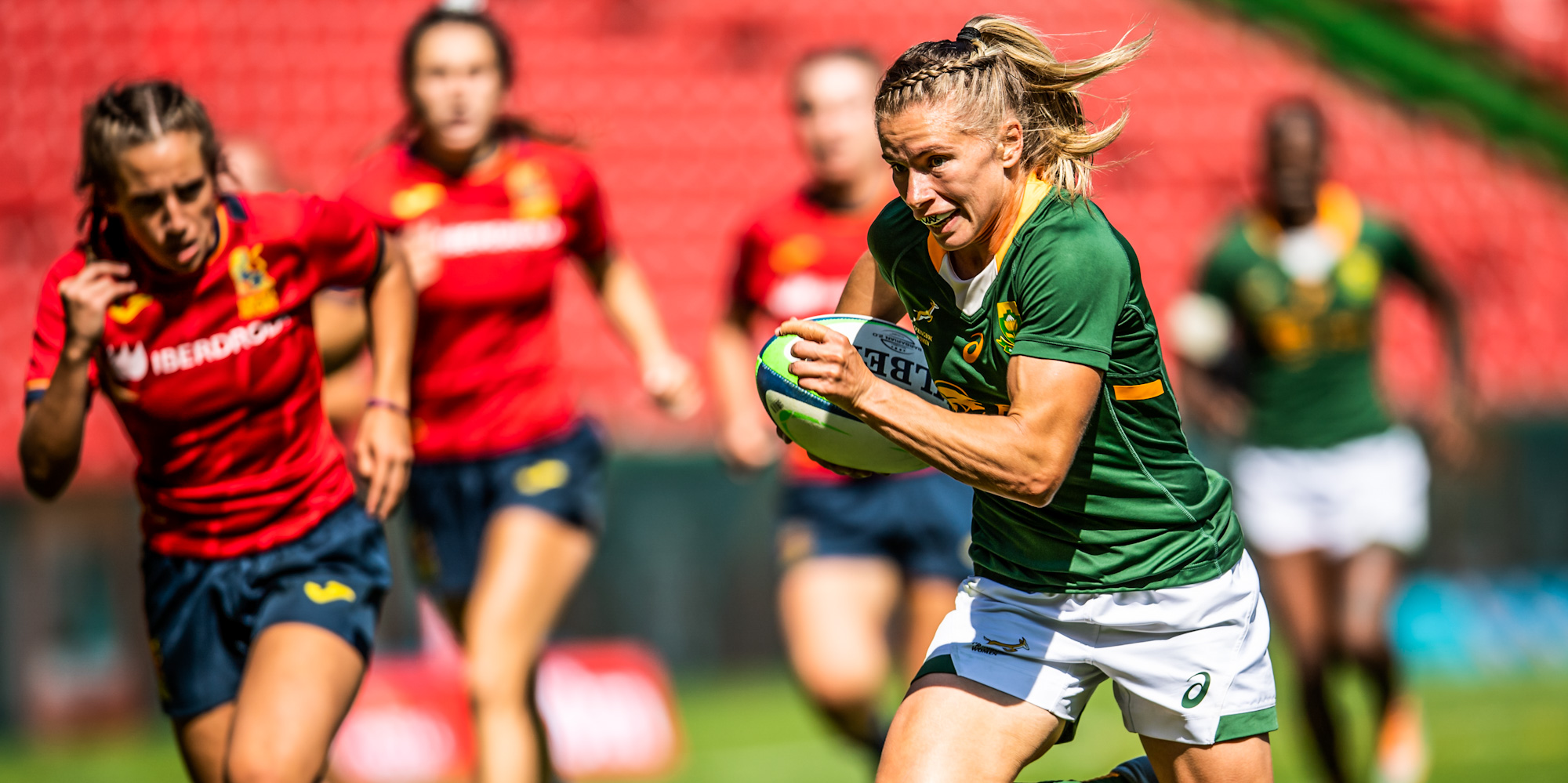 The platform for the splendid win was laid upfront though, where the home pack dominated the visitors in all aspects, with prop Babalwa Latsha and No 8 Aseza Hele outstanding./
The South Africans made the better start with strong carries and powerful surges into the Spanish half. They also gained valuable possession with a couple of good steals on their opposing lineouts.
However, the home side suffered an early injury setback when lock and captain Nolusindiso Booi left the field after sustaining a facial injury and was replaced by Lerato Makua. In the second half they also lost strong runner midfielder Qawe to an ankle injury, with the experienced Zenay Jordaan coming on as replacement for her 32nd Test cap.
Coach Stanley Raubenheimer would have been disappointed with the number of handling errors made by the home side, which prevented them from adding to the scoreboard.
They turned a lineout steal into a successful scoring opportunity when they ran the ball from inside their own 22m, with right wing Ayanda Malinga rounding her opponent to score a converted try for an early 7-0 lead.
Janse van Rensburg, who converted the try, also added a close range penalty goal to take the SA lead to 10-0 halfway through the first half. Nadine Roos, the home team's fullback, then thought she scored under the posts when she was on hand to collect a kick, however, she was called back because of an earlier handling error.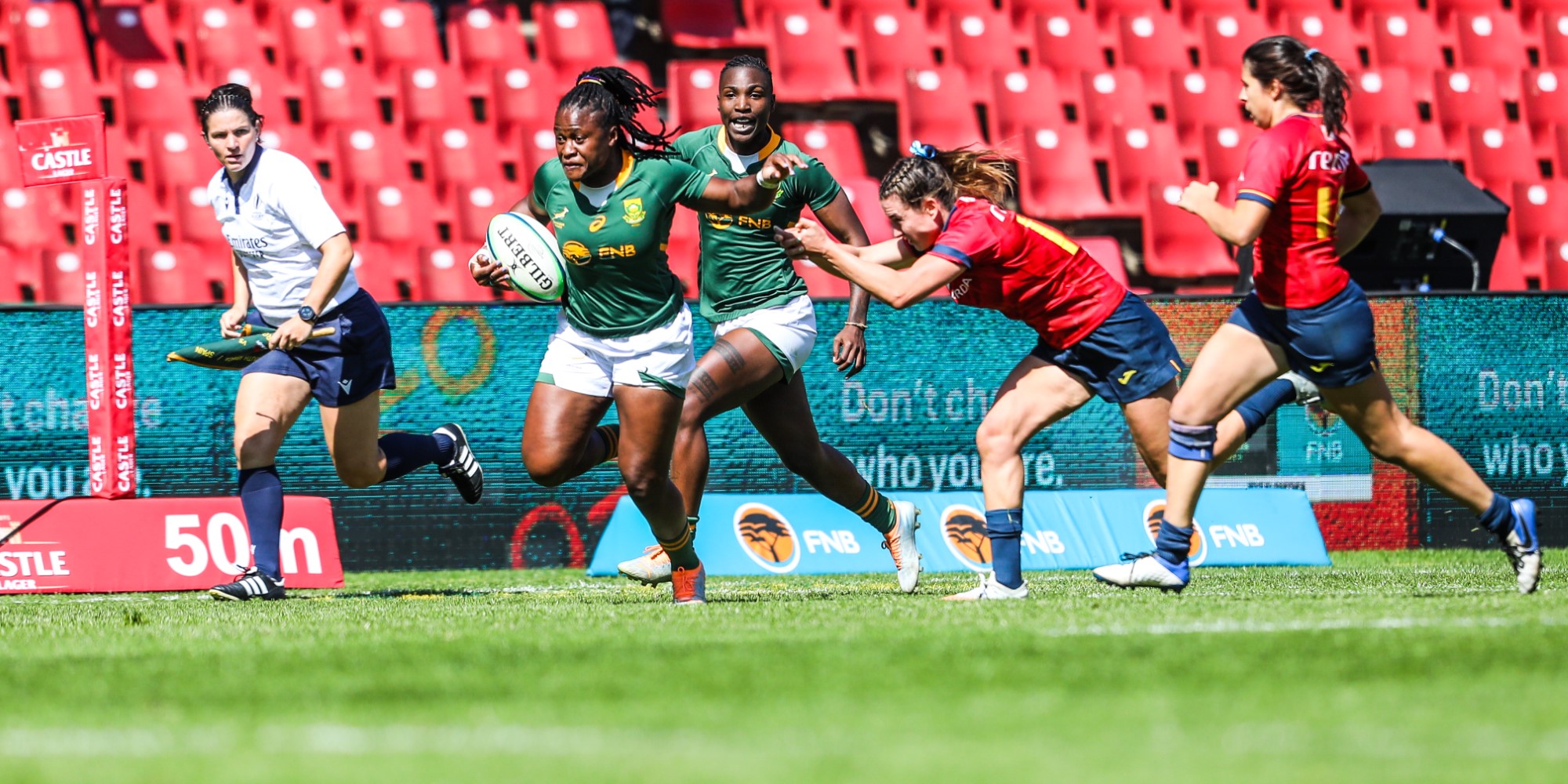 Spain did manage to venture into the SA danger 22m area, but they made some basic errors which made their hard work undone. The visitors also didn't make it easy for themselves by conceding two penalties inside easy kicking range, which Janse van Rensburg slotted with no easy at all.
Left wing Simamkele Namba then went over the second SA try of the first half after some hard running from the midfielders, who punched a hole in the Spanish defence for the wing to finish.
Spain showed more fight in the second half with the result that the home team found it very difficult to break them down, despite their advantage in possession and territory.
However, with the Springbok Women dominating the gain line, they managed to strike first in the second half when Roos showed deft footwork on the right-hand touchline to run through for their third try of the match.
Later, reserve hooker Roseline Botes was the recipient of an expertly executed maul try as the home forwards continued to pile on the pressure.
But there was still enough time for speedster Malinga to collect a misplaced Spanish kick and beat three defenders to run clear and score her second try under the post for SA's fifth five-pointer of the afternoon, all converted by Janse van Rensburg.
Scorers:
Springbok Women 44 (20) – Tries: Ayanda Malinga (2), Simamkele Namba, Nadine Roos, Roseline Botes. Conversions: Libbie Janse van Rensburg (5). Penalty goals: Janse van Rensburg (3).
Spain 5 (0) – Try: Marta Carmona.